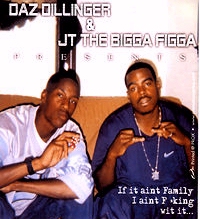 Daz & JT :: Long Beach 2 Fillmoe

Label: Get Low/Black Market Records
Author: Steve 'Flash' Juon

Some people are nodding their heads, others are scratching it. The first reaction initially might be, "Isn't that Dat Nigga Daz from Tha Dogg Pound?" Yes it is. If you thought that he simply rolled up and disappeared while Kurupt went on to pursue a solo career, think again. We're not here to address the continuing rumors they will reunite to record another Cali classic - folks really need to get over the past. Don't get it twisted though, JT the Bigga Figga is not a substitute player for Kurupt at all. He's been putting it down for the better part of a decade on game tight records like "Dwellin' in the Labb" and "Something Crucial."
So why would these two artists unite to record an album together? When it comes to the West, the better question ought to be, "Why not?" It's like Shaquille O'Neal and Kobe Bryant coming together - each is a star in their own right, but together they play the game like they supposed. What's somewhat surprising though is that Daz, who has something of a reputation as a producer, didn't provide any of the beats. Instead, Sean T of Dallas Squad Music provides a selection of thumping jeep beats to bounce your car up and down Crenshaw (or whatever hot street where you live at).
Starting with "What You Gone Do?" there's no mistaking that this album is riding hard for the West. "I adapt to whatever/the longer I live nigga the more I get clever" raps Daz, sounding surprisingly sharp even though former partner Kurupt always had the reputation in their group as the lyricist. JT puts it down the hardest though:
"Fuckin with pimps and mobsters to prosper
over niggaz that's wack and act for Oscars
My team roster, consist of the Get Low P's
So get yo G's nigga keep it movin like the breeze"
This album is actually something of a compilation. The aforementioned track features the smooth flowing Telly Mac on verse deuce, who also shows up on the tracks "Street Life", "Still Hustlin'", "Nothing But the Dogg" and the extra chunky funkdafied "Longbeach 2 Fillmoe" which also includes Killa Tay. The latter is one of six tracks featuring Daz and JT together; and there's one other Daz cut featuring Lil C-Style known as "One Nine."
There's also two tracks that neither Daz or JT appear on. "Think Smart" featuring San Quinn and Pookey is probably the best of these two, featuring some lyrics that are humerous and at the same time serious about hustling:
"You niggaz is half pints, get zero and a half mics
I'm on red-eyed flights, tryin to get shit right
My partners gettin killed by each other, it makes no dollars
It makes no cents that we can't holla
Life's a chess game, yeah, niggaz is pawns
Just pieces of the puzzle, that will never respond"
"No Love" isn't nearly as impressive. Despite being lead off by the talented Telly Mac, the silly oriental beat detracts from an otherwise dope bassline and contributors Guce and The Commissiona don't really nail the track hard. The best tracks are the ones that feature both Daz and JT which is not at all surprising. The up-tempo "Game For Sale" is an example - even if you can't head nod to the fast beat, you'll definitely be feeling the vibes. There are too many rappers on it though; which is the same problem with "Still Hustlin'." Daz and JT have the best raps while Shawny Moe and Cosmo could have been skipped altogether.
Overall there are plenty of good tracks, such as the Halloween vibe of "Street Life" or the pimpish raps of "Ain't Nothing Changed." The beats tend to run together a bit at times which makes the album good to ride to or keep on as background music but which fails to make the shit stick to you like ribs. The title track's horns and funk are emblematic of the approach that would have worked best for Sean T - he makes nice tracks but needs to have a more distinctive sound. The strength of Daz, JT, and in particular guests Killa Tay and Telly Mac hold the album together, but it's not the overwhelming bomb that Daz and JT could have produced as West coast legends. It's worthwhile if you're a fan of either rapper - it's just not mind-blowing.
Music Vibes: 6 of 10 Lyric Vibes: 8 of 10 TOTAL Vibes: 7 of 10
Originally posted: January 30, 2001
source: www.RapReviews.com