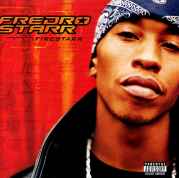 Fredro Starr :: Firestarr

Label: Koch Records
Author: Steve 'Flash' Juon


When it comes to keeping busy, Fredro Starr certainly doesn't slouch on the work ethic. Taking a page from the books of Tupac and Ice Cube, Fredro parlayed his appearances in music videos as a member of the rap group Onyx into acting; landing a regular role as 'Q' on the sitcom Moesha and appearing in movies like "Sunset Park" and "Light it Up."
The irony now is that since Onyx has been disbanded for a few years, just as many if not more people probably know him from the acting than from the rapping. That makes his solo debut "Firestarr" entirely appropriate - a re-introduction to one of Onyx's most slept on members. Everybody knows Sticky Fingaz got the shine and the props out of the crew, but next to Sticky he was their brightest star. Even when shouting and screaming, his diction still came through clear and his lyrics caught your attention.
Fredro has moved a bit from his angrier and grittier Onyx style on this release. He still has the gruff, hardcore b-boy voice, and there are still energetic adrenaline laced songs like "Dyin' 4 Rap" and "Dat Be Dem"; but Fredro also shares his personal thoughts on life's mysteries with "What If" and the struggles to survive with "Shining Through."
"I sit and analyze the world from a project roof
and seen the hope in the eyes of a troubled youth
A good kid but kept a burner in his bubblegoose
A motherless child, lost in these streets loose
In the immortal words of Rae, these are 'Rainy Days'
My man got popped at an early age
His college fund saved flipped into his early grave
They say the good die young, we're headed for the pearly gates"
Unfortunately a few things keep Fredro from achieving a greater level of stardom with this new album. The great thing about a Fredro Starr solo album would be to hear this unheralded rapper have a greater voice in his music, but repeated cameos by other artists limit his exposure. The Outlawz show up for "Thug Warz", "Soldierz" features X-1 and Sticky from Onyx, "One Night" features Begetz, Versatile, and Ice-T... and so on, and so on, and so on. From the fourth track through the thirteenth on this CD there are only three songs solo - this makes it hard for Fredro to find his voice. On top of that, Fredro's role as his own producer (with assistance from DaVinci) will ultimately limit his album's appeal. Fredro's beats are serviceable, and carry the album, but don't echo in your head for days the way an Evidence or DJ Premier production does.
There's no question that Fredro Starr is a gifted artist on multiple levels - a modern day renaissance rapper and actor. The problem is that this album doesn't showcase his talent well enough. It's a good introduction but without better beats and more time in the spotlight people will still think of him as "that guy from Onyx" or "the guy on Moesha."
Music Vibes: 5 of 10 Lyric Vibes: 7 of 10 TOTAL Vibes: 6 of 10
Originally posted: March 27, 2001
source: www.RapReviews.com