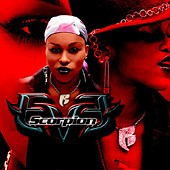 Eve :: Scorpion

Label: Ruff Ryders/Interscope
Author: Steve 'Flash' Juon


Without a doubt, Eve is repping for the Double R. The iced out platinum chain on the cover alone will tell you that, but without jewelry she still remains the strongest link in their chain sans DMX. Nobody else other than her in the crew has come close to achieving his success or receiving the amount of critical acclaim he has.
In theory, this should be Eve's biggest success yet - eclipsing the heights her major label debut "Ruff Ryders' Firt Lady." One look at the album's all-star guest appearances would tell you that - Gwen Stefani, Da Brat and even Stephen Marley all make appearances alongside the expected Double R cameos by the likes of Drag-On, The LOX and DMX. What may be the most amazing/surprising feat of all is that Eve managed to reunite with super producer Dr. Dre for two tracks; the same Dre whose Aftermath label she broke with after he never put her album out.
"Who's That Girl?" is certainly a good start in the right direction. It has everything a first single from a new album should - a flashy video, a catchy hook (the sung "la la la-la la-la" refrain sticks in your head) and some brash lyricism like "Little boys hang me on they wall, I grow 'em chest hairs." It's yet another smash hit for Eve. There are plenty of other ready-made jams for the label to pick from as well such as "Let Me Blow Ya Mind" with Gwen Stefani or the keep ya head up anthem "Life is So Hard" with Teena Marie singing her heart out on the hook.
As strange as it is for me to say this though, the presence of Swizz Beatz is sorely missed on this album. I know a lot of underground heads (who probably wouldn't even listen to a Ruff Ryders album) think Swizz is the epitome of wack, but right or wrong his tracks seem to embody the crew's sound and often give songs powerful energy. He only does four tracks out of this LP's thirteen full songs including the rowdy female brawl "Gangsta Bitches" with Da Brat and Trina, but strangely enough not on DMX's one appearance "Scream Double R." The latter's DJ Shok certainly does his best as a Ruff Ryder producer, but his style can't eclipse Swizz. DMX's duet with Eve keeps it hot even though the beat feels weak.
Overall Eve seems to have fallen into a category that urban myth has called "the sophomore slump." There's no question that her skills at rapping are tight. Her breath control, her lyrical writing, her vocal tone are all in full effect - and the hint of sexuality in her raps makes her enticing without coming off as a tramp or ho; a coup in today's hyper-sexual rap world. The energetic Swizz Beatz tracks that Eve, DMX, and The LOX rap so hard on though are too few and far between - the posse cut "Thug in the Street" epitomizing the rough sound that made songs like "WW III" and "What's My Name?" such big Ruff Ryder hits. The Dre sound could have been used more - the rambunctious "That's What it Is" and previously mentioned "Let Me Blow Ya Mind" are hot but just can't carry the album. Neither can Eve - a selection of mostly average to slightly above average beats offer her little inspiration. This is one of those hip-hop albums that makes good background music but doesn't make a big impression - and I honestly expected more.
Music Vibes: 6 of 10 Lyric Vibes: 7 of 10 TOTAL Vibes: 6.5 of 10
Originally posted: March 6, 2001
source: www.RapReviews.com