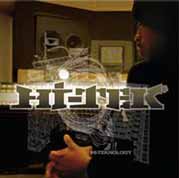 Hi-Tek :: Hi-Teknology

Label: Rawkus Records
Author: Steve 'Flash' Juon


"Produced by Hi Tek for Hi Tek Productions, Inc." Those may seem like simple words, but how often do you pick up an album these days where every single track has the exact same production credit? Rappers and their record labels are increasingly fickle these days, calling on each and every "flavor of the minute" producer to bless them with a track. And to be truthful, what no name MC wouldn't gladly hand over a bag full of money to be blessed with three minutes and forty seconds of a certified banger by Pete Rock, DJ Premier, or Timbaland?
Add Hi-Tek to that list. From his Cincinatti homeboys in the group Mood, to his Reflection Eternal partner Talib Kweli, to flavorful rappers like Common and Mos Def, Tek has produced jam after jam. Don't assume he's a hired gun though - these days he works almost exclusively for Rawkus Records, coming back with more and more hits like Nice & Smooth. Therefore it should come as no surprise that his "Hi-Teknology" album is on their label, nor that every single beat on this LP is his. If you heard him rapping with Talib Kweli on "The Blast" you may have thought this would be a solo album showcasing his mic skills, but it's more a showcase for how good he makes other artists sound. Only on the title track does he really get down on the M-I-C.
Clearly, this was a wise decision. Of course there are many producers who can come off nice when they rap: Diamond, Evidence, RZA, and so on. With this album though Hi-Tek has the upper hand. It's a complete role-reversal - the producer picking his favorite artists, instead of the other way around. Even if his choices may be somewhat predictable they are no less pleasing. Common gets soulful with Vinia Mojica over Tek's plucky beat on "The Sun God", and Talib Kweli presents the "Theme From Hi-Tek" with his intense lyrical flow density. Other tracks like "Suddenly" and "Breakin' Bread" with the members of Mood are certified bangers, even if the latter's first verse loses a couple of cool points for the umpteenth "Teddy Pendergrass" punchline heard in rap.
Heads may be caught a little more off guard though by his work with underground thug rap hero Cormega on "All I Need is You." The song is an intriguing mix that is spiritually kin to Q-Tip's beat on "One Love" by Nas, but lyrically akin to the song of almost the same name by Method Man and Mary J. Blige; a match that's 100% natch when Jonell comes in to sing the hook. In keeping with this theme of underground hardcore from the Rotten Apple, legendary Black Moon MC Buckshot pops up on "The Illest it Gets", a heavily beat driven banger with a few varied synth notes. Although radically different from Da Beatminerz beats we've come to know and love Buck rapping over, the stripped down sound is a perfect way for him to "melt hot rocks and spit lava" over the track.
To be succinct, not a single one of the cuts on this album is wack. To listen to an album produced end to end by Hi-Tek one would expect nothing less. Not being wack in this case is not necessarily synonymous with perfection. Tek achieved near pefection on Talib Kweli's solo album with songs like "Move Somethin'", "Down for the Count" and "Good Mourning." It's hard to lower high expectations, and simplistic and repetitive beats like "Get Back Pt. II" and "L.T.A.H." aren't up to his standards. "Where I'm From" featuring Jinx Da Juvy is so much like Talib's song "The Blast" it could have been called "Part Deux." What happened? In theory Hi-Tek may have been pressured to get an album out to keep new Rawkus product in stores. Rather than living in a world of excuses, we'd all like to live in a world with songs the caliber of "2000 Seasons" and "Respiration." Don't get it twisted - this is a great album, and even a good mood album (no pun intended). It's just with this much talent pooled together in one place at one time, it seems like Hi-Tek only gave it 80% of his all instead of 100%. Rather than being bad or wack in any way, this album is just occasionally uninspiring. It's a good listen though, and definitely a recommended purchase for anyone who was already a fan of his hit-making hip-hop beats.
Music Vibes: 8 of 10 Lyric Vibes: 7 of 10 TOTAL Vibes: 7.5 of 10
Originally posted: May 8, 2001
source: www.RapReviews.com