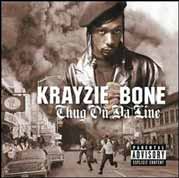 Krayzie Bone :: Thug On Da Line

Label: Ruthless/Loud
Author: Steve 'Flash' Juon


"I try to be level-headed but it seems the devil's winnin
Try to do the right thing, but I always end up sinnin, pin me
God won't forgive ya when ya pray and do the same shit
So while repentin you can't even pay your rent.." --> "Gemini"
This Bone may call himself Krayzie; but he may actually be the most level-headed member of the whole family. In fact, the widespread appeal of Krayzie Bone could be attributed not just to his silky voice and smooth flow but his reputation as a "thinking man's thug." That image and his popularity were multiplied by the sucess of his value packed double-album debut "Thug Mentality 1999," which featured everyone from Mariah Carey to Snoop Dogg.
His new album "Thug On Da Line" is thus a double entendre. On the one hand, Krayzie has learned how to walk the fine line between pop music celebrity and Cleveland gangsta rapper without having to trade in any of his credibility. On the other hand, expectations are high after popping off so big the first time around so Krayzie's career is truly on the line - he can ill afford the dreaded "sophomore slump." The fact his solo career is an extension of all the work he put in with Bone Thugs is no excuse - Krayzie still has to keep slangin' them hits to keep his name alive in an ever more crowded rap game.
The lead single "Hard Time Hustlin'" is definitely a step in the right direction. Surprisingly tight for a self-produced track (with some assistance provided by Def Jef), the song also features a smooth Sade sample which ties together each verse beautifully. Tales of a come up in the drug game are a dime a dozen, but this song is personalized by the woes of his unemployed and impoverished family, and the warnings of his locked up brother which Krayzie simply didn't want to hear:
"But my brother started writin home
Tellin me to leave this shit alone - I say WHAT?
Nigga you don't know that I'm too deep in this
I'm livin and breathin this street shit
And if I don't play the crook,
you ain't gon' have shit on your books - look
Give me a minute I'll chill in a minute I promise I will
as soon as I finish this last load
I'ma drop the dice after this last roll
[..]
But shit went bad, six in the mornin
Crashin through my do' is the feds
And they want that bread? We want you, and I'm like OOH! (shit)
Shoulda listened to my brother, huh?"
Surprisingly, after the many guest rap stars like Treach and Big Punisher of his last album, this album is surprisingly quiet on the cameo front. The biggest name is R&B singer Kelis, who not surprisingly appears on the Neptunes produced "I Don't Know What." Those who had stereotyped the Neptunes sound as electronic and simplistic will be pleasantly surprised by this funky rolling groove. In fact strong production more than makes up for a lack of guests. Krayzie shows very solid potential behind the boards for the lamentations of "Time After Time" (thankfully unrelated to Cyndi Lauper) and the thuggery of "Kneight Riduz Wuz Here" by the Kneight Riduz - David Hasselhoff may not approve, but hardcore heads definitely will. Def Jef holds down two cuts - "I Don't Give a Fuck" and "A Thugga' Level" - the irony here being that early 90's female rap sensation Boss appears on the LATTER of these two tracks. She also shows up on the silly and smoked out "Rollin' Up Some Mo'" which re-interprets the "Mambo No. 5" as an ode to marijuana.
The rest of the album has a smattering of different music masters; such as Shade Sheist's hitmaker Damizza on "If They Only Knew" and a cat named Super Sako whose biggest heater is the "Thug On Da Line" title track. This song is also notable for an appearance by Wish Bone - the ONLY Bone Thugs member to cameo on Krayzie's album. Fans will have to make their own determinations why this happened, because Krayzie offers only these cryptic words in his liner notes: "... and, to my Bone Thug niggas Layzie, Bizzy, Wish and Flesh. Y'all niggas know I love y'all, but what we gone do, check the time cause it ain't much left." For better or worse though Krayzie actually seems to thrive on his own - and with the limited amount of guests other than rap acts he is cultivating for his Thugline Records, Krayzie further isolates himself from the pack. This works VERY well for introspective songs like "Gemini" and sharply critical attacks such as "Everybody Wanna Be Thugs." This has the perverse effect of making the listener want even more songs of K. Bone alone - fortunately there's JUST enough to go around to get your buzz on.
By putting it all on the line for this newest album Krayzie shows that no matter what happens to the Bone Thugs his career will continue strong. Those who already followed his solo career certainly won't be dissapointed, but fans of Bone as a group may fear the continued slew of individual albums will have a fractious effect on reuniting an unstable group. It's up to the individual buyer to decide whether the success of Krayzie's solo will have that effect more than earlier solo albums this year by Layzie and Bizzy - both of which were light on cameos by other Bone members. The trend may continue, but together or seperately none of them seem ready to call it quits - and Krayzie himself has no good reason to with this strong sophomore solo.
Music Vibes: 7 of 10 Lyric Vibes: 8 of 10 TOTAL Vibes: 7.5 of 10
Originally posted: August 28, 2001
source: www.RapReviews.com