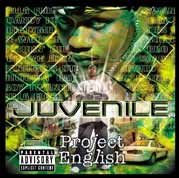 Juvenile :: Project English

Label: Cash Money/Universal
Author: Steve 'Flash' Juon


Some rappers seem to chose awfully ironic names. How did Da Youngsta's feel when they passed puberty? Did Kid Frost realize he'd eventually have to drop Kid from his name? So it is with Terius Gray a.k.a. Juvenile - who in his mid-20's is far from the youngest rapper on Cash Money Records compared to B.G. and Lil Wayne. That won't be a problem for Cash Money or Juvenile much longer - he may keep the name, but the label's getting kicked to the curb.
Since this story is already well-hashed out in magazines such as XXL there's really no reason to go into it here - suffice it to say the money wasn't right and the family ain't tight. Since this may be the last time we get to hear Juvenile rhyming over Mannie Fresh beats, this record is both a depressing reminder of what used to be as well as a celebration of dopeness right here and now. This is not to say that the other members of Cash Money don't shine when Fresh drops dimes, but Juvenile has always been the star and rightly so. His deep N'Awlins drawl, musical flow, and lyrically braggadocious and/or humerous raps put him in a league all his own. When combined with one of rap's hottest producers, the magic was like Public Enemy & the Bomb Squad, Redman & Erick Sermon, or OutKast & Organized Noise - leaving albums like Juvey and Mannie's "400 Degreez" to be considered by some an all-time hip-hop classic.
That formula is put down to the fullest on "Project English", as wodie laces our #1 stun'na to the hilt - EVERY cut is a Mannie Fresh production. You won't even be mad that they recycled a Dirty South classic for the lead single "Set it Off" (if you ain't know, it's UNLV's "Drag 'Em N Tha River"). The thumping bass and melodic harmony of "My Life" featuring TQ is a sure fire hit, as are songs like the reggae influnced "Sunshine", the head-nodding groove of the smooth pimped out tale "Be Gone", the anthemic slow-riding "In the Nolia" and the humerously narrative "Mamma Got Ass":
"A big fine woman'll make you smile when she pass you
Damn that girl sexy, her momma got ass too

Why she swear she the boss? She get it from her momma
Why she always gotta call the law? She get it from her momma
Why we always havin arguments? She get it from her momma
Why she always gotta call her friends? She get it from her momma"
It's safe to say the collaborations with Juvenile's fellow partners will be missed, because when they worked together they really did seem to be "Hot Boys" - as evidenced by their all-star cut "4 Minutes" as well as the songs "White Girl" with Lil Wayne and Baby or the "Set it Off (Radio Remix)" featuring Baby, Wayne and Turk. Even without being as charismatic or lyrically adept as Juvey, they still shine brighter in his presence. The Big Tymers benefit even more from this, especially on the (semi-ironic) "They Lied" - but Juvenile's tight rhymes prove he's STILL the star:
"Done mapped it all out, done made some phone calls
We all got big dreams of seein the project ball
After all, seperation is the downfall
Instead of a chain of command niggaz wanna shot call
That overnight money could be lose your life money
Everybody want the crooked instead of the right money"
Juvenile's fans are really not going to find anything about this album dissapointing; but knowing that we'll never hear another album this quality will make them pour a 40 on the curb all the same. Obviously Juvenile didn't want anybody to think he was leaving the camp because they thought he didn't have that fire any more, so his album represents with 14 tight tracks sandwiched between an "Intro" and an "Outro." It's just the right length, with just the right rapper, and just the right producer. When it can't get any sweeter than this you gots to savor the flavor, not knowing when you'll get another taste.
Music Vibes: 8 of 10 Lyric Vibes: 8 of 10 TOTAL Vibes: 8 of 10
Originally posted: August 21, 2001
source: www.RapReviews.com