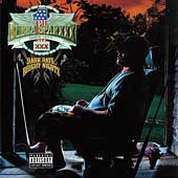 Bubba Sparxxx :: Dark Days, Bright Nights

Label: Beat Club/Interscope Records
Author: Steve 'Flash' Juon


I confess; I did it. The RIAA would probably like to slap me silly and Bubba probably wants to kick his country rappin' boots right up my lily-white ass. The temptation was irresistable though - there was "Dark Days, Bright Nights" in all it's glory - twenty songs of rap's newest sensation sitting on an internet site free for the taking. That Bubba talk, it had me open wide; so I took all the songs, and dipped out on the slide. Ahh - twenty tracks of the funkiest new white boy in rap. Some say Dr. Dre legitimized Eminem with "My Name Is..." and maybe it's also true of Timbaland on Bubba's "Ugly" - but the naysayers overlook the fact his country ass can FLOW.
Although we all have the instincts to get something for nothing whenever possible, I liked what I heard of Bubba enough to open my moth-eaten wallet (*coughing from the dust and mold*) and put down ten dollars and two ones at Nebraska Furniture Mart (yeah I'm country too, so sue me). To my surprise though this was NOT the same Bubba Sparxxx - in fact, ten tracks of the original album were just GONE! Now to a certain extent I'm not complaining, because five of them were skits - who really cares about that shit? Some of you who purchase this album are going to miss out on some gems though: the finger lickin good twang of "Kuntry Folks" and anthemic "Runnin With Bubba" among others.
Hopefully the RIAA will take a page from my review though; because instead of looking at the negative (what was left off my free download) I'm going to accentuate the positive (what was added to what I BOUGHT). Of the new songs, I have a few standout favorites. "Take Off" is a great introduction to the album - a country boy's scary flight through the air as a metaphor for the turbulence of the music industry. "Bubba Talk" is a snappy Timbaland beat that cracks me up with the farm animal samples. Let the horses neigh, and the cows go MOOOOOO! "All the Same" is a smoothed out Organized Noise groove featuring Backbone and singing by Sleepy Brown. "Twerk a Little" with Timbaland is some straight weird, bumpin, funky shit that is drawn from the same page as his work on Missy's "Whatcha Gonna Do."
There are plenty of good tracks shared between both versions of this CD. Gerald 'Geo' Hall turns in one of the best non-Timbo productions on the HELLA fat "If It's Bumpin" which starts out with a hilarious near-acapella where Bubba jacks for his loot and steals girls from clubgoers whose game is chump. A lot of the other high quality music, such as the slow funk of "Well Water", is turned in by Shannon 'Fat Shan' Houchins. "Infected" and "The 1st Whutchacallit" are both done by Khalifani and represent nicely. The best thing about this album is despite the heavy hand of Timbaland hanging over the album, none of the other producers sound embarassed or outclassed - they hang tight with hip-hop's hitmaker.
So ultimately, you're probably saying, "So what? I don't CARE about what songs were or weren't on it - I'm NOT buying an album of rap from some COUNTRY HICK!" If you're so narrow-minded then, shame on you. Stereotypes are like grumpies (what Bubba Sparxxx calls "shit") - we're all FULL OF IT. Maybe if you'll see past the narrow definitions of what you think rap is supposed to be, you'll see it can be "Ugly" too. I wouldn't want the entire GENRE of rap to be filled with Southern white boys, but among the hip-hop diaspora ranging from Mountain Brothers to X-Clan there is room for a little "country" in hip-hop too. Thanks to partnering with Timbaland, Bubba Sparxxx succeeds where similar artists such as Tow Down and Haystak didn't - but their day will come too. For now, Sparxxx sits alone atop a rap throne representing a kind of po' white rap even Marshall Mathers only WISHES he knew about.
Music Vibes: 9 of 10 Lyric Vibes: 7 of 10 TOTAL Vibes: 8 of 10
Originally posted: October 9, 2001
source: www.RapReviews.com