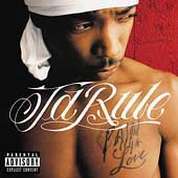 Ja Rule :: Pain Is Love

Label: Def Jam
Author: Steve 'Flash' Juon


R-U-L-E. A few years ago when Def Jam released his debut album "Venni Vetti Vecci" a lot of people though of him as little more than a DMX clone. Indeed though his deep voice and gruff delivery were uncannily like X's at first listen, the hit single "Holla Holla" enabled him to strike out on his own and emerge from the Dark Man's shadow. By forming The Murderers and releasing his sophomore LP "Rule 3:36" Ja not only widened the distance between the two but scored even larger hits with the singles "Between Me and You" and "Put it On Me."
I'm the first to admit I've not been that enthusiastic about Ja's career. I panned his first two albums harshly on this site for offering little but recycled thug cliches and uninspiring beats. If ever a reviewer was out of tune with what's popular among average rap fans, it's been me with Ja. Time and again I hold my nose up and sneer at a Ja Rule album, and time and again they go on to be gold and platinum best sellers for Def Jam. Knowing this has made me reconsider Ja Rule as an artist - maybe there's something the public knows that I don't about this rapper and why he is so beloved. Therefore I've given his new album "Pain is Love" the most careful scrutiny of any LP he appears on to date, and the review you're reading is the result.
There's no doubt about it - there are some definite finger snapping foot tappers on this latest release. By now you've probably heard the hit song "Livin' it Up" with Case - a song featuring a Stevie Wonder sample turned into four plus minutes of dance club fun. Surprisingly though there are two other songs on the LP you'll probably recognize - the "Murder Remix" of J-Lo's "I'm Real" and the Violator V2.0 song "X" featuring Missy Elliott and Tweet. All three songs feature Irv Gotti production, and are easily among his best work to date - you can't fault their inclusion here. The most surprising song though may be "So Much Pain" featuring the late Tupac Shakur. Wise fans will recognize that the song includes portions of 2Pac's song "Pain" that was on vinyl-only versions of the "Above the Rim" soundtrack, but this is the kind of thug recycling that I LIKE to hear. Ja Rule certainly doesn't shame his legacy. Other Gotti jams like "The Inc." featuring The Murderers (notably Caddillac Tah), the potential single "Always On Time" with Ashanti, and the spicy guitar sound of "Down Ass Bitch" are all on hit. In fact the only bad song beatwise is the electronic "Lost Little Girl" where Ja does too much of what he does least well - singing.
Ja's singing in particular is what I've always found to be questionable, and still do. When I want to hear some singing from a deep and brassy voice I'll go out and purchase a Louis Armstrong "Greatest Hits" LP because frankly, I buy rap albums to hear RAPPING. I know that makes me old fashioned these days since a lot of people seem to think City High and Destiny's Child are rap groups; but until Afrika Bambaataa issues a proclamation signed by the Temple of HipHop stating otherwise I don't have to consider singing the sixth element of hip-hop. Ja follows in the ranks of a long line of East coast rappers who have no business singing but did it anyway: The Guru, Biggie Smalls, and even Nas on the rarely heard bootleg song "Day Dreamin (Stay Schemin)." His crooning makes an otherwise good title track intolerable, and seriously detracts from parts of "Never Again" and "Smokin and Ridin." Ja needs to make like crack and LEAVE THAT SHIT ALONE.
Lyrically, I still can't give Ja Rule an overwhelming endorsement. In fairness I can say he's among the top of his field for what he does - which is to offer stories of trial and tribulation punctuated with interludes of sex and partying. As such it's unfair to judge Ja Rule on the same standard held out for the lyricism of Ras Kass, Aceyalone, or Apathy the Alien Emcee. Ja is much better compared with other East coast "hardcore" rappers; as such his charismatic delivery alone could put boring rappers like Fabolous to shame. He's not as witty and amusing as Jadakiss or Sheik Luc', but he's not as banal or insipid as as Herb McGruff or Big Scoob. In short, Ja is better than most, but still ain't knocking on heaven's door yet where B.I.G. still reigns on high EVEN in the afterlife. What is certain though is that Ja Rule will live up to the latter half of his name and dominate the charts for the latter half of 2001 with an album that is undoubtedly his most solid release to date.
Music Vibes: 8 of 10 Lyric Vibes: 7 of 10 TOTAL Vibes: 7.5 of 10
Originally posted: October 2, 2001
source: www.RapReviews.com