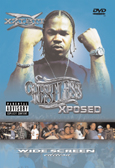 Xzibit :: Restless Xposed

Video: Fortress DVD
Author: Steve 'Flash' Juon


Over the years, Xzibit has received a lot of love from underground rap fans, even though commercially he's had a hard time scoring large-scale success. Since Xzibit finally blew the way he deserved to with the "Restless" album, this follow-up DVD release could in a lot of ways be considered a "thank you" to those very same fans who got him where he is today.
We all know there are "live in concert" tapes and DVD's, and we all know there are "best music video" compilations of the same. Refusing to bow down to the limitations of either format, "Restless Xposed" is BOTH - equal parts crazy footage from recent shows and the songs his fans know and love that blew up on BET, MTV, Much Music and beyond. In a few cases, the two are even seamlessly blended together, as on chapter 35 when a live performance of "Paparazzi" is merged straight into his music video without missing a beat. It's not an impossible trick to achieve, but the excellence of the editing is still worth taking time to applaud.
Like Xzibit's music itself, the DVD reflects both the serious and the silly sides of the rapper that make him such a charismatic figure in hip-hop. If you're not laughing your ass off when "The Gofer" is introduced as the newest member of the crew, then you're taking shit way too seriously. Some serious clowning also takes place as the tour bus crosses from Canada into the U.S. following a truck with.. well, let's just say it's pretty nasty. The fun is not just limited to the bizarre events of being on the road though - X to the Z mugs like crazy with the rappers and producers travelling with him and appearing at his shows. After Eminem and Xzibit present what could be called a low-budget video for "Don't Approach Me", Em gets to show off his acting skills by performing Xzibit's rap from "What's the Difference" so much like the X man he's left stunned!
It'a also nice to see a selection of Xzibit's best videos compiled together on this one album. The incredible and groundbreaking "What U See is What U Get" is here, as well as "Year 2000" from the movie "Black and White," a song which unfortunately didn't make the cut on his last LP. Also included are the videos for "X" and "Front 2 Back" from +Restless+, as well as a video for the song "Foundation" from the album "At the Speed of Life" included in "bonus materials." Whatever clearance issues Fortress DVD had getting music videos for Tha Liks DVD seem to have been completely resolved on this release, as it's as fine a compilation of mini-movies set to song from a single artist as one could ask for.
In fact, there's so much material on this DVD that it's really hard to take it all in with just one sitting. You can't even front on the clipped bonus material they couldn't logically edit into the main Xzibit presentation; such as the aforementioned "Foundation" video as well as live performances of "Alkaholik" with Tha Liks and "Say it Twice" with Defari Herut. Some artists will release a DVD that's like a burger and fries, but director Devin DeHaven has created a home video that is a virtual SMORGASBOARD of rap dopeness featuring one of hip-hop's best artists. You can't even afford to skip over the credits at the end, otherwise you'd miss getting a chance to see "Pussy Galore" - and trust me, she's worth it! Even if you were only a casual Xzibit fan but wanted to buy a hip-hop related DVD, this would be the one MUST-HAVE release of 2001; much like the "Restless" album was one of 2000's best CD's - and both will hold up for years of repeated replay!
Content: 9 of 10 Fun Factor: 9 of 10 TOTAL Vibes: 9 of 10
Originally posted: December 13, 2001
source: www.RapReviews.com