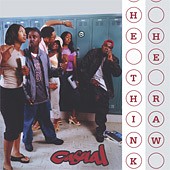 Casual :: He Think He Raw

Label: Hiero Imperium
Author: Steve 'Flash' Juon


You'd need an oil rig and a deep sea drill that can penetrate the ocean floor out in the Gulf of Mexico before you could get deeper underground than Casual is.
Casual didn't start out his career that way. In 1993 Casual released his debut album "Fear Itself" on Jive Records. It was a good Hieroglyphics year, as Souls of Mischief dropped their legendary "93 'Til Infinity" CD on Jive and Del the Funky Homosapien put out his sophomore album "No Need For Alarm" on Elektra. Del and Casual were widely recognized as the leaders of their pack, but for some reason Casual's sales seemed to be held back. Souls of Mischief crossed over on MTV and radio with their smooth sounding title track, but despite dropping classic underground singles like "I Didn't Mean To" and "That's How it Is" his album got left in the dust by both fellow Hiero members and the hip-hop nation at large. Then a reversal of fortunes left most of the Hieroglyphics suddenly bereft of major labels and forced to seek out indie and self-distribution for their music, which lead to the formation of their own website and the Hieroglyphics Imperium Recordings label.
The Hieroglyphics crew kept their reputation alive with online releases of their own shit and cameos by the members on other releases, but Casual's fame may have taken the biggest hit. Del's devoted following snapped up his unreleased "Future Development" online, and his name kept buzzing until he bounced back with "Both Sides of the Brain" and the futuristic "Deltron 3030" with Dan the Automator. Souls of Mischief would eventually release a new album as well, and other Hieros like Pep Love and Tajai put out solo projects through the Imperium which were well received. What happened to Casual though? A brief high-point for him in the 90's occurred when he joined his crew for the infamous "Hobo v. Hiero" battle on the World Famous Wake-Up Show on KMEL, but most impartial observers felt that Saafir the Saucee Nomad upstaged him throughout. Since then he's been hard to find outside the Hieroglyphics "3rd Eye Vision" compilation. He did duet with Dollar Will on Too $hort's "Nationwide Independence Day" compilation album, but $hort's project itself barely got above ground level to even blip on the hip-hop radar.
2001's "He Think He Raw" is thus for all but the devoted Hieroglyphic fanbase the first anyone has heard from him in almost a decade. Casual didn't vocally change much in those eight years - he's still got the deepest, most resonant bass vocals of anybody in the Hiero crew. When applied properly to the right kind of sonic backdrop, his voice is capable of producing the fear he so aptly dubbed himself on his debut. The cover art though produces only confusion when closely examined: posted up next to a bunch of high schoolers in front of what must be his locker, even though he's old enough to teach their classes. Artwork of those annoying "fill in the blank with a no. 2 pencil" standardized tests is prevalent throughout this release -- is this album a test for us then, or meant to show that the shady rap industry has been testing him for years?
The real test turns out to be listening to this album from start to finish. His debut release had dark, eerie, thumping and bumping tracks by Domino, Casual, Del and Jay-Biz. Domino is still around, but instead of taking a majority piece of the action this time he only checks in with ONE track, the appropriately demented and bent sounding "Studio D." Del and Jay-Biz are completely absent, but Casual self-produces six of his tracks. It's getting a bit tired to rant about how nine out of ten rappers should never rhyme over their own beats, but the sad truth is that most of them aren't properly judgmental about the quality of their own shit. The title track is so banal that four minutes and fifty-three seconds drag on like the end of the day right before the bell rings and you can hop on the school bus to head home. "Mine in a Bad Way" is almost as long and not much better, and "New Wave Freak" is an attempt to sound jazzy and brassy that turns out crass and nasty.
Outside assistance does come in the form of the Alchemist on "I Gotta (Get Down)," one of the few tracks that properly captures the way Casual is best served - thumping and nasty. The track snarls and growls as Casual tears carniverously into it's flesh with a barrage of his best instrumental beatdown raps:
"I take rap to the pinnacle with my cynical interview
Forensics magnify the rhymes, none are indentical
REACT, to the track when it go boom-boom-bap
Bring the end to your reign, rap so I can remain - in touch
You'll honor the last left, brain rhymer
My - presence on the mic is water on the rocks in a sauna!
Huh, lyrical scenery; a uninhabited world of greenery
And plus my psychic ability enables me to see
that you're not what you seem to be.."
Sixteen tracks of this type of viciousness would have hailed Casual's return after too long of an absence from the rap industry, and rang in "He Think He Raw" as the successor to a seminal hip-hop classic from 1993. Instead though, Casual comes off like he's the roung peg in a square hole, trying hard to fit into a new rap era that's not quite his. "It'll Come Around" is trying to be as smooth as "Big Poppa" and as crossover as "Welcome to Atlanta" but has neither Biggie's charisma nor Jermaine Dupri's tight beats. This musical mistake was produced by A.G., who also embarasses Casual with "Snaggle Puss." The only track that he fits Casual like a glove on is the slow and deep BPM's of "Windows", but it's too little too late. The SD-50's can't resurrect this album either with their lone thumping entry "Turf Dirt", and neither can Evidence on "The Shakedown" - a weak track not up to his usual Dilated Peoples production standards. Casual occasionally shows the flashes of brilliance which made "Fear Itself" a four-mic debut in The Source years ago, but Domino's absence and too many weak tracks overall leave a man who could arguably claim to be the most dangerous Hieroglyphics MC sounding declawed. "He Think He Raw?" Yeah he does, but this time he just ain't.
Music Vibes: 5 of 10 Lyric Vibes: 7 of 10 TOTAL Vibes: 6 of 10
Originally posted: February 19, 2002
source: www.RapReviews.com