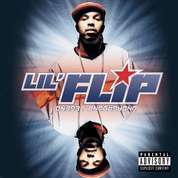 Lil' Flip :: Undaground Legend

Label: Sucka Free/Loud Records
Author: Steve 'Flash' Juon


Hip-Hop's rappers by their very braggadocious nature often proclaim themselves "Legends" or "Icons." This is often a survival mechanism to ward off rivals to the limited amount of spotlight available to share; after all would you really dare challenge a "legend" and risk humiliation? Sometimes, blustery proclamations of greatness even become self-fulfilling prophecies; witness the iconic stature of Muhammad Ali as a sports hero.
It's no surprise that Lil' Flip would be cocky given his record of success to date. He and Sucka Free Records co-founder Duane Hobbs tapped into the rising popularity of Southern hip-hop at just the right time, and moved over 150,000 units of his independent release "The Leprechaun." If you saw Flip in a silly outfit looking like a rap version of the Lucky Charms cereal mascot in stores, you may not have taken this album seriously. DJ Screw fans knew better, because like Big Moe and H.A.W.K. before him, Flip garnered a serious reputation on the late great's mix tapes.
This story of success should be familiar to most rap fans by now: regional artist develops large following, impresses major labels, and garners a major distribution deal for his syndicate and new album. In the 90's it was done time and time again, from E-40 and Sic'Wid'It to Trick Daddy and Slip-N-Slide among others. With Lil' Flip's boisterously titled "Undaground Legend," the 21-year-old rap sensation is aiming to bring his Houston sound and sensibility to a national audience. If you've ever heard that the pace of life is a little slower in the South, Flip embodies it. He takes his time when rapping, riding over relaxed beats and never sounding rushed or stressed out. His voice is a conversational drawl, part Eightball and part Juvenile. The trademark of Flip's style is an ability to make you chuckle and smile without an overabundance of similies and pop culture references, made even more ironic given his self-appointed title of "Freestyle King." The best example of this comedic delivery may be the album's first single "The Way We Ball":
"I'm still sippin lean, I'm still watchin screens
I love wearin platinum but my favorite color's green
I'm hopin out Ferraris, my house is three stories
I'm still independent cause Jive couldn't afford me
The meetings, were boring, for real I was snoring
The VP was fine, yeah she made me kinda horny
But that's another story.."
Flip's lyric writing is improved by a surprising level of candor not often found in artists and entertainers impressed by their own success. Flip dedicates the entire album to his late grandmother, and the song "I Shoulda Listened" is a melodic piano driven tribute to her wise advice about avoiding the pitfalls of the streets:
"I shoulda listened - when you said, 'Boy go and get a job!
Cause if you don't you gotta sell dope or rob.'
I shoulda listened - when you told me I need to go to college
But right now I'm tryin to put money in my wallet
I shoulda listened - when you said, 'Boy make good grades.'
But instead, I was worried about the new Jades
I shoulda listened - when you said, 'Boy don't get no tattoos.'
Now it's two years later, and I got twenty-two
I shoulda listened - when you said keep playin basketball
But I was makin mo' money standin in the hall
I shoulda listened - when you said I need to be in the church
But that's hard (why?) cause every day I got a concert.."
Flip's music is handled by a variety of beatmasters, from the bounce sound of Mr. Mixx on "7-1-3" to the dark and dirty guitars and bass of Chop Shop's "Forget the Fame." Bizzy Bone makes guest appearances on two tracks with his sing-song flow, on the tribute song "R.I.P. Screw" and on his challenge to gun-toting fakers "We Ain't Scared." Some songs are so over-the-top they work just by being outrageous; case in point "Get Crunk" featuring Lil' Ron, Young Redd and David Banner. The chorus of the song is simple, misogynistic and catchy:
"He a hoe (he a hoe) he a hoe (he a hoe)
If that nigga owe you money he a hoe (he a hoe)
She a hoe (she a hoe) she a hoe (she a hoe)
If that hoe won't let you fuck, she a hoe (she a hoe)
He a hoe (he a hoe) he a hoe (he a hoe)
If he don't wanna sell you weedm he a hoe (he a hoe)
She a hoe (she a hoe) she a hoe (she a hoe)
If she don't wanna give you head, she a hoe (she a hoe)"
For the most part the tracks that are good on this album work really well, but a couple of them need to be avoided altogether. The repetitive beats of "8 Rulez" and the smoothed out R&B style "Tonight" won't do anything for his hardcore fans OR the new converts. And as long-term fans go, there are bonuses to this album that are surprising. The first and most easily noticeable is a remix of his early hit "I Can Do Dat" featuring Juvenile, but less obvious is the bonus disc which features slowed up takes on "The Way We Ball", "U See It" and "Haters Still Mad." To the uninitiated who never heard Screw tapes or any of the scores of imitators, imagine playing a 45 at 33. As simple as it sounds, when done right it gives the rappers a nearly spooky vocal depth and really draws out a song's bass hits and drum beats nicely. The bonus disc would be worth it for these songs alone, but a few extra tracks like "The Roof is On Fire" make it even better still.
At almost 100 minutes total for both discs, this album is an incredible value for the $8 to $10 most stores are charging for it; especially if you're a fan of Flip's style. It's not for everyone though - some may find his flow and topics repetitive, or may not be into how relaxed and whimsical Flip seems to be. For this reviewer, Flip's album is a nice change of pace, even from his own Southern contemporaries. Those who know him will be pleased, those who don't but liked "The Way We Ball" may want to give it a chance. With "Undaground Legend," Flip proves that there's more to H-Town's hip-hop than gets exposed nationally, but that may be changing as long as he stays Sucka Free.
Music Vibes: 7.5 of 10 Lyric Vibes: 7 of 10 TOTAL Vibes: 7.5 of 10
Originally posted: September 3, 2002
source: www.RapReviews.com