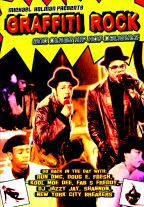 Graffiti Rock

Label: Music Video Distributors
Author: John Book


Graffiti Rock used to be a part of the hip-hop legend, a one-time television show that was much talked about but never seen by those outside of New York City. It was sold and traded within the underground network, but a few years ago Michael Holman wiped the dust off the masters and released it himself, offering fans a chance to see what the fuss was all about. Now it has been released on DVD.
Graffiti Rock was meant to be the start of a hip-hop version of American Bandstand. It came at a time when hip-hop was growing as a culture and a music, when those of us who were a part of it had a feeling something good was going to happen. We didn't know what, or when, but we all felt it. Graffiti Rock comes from an era long gone when guys wore their Polos with their collars up and girls were looking fresh with their boyfriend's gear on.
When the show aired in 1983, even those within hip-hop circles weren't sure what to make of it. Some saw it as exploitation, some saw it as cheesy and not true to the culture. Regardless of what it was then, today it is a look back at when the music was still very much underground, when being a B-boy and B-girl was a badge of pride. The clothes and hairdos looked silly, yet it was done for the music and the culture. The smiles were real, and it was fun. There was no such thing as multimillion dollar contracts, no such thing as artists with their own clothing line, it was all about Nike, Adidas, and Puma. This is all about hip-hop's hanabata days, captured on video for all to see. This DVD comes directly from Holman's master of the television show, so you don't have to worry about it being of inferior quality. The scratch lesson (made famous when the Beastie Boys sampled it on their Ill Communication album) seems so elementary and basic compared to what the Invislble Skratch Piklz would do just ten years later, but those old school rubs never go out of style. One of the major highlights of the show is the performances by Run-D.M.C. and the Treacherous Three, with Kool Moe Dee looking as bad ass as he could be. The New York City Breakers do their thing as well with their own B-boy segment, and while their outfits might keep you guessing, those moves are still being executed around the world today. There's also a lip-synched performance by Shannon of "Let The Music Play" fame, but it's second rate compared to everything else (she even lip-synchs her echo).
Anyone who has ever questioned whose music it was can go to Graffiti Rock and witness the truth. The music and the culture was for everyone, and everyone was dancing on the dance floor in unity. Either way, Graffiti Rock as a television show didn't make it past its pilot episode, but by that time there were a number of enterpreneurs in New York City who were getting ready for what was to come in the next few years.
I wasn't aware that Graffiti Rock was a mere 24 minutes in length. Fortunately, the DVD is padded out with a number of nice extras from Michael Holman's vaults, all of which show how much we have progressed over the years. The footage includes various MC's and DJ's performing in small basements, rec rooms, and high school gyms, including some very early DJ Jazzy Jay and Doug E. Fresh footage. There are also promo spots and TV radio stories only shown in the NYC area. There is some intense graffiti footage featuring none other than the man known as Futura 2000. Another nice segment is Fab 5 Freddy rapping in front of a number of children breaking and popping.
Historians and audiophiles will no doubt love the many shots of outdated mixers, speakers/amps, and cassette decks (including the TEAC cassettes that were made to look like reel-to-reels), but when we had the urge to make the music, we used our parents equipment to start our missions. If anything, the bonus footage also shows how much of an influence Run-D.M.C. had on everyone.
This is history, still in the making. This is the origin of a form of music that continues to be the subject of debate, not only among nay-sayers but among those within. There's always been the ethic of not wanting to look back, but sometimes looking back is a way of letting us know how much we've changed, how much we've grown, and how much we still have to do to keep the hip-hop spirit alive. A wonderful document of a lesson that is still being taught and learned. Only watch this under hip-hop supervision, alright?
Layout: 9 of 10 Content: 10 of 10 TOTAL Vibes: 9.5 of 10
Originally posted: October 10, 2002
source: www.RapReviews.com