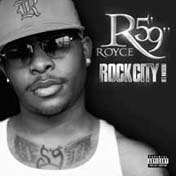 Royce Da 5'9" :: Rock City v.2.0

Label: Game Recordings/Koch Records
Author: Steve 'Flash' Juon


Matt Hardy may be "Version 1.0," but his wrestling Mattitude has never dealt with Royce Da 5'9", Version 2.0. For those who aren't already familiar with the rapper, he was once dubbed "The Next Big Thing" to come out of Detroit since Eminem. Actually, The Source dubbed him "the most anticipated rap artist," but for once they actually got it right. His friendship with Eminem lead to several hit song as the duo Bad Meets Evil including "Scary Movies," and just when you thought that was going to blow him up he flipped the script and hooked up with DJ Premier to record the underground banger "Boom":
"I'm the verbal-spit Smith Wesson
I unload with sick spit the quick wick could split a split-second
Bomb with a lit wick expression
You here a tick tick then you testin...
My saliva and spit can split thread into fiber and bits
So trust me, I'm as live as it gets
Everybody claimin they the best and head the throne
Since B.I.G is gone, if you ask me, they +Dead Wrong+
My flow is hotter than the flash from the click
When the hammer slaps the bullet on the ass from the clip
You wind up in a room full of my dawgs
I'll have you feelin like a fire hydrant in a room full of dogs
So come come now, get pissed on!"
As the ticking and menacing Primo beat banged out Royce's street-smart punchlines coast to coast, the first version of "Rock City" was heavily anticipated by hungry rap heads. And they waited. And they waited some more. And then around June of 2001, Royce's fans got a surprise they weren't really expecting: a guest rap appearance on Willa Ford's song "I Wanna Be Bad." The problem? It WAS bad:
"Willa, Willa, Willa, whatchu want? Whatchu want?
Willa, Willa, Willa, whatchu want? (can I get it from you?)
Is it Em the criminal wit the Stan look, uhh
You need a "Real Slim Shady" to (please stand up)
Or is it me, the criminal wit the V
The never pretend to be, nothin other than a (bad boy)
If you say you want me, tell me how you gon' be"
How can you destroy your credibility in 20 seconds or less? You can either trip and fall through a wall like "The Shockmaster" did on WCW back in 1993, or you can rap a pathetic verse on a "Wanna Be" Christina Aguilera's song. Either way, you become an instant failure. Game Records only made matters worse when they released "U Can't Touch Me" as the first single, an overly jiggified track that only confirmed people's worst fears. Despite a brief push for the title track (wisely featuring Eminem) as the second single, "Rock City" was put on the shelf and both rapper and album went back for fine tuning.
It's safe to say that after a long hiatus, "Version 2.0" will be more well received than the first. Just enough time has passed for people to forget the trainwreck of 2001 that nearly derailed his career, and the new and improved album builds on Royce's punchline credibility while giving him more acceptable ways to build a crossover audience. A good example is his new lead single "Mr. Baller," featuring Clipse and produced by the Neptunes. Peep the verbals:
"I was young, holdin guns, I kept one wit me
in the flatbed in the back of an F-150
I see three and six, me and the Clipse
Squeeze off, pop the guns, you seein the tips
So ride wit me (what nigga) die wit me
Yo this money's the easiest shit to get in this world besides PUSSY
That'll cost you, my whole crew'll stomp you to death
wearin cleats until you look like a waffle!
I won the battle; the first nigga to ever get the cover
of The Source, and the cover of Guns &amp Ammo"
Finally, the Royce 5'9" that was heavily anticipated has arrived. Hardcore rapping, comical punchlines, and a no-nonsense flow combined with a deep voice that rings in your head like an uppercut. Royce is more than happy to prove his skills and breath control are no joke. He rhymes triple speed with Twista on "Let's Go," attacks the mic brutally on "Nickel Nine Is" and slyly references his Johnson on "My Friend":
"My (Friend!) I never leave home without you with me
Here for the hoes just out to get me
Even when it's sticky your still wit me
You stick wit me, you must be my (Friend!)
A handy tool, you never lay around the house
A family jewel, too priceless to count him out
The power to keep you grinnin
A thug mentality like me; except he only beefs wit women
I need him for the health, I guess I'm a bit abusive
I choke him up and beat him when he's thinkin for himself"
"U Can't Touch Me" is still included on this re-tooled Royce LP, although it sounds much better in this context. Even when you might expect something commercialized from Amerie's guest apperance on "Life," it actually turns out to be gritty hip-hop. Her role is limited to providing the hook and outro of Royce's story of struggling to survive and make the most of existance. At about 2:40 into the track the album reaches a pinnacle moment when the smooth groove is stripped to the beat and replaced with the sound of a cold wind whistling while Royce is rapping:
"Life... somethin that, people take for granted
As time passes you gon' want somethin back
But you won't get it, cause history's made every second
So you crave every lesson, and save every blessing
No matter how you view the world yo, you never will get it
The world'll be the world, through the eyes of whoever is in it
But things ain't gon' always go right, look at it like
Yo - this ain't yo' day, but this yo' life, and live!"
With an all-star production list from Alchemist to DJ Premier to Nasheim Myrick and more, Royce's musical bases are solidly covered. You'll hear it on strictly ill verbal concepts like "King of Kings" (with a surprisingly dope Biblical overtone), on piano infused joints like "Take His Life" and on the Sopranos sampled war tale of "Soldier's Story." That leaves only the rapper to make or break this album, and the underground Royce who was once rated "The Next Big Thing" proves that while he's no Rakim, he certainly isn't Mason Betha either. The song "Who Am I" says it all: "The only thing that stronger than me is time, and yours is limited/And I'm involved in it 'til you all finished." Welcome to Royce Da 5'9", Version 2.0.
Music Vibes: 7.5 of 10 Lyric Vibes: 8.5 of 10 TOTAL Vibes: 8 of 10
Originally posted: November 19, 2002
source: www.RapReviews.com