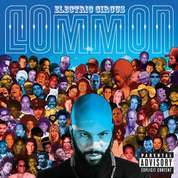 Common :: Electric Circus

Label: MCA Records/Okayplayer
Author: Steve 'Flash' Juon


It's been a long time since Unsigned Hype. Back in those days, the hottest rapper from the Southside of Chicago without a record deal called himself Common Sense a.k.a. Petey Wheatstraw, the devil's son-in-law. He drank malt liquor, spit fast (sometimes squeaky) vocals, and worked with a dope producer so unknown in rap his name was No I.D. After Common Sense made a name for himself, things started to change. First he dropped the last name, then he dropped "Resurrection." Not only did it save what could have been a one-hit wonder's rap career, it literally resurrected an uninspired hip-hop nation with lyrics that carefully balanced the witty and the profound over music that would make his sophomore effort the OPPOSITE of flop -- more like legendary. Even though the follow-up "One Day It'll All Make Sense" couldn't capture lightning in a bottle twice, it was still very well received.
Common surprised his fans again though by making another switch - he left his previous label behind, moved to the East, and joined the hip-hop circus. That travelling band of rogues and entertainers, better known as the Okayplayers. Suddenly his traditional gritty hip-hop sound which finely meshed Midwest sensibility with New York underground was switched up for a more Roots-y aesthetic, pun intended since ?uestlove took over shepherding Common's career. Around this time ?uest also made some very controversial comments which upset both hip-hop heads and Com's fans, when he said that the production on the classic "Resurrection" was subpar and would have been better if he had done it himself. Despite burning a lot of bridges with these callous remarks, "Like Water for Chocolate" was released on MCA to critical acclaim and spawned several big hits for the MC, including the surprising crossover success of "The Light." Still, without No I.D. in the mix some skeptics said Common had lost the core truth to his sound.
That may finally have been proven true with "Electric Circus." Experimental albums have a hallowed tradition in rap, from Prince Paul's work with De La Soul on "3 Feet High and Rising" to RZA introducing the nation to kung-fu samples and quirky beats on "Enter the Wu-Tang." Once in a while these albums come along and shake up what people believe hip-hop is or should sound like, and change what's possible for those who follow. The danger of course is that sometimes you sound like Prince Paul, and others you come off like a Dew Doo Man -- experimenting can either leave you sounding funky or just plain stanky.
Common's rap skills are not in question on this album, because over the years he has been developing his writing ability to pen profound verses that match lyrically with any tempo due to his superb breath control and strong diction. What's in question then is not his verbiage, but the beats that are matched with it. Dilla's work on "Soul Power" may be the closest thing to boom bap on the album, but even so it wreaks of monotony only broken by Com's flow. "Aquarius" is exactly the sort of track that will make his fans question trading No I.D. for ?uest, because the first 49 seconds of the song are an instrumental that talks loud and says nothing; and when he does start to bust you get the eerie feeling the ghost of Black Thought posessed his body:
"Revolutionary blunted rap
My peoples want hits, I hit it from the back
Under the Cherry Moon, I hold notes and carry tunes
My Gods pack heat, enough to bury June
[..]
Guard your grill like George Foreman; time to build
As far as buildin I'm the doorman, openin doors!
My blood I expose on the floor
Tell 'em the game ain't only to score"
It's uncanny really - if you imagine Thought rapping these lines instead of Com, then listen to the song, the sound is almost exactly the same. "Electric Wire Hustler Flower" is just as confusing as it's title - a song produced by James Poyser that features Sonny from P.O.D. Sonny isn't the problem here - the fact that a whole minute goes by again before Com starts rapping is. When he does come in, the fact he's yelling and powering his vocals into a reverberating microphone make the eerie similarity of his rap to Thought even worse. Whether ?uest is trying to turn him into Black Thought Part Deux is besides the point -- it's the direction the Okayplayers are guiding the man whose Sense-ability about dope rap was once second to none is. Where are the songs like "Soul By the Pound" and "1, 2 Many"; even songs from his last LP like "Dooinit" or "The 6th Sense?"
"I used to write shit -- to please niggaz
Now I write shit -- to freeze niggaz"
That may be more apt than Common intended. It's hard to see people nod their heads or stomp their feets to these beats. Kareim Riggins' work on "The Hustle" won't do it. ?uest can't do it with "New Wave" or "Star '89" featuring Bilal - another pair of songs that has more business having The Roots over it than Common. He does alright on "Between Me, You & Liberation," but that may have something to due with Cee-Lo's guest appearance and spiritual influence. 11-13 are all his work, and the first of these three "I Am Music" ostensibly features Jill Scott but almost showcases more of her than Common's dope scat style flow. This is followed by "Jim Was a Rock Star," and this time nearly two minutes go by before we hear any vocals - and it's not Common we hear from but Erykah Badu. Wasn't this supposed to be his album? Telling you how many guests overwhelm him on the closer "Heaven Somewhere" would almost be a moot point.
Maybe I'm the only one, but I think it's very problematic when the only two really dope songs where Common gets to dominate the beat and show off his smooth vocals the right way are both Neptunes tracks - the lead single "Come Close" featuring Mary J. Blige (the flow is surprisingly reminiscent of Pos from De La, but in a good way) and the rambunctious funk and harmonicas of "I Got a Right Ta" which sounds more like the Common of old than anything we've heard in years:
"Y'all cats know the abstract nigga with a attitude
Pass the booze and let's build on it!
I'm rollin in a Caddillac with the grill fronted
I ain't even smoke no bowl but I feel blunted!
Yo I'm chokin on the freedom, and steppin to the A.M.
Cats is totin in the P.M. tell them players I'm the GM
Told my team let me get MY plate straight and I'ma feed them
They need me like I need them, see the streets is bleedin
Had a meetin with my mind on how I, can be divine and
Stay on my grind - I'm GRIN-DING! Until I get blue balls
Everyday, same shit, new stall"
Maybe somebody should tell ?uest to step to the curb and let Pharrell and Chad do ALL of Common's tracks, or at least bring No I.D. back and let DJ Premier come in for a guest mixdown or two. Last time around on "Like Water for Chocolate" Common still had his Chicago flows, just spiced a little differently with Okayplayer oregano. This could and SHOULD have worked again, but the mix this time is bitter and leaves me feeling a little salty. The "Electric Circus" could rightly have been called the "Eclectic Circus" for the unconventional way it tries to combine disparate elements into a cohesive whole. Some avant garde music critics may think it's brilliant, but I'm speaking from a very personal P.O.V. here when I say I think they're fucking up Common's career. Last time I only thought about it in an offhand way, but this time I'm convinced it's true - he needs to go the fuck back to Chicago and get with his old crew again; cause this shit ain't working.
Music Vibes: 6 of 10 Lyric Vibes: 8 of 10 TOTAL Vibes: 7 of 10
Originally posted: December 10, 2002
source: www.RapReviews.com