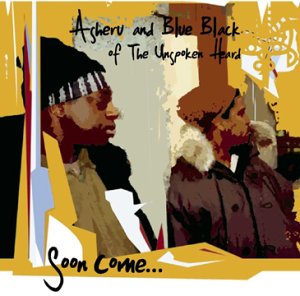 Asheru and Blue Black :: Soon Come...

Label: Seven Heads
Author: Steve 'Flash' Juon
Soon come. A dread or a rasta would recognize that phrase, as would most fans of reggae music. Loosely translated it means "great things happen when the time is right." If Asheru and Blue Black (also known as the Unspoken Heard) were looking for an apt title for their first full-length album, and with "Soon Come..." they undoubtedly found it.
As members of the influential collective of East coast hip-hoppers called the Seven Heads, Unspoken Heard were already well known for their singles and for their "Cosmology" and "Jamboree" EP's. Their work is respected in underground rap circles for a collection of qualities rarely found to exist together in one - strong production, honest lyricism, incredible diction and the ernest desire to craft something more original that the blase blah most underground rappers kick. Most rappers who cut a song called "Truly Unique" might be questioned about whether or not that statement is true, but Asheru and Blue Black live it to the fullest:
"Without gettin all deep and philosophical
We creatin a space, where anything is possible
We makin it so - even if it's not logical
Cause we run the spiritual with the biological
A world of fibre in cyberspace
Simply bridgin the gap and makin Wild Style common place
Stand in front line with rhymes cocked
Wheter improv or written, they all gettin dropped" -> Blue Black
"Soon as you go to school, frustrated as hell
Parents who do they best to keep you up out of jail
Critics, cynics and mimics all the rest in between that hate
to see a brother mix intelligence with cream, that mean
We either need to be poor, black and conscious
or bankrolled up, kickin nothin but that nonsense; but
Imagine a brother like Ashe goin out like that
Or Wes Jack or Blue Black... Truly Unique" -> Asheru
Producer Yusef Dinero captured lightning in a bottle with his track for this rap, creating a sound that's simultaneously fresh and yet pleasantly reminiscent of an old school Pete Rock & CL Smooth cut. He also laces the self-explanatory tracks "Theme Music" and "Soul," both titles that you'll find yourself in total agreement with. Other well-respected underground producers put their weight on this album too: J. Rawls does the opening cut "Welcome," the jazzy and heartfelt "Dear You" and "Think About" featuring his partner in crime J. Sands from Lone Catalysts. The rock hard Geology drops "B-Boy (We Get Shit)" and the closing track "Elevator Music," while in between "Jamboree" is blessesd by 88 Keys. Basically it's safe to say that you could start this CD at any point and play it all the way around back to spot same and not be dissapointed by the quality of the beats. When rappers don't have to worry about the quality of their beats, that frees them up to drop lyrical gems that stun and please, and on songs like "This is Me" they certainly do:
"It's not a matter of bein wack or not
It's about - who got your back when shit gets hot
In the crowds, I'm cultivatin props, I grow rocks
And stock breaks, manipulate the art and create
See, when I first started my heart was in the right place
Then they changed the game and I still kept pace
So now I'm in the place, and I'm in the house, and I'm comin back
You know this nigga's name
[...]
I been a b-boy before I been away
but the b in me'll never go away
I'll stow away on a ship
I'll seal my lips you watch me slip and escape
You know, I create funk flow
Cause I'm not caught up, I thought of a way to speak and spoke
The Unspoken Heard is no joke" -> Blue Black
Released in 2001 but still as fresh today as if Seven Heads had just put it in stores, "Soon Come..." found itself at the apex of Unspoken Heard's ascent from critical acclaim to industry fame. The story is still being written though, and if one can expect anything from Asheru and Blue Black it's that artists of this calibre never just disappear into quiet obscurity. Once you get a taste of this album, the only thing you'll want to know is when they're coming back with more of the raw on wax or CD in stores.
Music Vibes: 7.5 of 10 Lyric Vibes: 8.5 of 10 TOTAL Vibes: 8 of 10
Originally posted: January 21, 2003
source: www.RapReviews.com