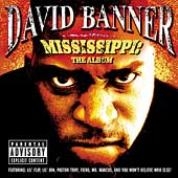 David Banner :: Mississippi: The Album

Label: Universal Records
Author: Steve 'Flash' Juon


If you're thinking of The Incredible Hulk you've got the wrong Banner - that would be Bruce. David Banner is a monster though in the genre of Southern rap. Since his successful debut as part of the group Crooked Lettaz in 1999 and his follow-up album "Them Firewater Boyz" in 2000, Banner's name has been put squarely onto the map, to a certain extent with rhymes but especially with his sweet beats for the streets. Rap fans have probably been wondering where he went since then, but it seems he dipped underground for a minute to come back up the right way with a major label deal.
"Mississippi: The Album" heralds that long-awaited return, and it's lead single "Like a Pimp" has been steadily climbing the charts and shaking car stereos all over. Long time fans of Southern rap will recognize the "bounce" elements of this track right away, but they are secondary to the intense bass hits of the Banner beat and "Undaground Legend" Lil' Flip dueting with D.B. on the track:
"By the time I hit the do' I saw hoes on the flo'
Niggaz dressed in suits trickin all they dough
Me I'ma pimp, I ain't payin for no sex
Man I'd rather buy a car, or a new Rolex
Cause I got street paint so hoes flock like birds
I got one holdin the weed, I got one holdin the syrup
When I hit the club, I'ma be wit David Banner
A thug ass nigga wit bad table manners
We act bad - 'My nigga what is y'all sayin?'
Like when we walk inside clubs, niggaz hold they gal hand
Cause they know we run trains (choo choo) all night
How could yo' gal leave me, and be wit you all night?
But its all right, cause you know we don't kiss
Like Too $hort said - bitches ain't shit!
I tried to told ya, that most girls really freaks
And this is how they gotta make they money every week"
Not to be out-pimped by his guest though, Banner's got some pimpology of his own:
"Step into club, lookin just like a pimp
We got cash so we screamin out SHAKE SOMETHIN BITCH!
This is your song, tell the DJ put it on
Micheal Tyler make you shake and Sisqo made you show your thong
Bitch I'm dead wrong, the playa from the crib
So get out on the flo' girl and get it how you live
And since you so hot - FUCK IT - show yo' pussy lips
You roll to Tupelo but I know you still Flip
Bitch don't trip, ain't a damn thang changed
I still love my queen, but bitches hipped me to the game
So if you gotta ho, shake them tough and let it go, YEAH
And let them girls get down on the flo', on the flo'
Like a Pimp"
Feminists will probably not be thrilled with this song, and mild-mannered gentlemen who've never seen a girl twirl her privates in a strip club may find it too explicit. Then again, what is EITHER GROUP doing listening to a hardcore rap album in the first place? Too $hort and 2 Live Crew fans will relate though, as will anybody who wants to bounce to hard beats. Banner has no shortage of them on this CD, which like "Firewater Boyz" sometimes sounds more like a compilation than a solo album. A good example of both is "Fuck 'Em" featuring Pastor Troy. Troy's appearance will make fans of crunk raps happy, but Banner's beat does even more. The drum track and the chorus both spit rapid fire, but the slow flowing rap verses between punch up their impact and show off a synthesized backdrop as triumphant as the Rocky soundtrack. "My Shawty" featuring Fiend still has a hard bass track, but slows down for some strummed chords in a context that could be mistaken for quiet storm music. In fact, the sentiments might throw those mad at "Like a Pimp" for a curve:
"You ever seen love don't love
That's like sayin Baton Rouge don't thug
Or Fiend never seen with no bud
Feelings drift, young emotions never seem to admit
What or what may they not permits
Plus love at first breath, many times remember the worst that it gets
I ain't know I could be blessed like this
Not really seein, the further of two human beings
Our love hard, and made another human bein
So much of our time, me and my lil' lady had a lil' lady
And sometimes I think it got a little crazy
But I need 'em both..."
The strength of the album lies in it's ability to swing between these extremes and yet never fail to hit the correct notes at any time. Good and evil are both a part of life, and in "Mississippi" David Banner finds a balance. Even on the rare tracks he doesn't produce like "What it Do" featuring Smoke D and mixed by KLC (of the Medicine Men), the funk and bounce are still there. You certainly can't be mad at the beat or guest appearance of Lil' Jon on "Might Getcha" either. The album always shines brightest with Banner behind the boards though, as the title track itself illustrates. Every word exudes his love/hate relationship with the place he calls home, over his own mellow beat:
"Crackers only come to buy crack
Them cracker cops only come to bust niggaz who sell dat
We from a place where they scream - PIMP A HOE, PIMP A HOE
We from a place where they still - DROP DEM BOWS, DROP DEM BOWS
We from a place where yo' grandmomma still showin you love
And we still eatin chicken in the club, bitch!
We from a place where dem boys still pimpin dem hoes
We from a place Cadillacs still ridin on vogues
We from a place and my soul still don't feel free
Where a flag means more to me - MISSISSIPPI!!"
If you've been down with David Banner for a while, this release will sound like the ultimate culmination of his quest to blow up big time. All the elements are here: laid-back cruising songs like "Cadillac on 22's," krunked out songs with smoothly sung vocals like "Choose Me" featuring Sky, and the funky-ass Southern anthems like "So Trill" - a song with a suprisingly sharp political subtext that listeners might not have expected. In fact, everything about "Mississippi: The Album" will be unexpected to those who heard "Like a Pimp" and assumed Banner was just another thug or that an album named after a place that until now received little to no recognition in the rap mainstream would be all cornball country stick. Those who underestimate either Banner's music or rhymes do so at their own peril, because there's a lot more here than meets the naked eye. "The Album" will definitely put "Mississippi" on the map, and those who cop it and hear it are going to realize it was long overdue.
Music Vibes: 8 of 10 Lyric Vibes: 8 of 10 TOTAL Vibes: 8 of 10
Originally posted: May 20, 2003
source: www.RapReviews.com