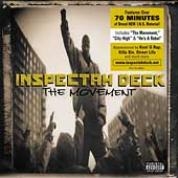 Inspectah Deck :: The Movement

Label: Koch Records
Author: Steve 'Flash' Juon


I-N-S the Rebel. Those words alone are enough to bring a smile to the heart of any tried and true, die-hard, down since 1993 fan of the Wu-Tang Clan. Listeners knew even then that Inspectah Deck was an MC who combined a keen intellect with an intensely unrelenting verbal barrage of disdain for competitors and weak MC's. Even in what may go down as the greatest supergroup of rap talent ever assembled, Deck got his props for unforgettable verses on songs like "Da Mystery of Chessboxin'":
"Well I'm a sire, I set the microphone on fire
Rap styles vary, and carry like Mariah
I come from the Shaolin slum, and the isle I'm from
is comin through with nuff niggaz, and nuff guns
so if you wanna come sweatin, stressin contestin
you'll catch a sharp sword to the midsection
Don't talk the talk, if you can't walk the walk
Phony niggaz are outlined in chalk
A man vexed, is what the projects made me
Rebel to the grain there's no way to barricade me
Steamrollin niggaz like a eighteen wheeler
with the drunk driver drivin, there's no survivin"
Unfortunately for fans of Deck, it would be a long EXCRUCIATING six year wait until his first solo album "Uncontrolled Substance" was released in 1999; a period which featured two Method Man albums, solo releases from GZA, Ol' Dirty, Raekwon, Ghostface, and damn near everybody in the Clan except for U-God (his "Golden Arms Redemption" came out in 1999 as well). As a result much of the fiery MC's heat cooled off in the sales area; or as contributor DJ Fatboy wrote, "Think of hip hop as constipated right now. You know there's some good shit in there, but it's a constant struggle to get a good movement out." So the iconic member of the Wu languished in the cellar, while another four years of both solo and group Clan releases passed him by.
In 2003 though, Inspectah Deck is back to get "The Movement" out and reach that underground fanbase that still holds it down for one of the Clan's sharpest swordsmen. All the tools are at his disposal to create greatness: a distinctive voice which finds a comfortable medium between the highs of MC Shan and the lows of Method Man, with an emotive flow that never hits banality or monotony, and the polished experience of a decade plus writing the rhymes recognized inside and outside rap music as superb poetry. The only thing Deck needs to get over is beats, but if you're expecting the Wu wunderkind RZA to hook him up, it's not going to happen. Production duties are split almost evenly between "Fantom of the Beats" and Ayatolla. In fact, this album seems to find Deck distancing himself from the Clan somewhat, as none of his fellow founding Clan members appear on the disc - just two cameos from second tier members Killa Sin and Street Life.
Whether intentional or not, this breathing room may be giving Deck the freedom he needs at long last to satiate his hungry fans, who like the Rebel himself aren't willing to wait around until RZA has time to program a beat. And there's certainly no inherent whackness to these cuts. The title track of "The Movement" is an energized mixture of deep bass, swift scratch sounds, high pitched whistling noises and taps that give a dark and ominous feel to his flamboyant raps:
"Smooth like a green Caddy, you fiend badly
Heads spin like Giovanni's on the Navi
Hammers spit, quick as the darts, niggaz part
Like the Red Sea, test me, I'm sick with the art
Been held back, it's either rap or sell smack
_Black Knight_ like Martin Lawrence +Run Tel Dat+
It's the I-N-S-P-E-C-T-A-H
Livin' life on the line, I hope I see daybreak"
The smooth soul of the following track "Who Got It" will remind people that "it's a Shaolin thing y'all" which blends the mystical style of the East with the beats and rhymes of the West:
"Truth scholar, you holla, up the few dollars
I work it overtime, whether white or blue collar
I proved my honor, cause I been through the drama
Wu-Chronicles, and I continue the saga
Chart topper, rhymes tough as body armor
When I speak, I hold the globe like the Dhali Lama
The flow is aqua, pa you swimmin wit the known piranha
The soul father, get to know my whole persona"
It wouldn't be a Deck album though if he didn't hold down the streets with a straight up street banger, and on "It's Like That" even drama king DJ Kay Slay drops in to endorse this hardcore assault:
"I rep, what you expect, I took a set back
Crept back, nursin' my wounds, lookin' for get back
Forced to bring the pain, make 'em say my name
Rings have changed, shinin' like I'm Ving Rhames
Or King James, hustlin', I sling game
Sting lames, this money makin' things change
I bless heads, push past the full macs
Left for dead, raised by the wolf packs
Black hoods, leathers with the wool hats
Draw blood, don't even pull gats, it's like that"
As good as this middle third of the album is, there are times where it feels like Deck is going through the motions lyrically and vocally. Deck going through the motions without giving 100% is still 150% better than 90% of MC's in rap, but there's still something overly hollow and simplistic about his vocals in songs like "Shorty Right There" featuring Street Life. Deck is capable of penning verses where the rhymes come in abstract combinations and sometimes in the middle of his bars, but on this song his words are formulaic enough to have come from an amateur still looking unsuccessfully for a record deal:
"Pleased to meet you, your dress fit as if see through
Niggaz treat you like royalty and dream to freak you
Diva in your own right, keep your home right
Bad bitch with the switch, let's trip the strobe lights
Tight with the Power-U, I'll devour you
Everything about you, make me scout you
No doubt, boo, make me fiend for a taste
Your hot like a fireplace, shows in your face
Now, come out the closet, baby girl, it's safe
Just a taste, of sex, lies and videotape; let's skate"
If that's his mack game for clocking a hot dame, I found it a little lack-ing. "U Wanna Be" is the typical rap mockery of fake gangsters, which is becoming cliche in and of itself. Deck seems to know it because he's not really trying to say anything profound or rap with any energy. "Framed" is a hot track, where Deck's enthusiasm seems to have been sparked by rhyming with the legendary Kool G. Rap for this one song. Things immediately slow back down on the silly "Bumpin and Grindin" (did he join Wreckx-N-Effect) but picks back up on "Vendetta" thanks to Ayatolla's Wu-esque beat which puts Deck in a more military frame of mind; even firing off rockets in the background:
"Y'all better rock y'all hoodies
And hold your girl tight before we pop that pussy
It be so real, I don't need no deal
My mass appeal make 'em marvel att how he so ill
Y'all time is up, try your luck, you'll wind up fucked up
Before you even recognize I struck
Roll with the live dozen, got all eyes buzzin
With strong rhymes cousin, been a long time comin
Break your weak links, in the chain
Fuck your mink, and your reign
Son is lame, plus he thinks it's a game; but
We about to apply the heat (the heat)
And snatch him up out the driver's seat
I put my life on it, post up like who want it
Blast off with the force to send y'all in orbit
Wild like whities in the mosh pit, yeah we gon' start shit
Pack 'em down, then corner the market"
More tracks like "The Stereotype" are needed on this album, where a hard beat inspires the Rebel to "serve mankind like a superhero" on the microphone; he even cleverly quips "Trust, I touch kids, but I'm no pedophile." The difference between where this album works and fails is pretty clear by the end as a result - as gifted as the Rebel I-N-S is as a writer, he doesn't put his full effort into the writing when the beat is uninspiring. There couldn't be a larger disparity between the heavy handed boom bap of "That Shit" and the uninteresting chord progressions of "Get Right," where Deck tries to compensate by speeding up his flow to gloss over it's weakness (and it doesn't work). Since both songs are produced by the Fantom, there's no real explanation why one is heat and the other is ice. No single producer is to blame for the lesser cuts on "The Movement," likewise no single producer can be credited with it's triumphs. By the album's end though, Wu-Tang fans might be wondering if it was worth waiting for beats from RZA, 4th Disciple and True Mathematics to give his album a more familiar Wu sound and Deck himself more inspiration for flow and rhyme-writing. After a four-year long hiatus, it's not the revelation that "Uncontrolled Substance" was and worse still may show he's now headed in the wrong direction; but regardless Wu fans need to consider this one a must have.
Music Vibes: 7 of 10 Lyric Vibes: 8 of 10 TOTAL Vibes: 7.5 of 10
Originally posted: June 17, 2003
source: www.RapReviews.com