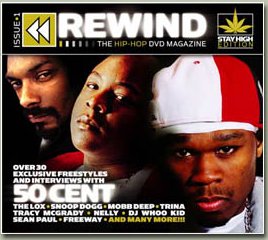 Rewind: The Hip-Hop DVD Magazine - Issue 1

Label: Brooklyn Works/Shadyville Entertainment
Author: Matt Jost


It would be a gross overstatement to say that the hip-hop video magazine has played a significant role in hip-hop history. Maybe we should be more specific: while graf and b-boy videos play an important role in their respective communities, the music side of hip-hop seems too well represented on TV to leave room for marketable video mags. In the early 90s, the "Slammin' Rap Video Magazine" lasted for a few volumes, but early on TV shows such as the highly successful "Yo! MTV Raps", NYC's pioneering "Video Music Box" and many other local shows quenched a hip-hopper's thirst for visual coverage. But with the handy and durable DVD replacing the VHS format, some folks decided to give it another try with "Rewind - The Hip-Hop DVD Magazine". The first issue has been out for some months now and reportedly already sold over 100'000 copies. The novelty may have had as much to do with it as 50 Cent, Jadakiss and Snoop Dogg gracing its cover.
But what's on the inside? Over 2 hours of footage, plus a bonus audio CD mixed by DJ Whoo Kid. The man who brought you G-Unit staples like "No Mercy No Fear" and "God's Plan" also hosts the DVD, catching his various interview partners on the tour bus, in the studio, at live shows, in hotel rooms, or wherever they happen to be. While the featurings read like a who's who of today's rap world, not everybody gets the same amount of coverage. Some cats you will only see laying down some vocals, most likely for a Whoo Kid tape. Among them Mobb Deep, Freeway, Twista, and Royce Da 5'9". While these segments make you wish Whoo had talked to these guests, you'll be pleased to find out that he did to others. However, don't expect full-length interviews, as sometimes only a few snippets escaped the cutting room. These bits and pieces will hardly satisfy your hunger for in-depth information, considering the amount of artists featured.
What you're sure to get, though, are some worthwhile soundbites. Video director Little X has a story to tell about a video dancer who draws a clear line between video directors and rappers when it comes to sexual favors, Snoop Dogg pays his respects to Gang Starr at New York's now-defunct D&D Studios, a relaxed 50 Cent is cheesing somewhere out in Long Island, Nelly mentions how his mother was the only person he knew growing up who held a steady job, working in fast food for over 30 years, NORE ponders the influence of his weed-smoking habit on his lyrics, Trina talks about her ass and the strong women in her family, and last year's top scorer Tracy McGrady talks a better game than a lot of these rappers. These are some of the highlights of this DVD. Another special moment is when Rockwilder, after running down five of his favorite beats he made, triggers a new beat that you just know will add even more credibility to his catalog. And don't miss Slick Rick performing "Mona Lisa" admist the lovely Game Girls (AKA Hip-Hop Honeys). "Rewind"'s best moment, in this reviewer's humble opinion, may be the camera fixing a confident Lil' Wayne sitting on a couch delivering some strong acapella verses.
Two camps get more in-depth coverage, not surprisingly people Whoo Kid has worked with on the mixtape tip. First, there's 50 Cent and G-Unit. Considering the interview is well over a year old by now, you won't hear anything new, but it's always good to see this endangered rapper speaking his mind. We also got Tony Yayo doing "Back Seat" and live footage of G-Unit in concert. Then there's The Lox and 'em, divided into segments featuring Jadakiss and Styles P and Sheek and Jae Hood taking you to the D-Block studio. Another special feature that has to be mentioned are the many statements on weed. Apparently that was some sort for theme for this "Stay High Edition". To balance things out, Fat Joe makes valid arguments against it, and Whoo Kid himself even starts off by saying that he doesn't smoke.
Contrary to his mixtape antics, DJ Whoo Kid is a surprisingly relaxed guy in front of the camera. The problem is that his already low profile as a host and interviewer gets further diminished during the second half of the DVD, as you barely see him anymore. After the ambitious start when he interviews DJ Envy from car to car over the cell phone, Whoo slowly but surely fades into the background. No wonder the always entertaining NORE bursts out: "Whoo Kid's goddamn too laid back!" Furthermore, some segments have little relevance in the big scheme of things. You'll also wonder why the Def Squad, BG and Slick Rick are featured as extras. But the handling is clear, each segment can be accessed from the menu, there aren't too many annoying graphic gimmicks, Red Spyda, Sha Money XL, Colektives and Rival Gang supply extra beats, and sound and vision leave generally nothing to be desired.
The way things are looking, the first issue of "Rewind" won't be the DVD people will praise for its particularly exciting footage. It may be rawer than what you see on television, but at the same time it's so heavily edited that you will still prefer turning into the radio stations and TV channels that know how to chop it up on a journalistic level and that are up-to-date. Parents please notice that this DVD contains some nudity, but nothing that kids wouldn't easily be able to access otherwise. There is also a spot for Bacardi Gold, as well as other, less problematic commercials.
To bring this review full circle, the first issue of "Slammin'" (hosted by actor Alex Winter) featured acts like Ice-T, Queen Latifah, Salt-N-Pepa, Tone-Loc, Rob Base & E-Z Rock and Big Daddy Kane. Just like "Slammin'" back then, "Rewind" covers a large part of mainstream rap music. Looking back, it would not hurt to think about the values that dictate the game today. A man who has seen it all, from hip-hop's humble beginnings in the South Bronx to his own superstardom, Fat Joe, says it best when he reveals that the only thing that is respected is money. It may not always have been like that. But look no further than Brooklyn's Red Café, someone who's been working the mixtape circuit for the longest trying to make it as a rapper, but dismisses the fundamentals of this artform when asked about rap battles, replying that he handles opponents on a physical level. Apparently, among all our superthugs, we also got us some plain common thugs.
Layout: 7 of 10 Content: 5 of 10 TOTAL Vibes: 6 of 10
Originally posted: September 16, 2003
source: www.RapReviews.com