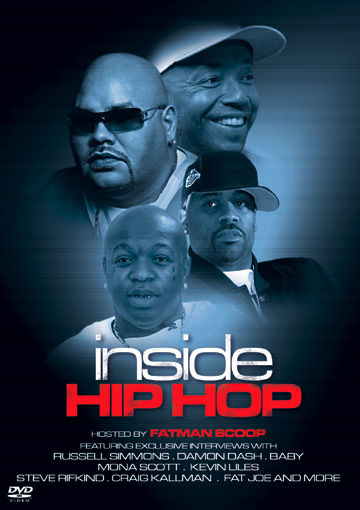 Inside Hip Hop

Label: Image Entertainment
Author: Steve 'Flash' Juon


Like Funkmaster Flex, DJ Kay Slay, and Red Alert, when you hear Fatman Scoop you're hearing one of the most recognizable toasters in hip-hop. Whether in the mix or introducing a song he's as much of a personality as the artists on the song. Personally, I'll never forget the first time I heard his voice booming out over the hook of MF Grimm's "International Rules" on a DJ Premier mixtape. Since then Scoop has made quite a name for himself with club hits like "Be Faithful" with Faith Evans and the Crooklyn Clan, but like other industry personalities he's got a whole slew of things on his plate.
Traditionally hip-hop DVD's have had one of three formats to success: the "live on tour" DVD, the "we're making our own movie" DVD, or the "music videos you've seen and some you haven't" DVD - often mixing those formats together to varying degrees. "Inside Hip Hop" uses none of those formulas. Scoop is a baller in the game, but on the "Inside Hip Hop" DVD he's talking to the men HE considers to be the biggest dogs in the yard. This is far from an excuse for Scoop to floss though, in a "look at the millionaires I have access to" type thang. Scoop has a far more subversive agenda. With "Inside Hip Hop" he's talking to pioneers and hip-hop entrepeneurs to reveal their secrets to success. The best way to categorize it is as a documentary on how to be a successful rap entrepeneur.
That's not to say "Inside Hip Hop" isn't entertaining. Recognized rap artists like Baby and Fat Joe are profiled right alongside the corporate superstars like Russell Simmons and Steve Rifkind, alongside behind-the-scenes moguls like Kevin Liles and Mona Scott. If the latter names aren't immediately familiar to you, they will be after watching this DVD. Liles is the President of the Def Jam/Def Soul Music Group, and Scott is the President of Violator Management. Their love of hip-hop culture comes through as they describe to Scoop what it takes to be a success not only in the music industry, but in business in general. Liles is direct to the point when Scoop asks what level of commitment it takes to make it: "24 hours a day, 7 days a week, and at the end of the day I've just started to lift my head up [...] I'm up at 6, and I get home at 2 - that means I only get three to four hours of sleep a night." Scott doesn't pull any punches either. "There are all these great good times, but there's gonna be times when shit is fucked up." Their blunt honesty is an education to anybody who thinks that reaching the top of the pyramid means it's all floss and bling bling.
The segments themselves are shot and put together very professionally. Too many rap documentaries feel that poor camera techniques and bad lighting can be excused as making it more "gritty" and "realistic." Director Marcos Antonio Miranda takes the opposite approach. The lighting is set right, the cuts from close-ups to two-man wide shots are wisely done, and the framing presents all of the people involved in their truest light - even if it's not always a beautiful light. Let's face it - Paul Rosenburg has a pock-marked face that only his mother could love, but nobody dressed him with twenty layers of make up to do this shoot. It IS gritty and real that way. You're not getting Lyor Cohen and Russell Simmons at their prettiest on this DVD, but you are getting the most beautiful thing they have to offer - what Scoop likes to end segments referring to as "wise words from a wise man."
If one can find any fault with this DVD, it's really in the cheesy way the menus present the content. A poor imitation of graffiti art on a brick wall is the main menu, and no music or moving pictures go along with it to soften the blow. Your choices are either "program start" or "scene selections," so clearly bonus material was not a consideration with this release. That's not necessarily bad, since it makes "Inside Hip Hop" an honest "it is what it is" DVD, but it may scare off some purchasers who have come to expect and demand a lot of extra features to justify their dollar spent. I really wish they had included an autobiography feature with short text write-ups about all of the major players featured within, but these and other changes can be made the next time around. In truth though it's hard to imagine a next time around having as many of the top executives of hip-hop music and culture all compiled together in one place at one time ever again. That alone is a major coup for "Inside Hip Hop," and the strength of that material and the fascinating look at how it all works behind the scenes is what matters the most. They could have easily called this DVD "how to be a successful CEO, manager, or label executive" but it wouldn't have been as catchy as "Inside Hip Hop." The name is apt though - few rap DVD's will ever get this deep. Big up to Scoop and Image Entertainment for gettin' it done.
Layout: 6 of 10 Content: 10 of 10 TOTAL Vibes: 8 of 10
Originally posted: November 11, 2003
source: www.RapReviews.com