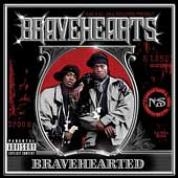 Bravehearts :: Bravehearted

Label: Ill Will/Columbia Records
Author: Steve 'Flash' Juon


Even if you haven't seen the film starring Mel Gibson, you've probably heard of the Bravehearts. Hip-Hop has seen this trio of Nas proteges floating around the industry for the past 5 years, and they even briefly ascended to gold status off the strength of the "Oochie Wally" single from the QB Finest compilation. To make this personal though, I must confess I fucked up when reviewing that comp, dismissing what would go on to be a smash hit for the group as "a simple sex braggadocio track that lacks a hard beat or good style." Nobody's perfect. I'm willing to admit I wrote off the group too lightly, and give these QB MC's a second chance as they drop their long-awaited full length album "Bravehearted."
The Lil Jon produced first single "Quick to Back Down" certainly tries to set all the hallmarks of being another smash for the group. Over a boomtastic beat, Nas opens the song with a verse hot enough to keep listeners checking for his compadres:
"First of all this is Nas I'ma Braveheart veteran
And y'all already know who I'm better than
Yall know the beef in the hood it'll never end
Never hit the club unless I get's my berretta in
The letter N, short for Nasir
More drama than the President with North Korea
Gettin krunk with Lil Jon, he the livest in the South
Fuck around and you get wires in your mouth
Cowards I despise and my power keeps on risin
Niggas try to hate me but they keep recognizin
Who's the next label I'ma bury
CEO's, rappers and A&R's go to the rap cemetary
And ya all got guns but ya scared to use 'em
Six million ways to die, nigga choose one
I'm a Braveheart I'll be right here
Y'all talk shit but I smell fear, motherfucker!"
Jungle comes after Nas with a verse and flow that put him somewhere between MC Shan and early Tragedy raps musically. Wiz pitches clean-up with a deeper voice and a relatively simplistic braggadocio gangster rap that's effective if only because of its short length in the song. Where's Horse though? Out of all the Bravehearts, his verse in "Oochie Wally" was the most memorable thanks to his voice and Biggie mimicking lines like "When it comes to sex I'm similar to the Thriller in Manilla." Apparently he got ex-communicated from the group, cause Jungle and Wiz are the only ones rapping verses on this album, except for guest appearances by Nas or other friends of the Bravehearts. He doesn't have "thank you" shout outs in the liner notes, nor is he even mentioned in any of the ones Jungle or Wiz wrote. Considering that as recently as 50 Cent's "Guess Who's Back" mixtape he was still repping as "QB's big name" and the "Sasquatch of rap" on "Who U Rep Wit," one can only surmise that like the abominable snowman of myth, the Bravehearts have decided that he doesn't really exist.
It's a damn shame too, since Horse would have added some much needed depth and humor to the group. The Bravehearts function as well as a duo as they did as a trio, but they seem to be copying East coast hip-hop cliches ad nauseum. The Dirty Swift and Bruce Waynne produced "Sensations" seems like a typical jiggy P. Diddy track, with a lot of crass odes to their sexual proclivities I have no interest in. They also produce "Buss My Gun" featuring Nashawn, and while his verse briefly raises the song's profile, an overly-simplistic beat that sounds like wannabe Neptunes and boring Wiz and Jungle raps make sure it stays buried in D+ grade thuggery. The lack of creativity is evident all around, as even the album's finale "I Will" is according to the liner notes produced by "Neo for Da Matrix." Come on. Bruce Waynne? Neo? This album is on life support.
Nas does manage to give the group a few transfusions to keep things alive, on the songs "Twilight," "Bravehearted" and "Situations." Produced by Swizz Beatz, Jungle and Bastianny respectively, these are the freshest tracks on the whole album. It's either an ironic coincidence, or suspicious, that Nas would rap over nothing less than the best. Draw your own conclusions, but the one I drew about Jungle is that I like him better behind the boards than in front of it. Witness his rap on "Twilight" for example:
"If you see me, on MTV
Don't forget I'm the same nigga from QB
Sitting on the block, hungry and starving
Imagining preforming at Madison Square Garden
Or Radio City, and New York City
Bring the whole hood wit me, gallons of Henny
My homey got shot right before my eyes
I got shot too but I survived"
Not exactly whack, right? But not exactly interesting either. Swap Jungle's name out and this is the same story you could hear spit by any member of the Diplomats, or any East coast no-name rapper repping on a Whoo Kid mixtape trying to get famous. Jungle never says anything terribly clever or memorable - considering he's the better of the two MC's, that's problematic at best and nearly fatal at the worst. I wanted this album to change my original opinion of the Bravehearts, but songs like "I Wanna" won't do it. Some unlisted singer croons "baby, I wanna fuck, I'll be your down ass slut" for the hook, and her lack of self-respect mirrors how I feel after having my ears raped for this entire album. Culling the best tracks of this album might have made a worthwhile EP, but would not solve the larger problem that Jungle and Wiz are irrelevant and certainly won't be found in a lexicon of rap's all time greats, let alone in the history of Queensbridge. If you want raunchy East coast, check for Akinyele. If you want more intelligent thug verses, check for Tragedy Khadafi. It's a shame Columbia wasted our time with this instead of a new Nas album, which smart shoppers will wait for instead.
Music Vibes: 5 of 10 Lyric Vibes: 4 of 10 TOTAL Vibes: 4.5 of 10
Originally posted: December 30, 2003
source: www.RapReviews.com