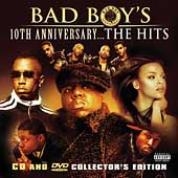 various artists :: Bad Boy's 10th Anniversary DVD

Label: Bad Boy/Universal Records
Author: Steve 'Flash' Juon

EDITOR'S NOTE: click here to read the CD review.
You know the name. Bad Boy Records. And if you were a hip-hop fan in the 1990's, you know their videos almost as well as their music. The two go hand in hand. Hip-Hop has in fact benefitted greatly on the whole from networks like MTV, and Bad Boy was far from the exception to this rule. Perhaps more than any other label save Def Jam or any other artists save Run-D.M.C., Bad Boy and it's CEO Sean 'Puffy' Combs recognized just how powerful the medium of TV was in promoting both the albums and careers of their artists. Record spins on radio can make you popular with music fans and give you word of mouth buzz, but a fly video for the same song reaches national and even INTERNATIONAL audiences as opposed to the limited broadcast radius of whatever FM tower is pumping your latest promo single. Rappers with widely seen videos don't just become stars, they become superstars and even household names.
Packaged with the initial release of the "10th Anniversary" Bad Boy CD as a bonus disc, this bonus DVD is probably worth the purchase price in it's own right. That's saying something. These days, bonus discs and in particular bonus DVD discs are all the rage, but often half-ass their content by providing one or two videos for singles off the album, some boring interview footage, and a few "live in concert" segments. Such bonus content has become a cliche unto itself. The DVD included with "10th Anniversary" is much more than that. To start with, you'll find videos for songs that weren't even included on the audio-only portion of the package. Craig Mack's original version of "Flava in Ya Ear" and the surreal Craig Henry video which made such a powerful visual impact are included. Some rappers like to portray themselves as stomping over tall buildings, but Craig let large monuments and buildings surround HIM, yet still made his dermatology-challenged face the focus of every shot. It was as tremendous as his song was fantastic, and made Mack's trademark "HAHHHH!" and "BWOYYYYY" the words spit by every rap fan "from here to Tibet."
There's no denying Hype Williams role in this presentation either. Did Williams make Bad Boy videos a success, or did Bad Boy videos make HIM a success? You could argue it either way, but you can't argue with the strong visual style he brought to each Bad Boy song he filmed. From Notorious B.I.G.'s first major hit "Big Poppa" to the tribute video "I'll Be Missing You," Williams helped create the images of Biggie we would all remember and treasure long after his passing. He was also said, for better or for worse, to have ushered in the "shiny suit" and "bling bling" era of hip-hop. All the same, you can't argue with the humerous "PGA" intro to the video "Mo' Money Mo' Problems," or the look of Mase and P. Diddy floating around in a brightly candy-colored sci-fi futuristic world - a vision so fantastical it actually made post-death B.I.G. clips included in the video seem plausible; although there's no question it would have been better if he was there in person. Hype went even further when he made the video for "Feel So Good" by Mase, taking a walk through Las Vegas with a fish-eye lens (a Williams trademark) and making the Binion's Horseshoe a hip-hop landmark. What's more flashy - the neon lights of the strip, or Mase and Puffy's outfits? You decide.
It's unfortunate so many of these videos came out after B.I.G.'s death, even the ones he shot his own footage for like the Paul Hunter directed "Hypnotize." It's odd though that they chose not to include the video for "Sky's the Limit," which was built around the undeniably cute premise of pint-sized Bad Boy star look-alikes portraying their grown up counterparts, or the stark and punchy "Let's Get It" featuring P. Diddy rapping with Black Rob and G. Dep, among others. Unlike an audio CD, which is limited to 74 minutes with almost no exceptions (in rare cases it can be stretched further) a DVD can hold up to several hours or more of content, so there's no reason to have not included a few more gems. Why not pair the original "Flava in Ya Ear" video next to the "Remix" version, and let people appreciate the contrast between the brightly colored original and the minimalistic black & white take on the remake? And let's call a spade a spade here, the "Victory" video was basically an excuse for Diddy to show off his Hollywood connections and remake "The Running Game" in his own image, all while adding unnecessary extra vocals to the song's instrumental and dressing Busta Rhymes up in the most ridiculous outfit of his career - and THAT'S saying something too. If he wanted to include a video that showed his connects, how about the much better and funnier "Bad Boy for Life" with Ben Stiller doing his "poppa diddy pop" bit? Still, these are 12 of the all-time classics, and whether you consider youself as having gotten the videos free with the album or vice versa, you got a good deal either way. Lean on extra features but powerful in it's content, this DVD is a clear winner.
Layout: 8 of 10 Content: 8 of 10 TOTAL Vibes: 8 of 10
Originally posted: March 9, 2004
source: www.RapReviews.com