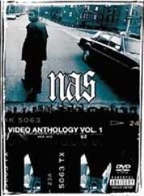 Nas :: Video Anthology Vol. 1

Label: Sony Music
Author: Matt Barone


Rap videos are a stronger medium than you may even realize, with the rampant images of half-naked women, fancy cars and other excesses serving as visible proof for those who oppose the genre for it's "negative impact on the youth of today." While not all videos fall into these stereotypes, it's sad to say that these clips are more the majority than the minority. Thankfully, there are still artists who attempt to exhibit creativity and meaning in their videos, such as Dilated Peoples and Kanye West, among others.
One MC who has fallen into both video categories throughout his career is Queensbridge-bred Nas. Over the past ten years, Nas has placed his audio creations over a wide-array of visual companions, some forgettable and some groundbreaking. Being one of the most acclaimed, and speculated, figures in rap music means that each of your videos will be highly criticized, a fact that Nas has seemed to thankfully ignore in favor of personal visions.
Being released along with the ten-year anniversary re-release of the Nas classic debut "Illmatic", "Video Anthology Vol. 1" compiles the 14 videos spawned from his six solo albums. Placed in chronological order, the viewer is able to see the artistic growth that Nas has experienced over the years, and how much can be done when more money is in your working budget. The first few videos included provide pure nostalgia for anyone who grew up watching shows like Yo! MTV Raps and Video Music Box, presenting videos for "Illmatic" tracks that are rarely seen in 2004. The simplicity and innocence witnessed in the clips for "It Ain't Hard To Tell", "Halftime", and "The World Is Yours" prove that showing an MC in his natural habitat is at times the best way to convey the messages in his lyrics. Watching Nas spit his flawless verses while roaming through his Queensbridge projects should transport viewers back to 1994, a time when rap music was devoid of gimmicks and clichés.
For "Street Dreams", off of his 1996 sophomore effort "It Was Written", Nas showed a more conceptual side by reworking the Robert DeNiro movie classic Casino. Dressing in similar outfits seen in the movie while acting out exact scenes from the film was a significant departure from the low-budget days of 1994, but this video is still successful. For a song discussing higher aspirations for urban hustlers, sporting top-quality fashions while running a top-o f-the-line casino conveys the common dreams of ghetto dwellers well.
While the back-to-basics clip for the DJ Premier-crafted banger "Nas Is Like" was a welcome return to the essence for Nas, the highly controversial "Hate Me Now" featuring Puff Daddy is a cluttered and almost too-daring video. Filmed while Nas was in full-"Esco" mode, panthers in cages, flashy fur coats and that embarrassing shiny red suit bring our beloved Nas into the glamorous world of his guest Puffy, making Esco seem out-of-place to his faithful following. Commenting on how the public blasted him for his apparent "selling out" (somewhat like I am doing now perhaps), Nas attempted to raise eyebrows by re-enacting the crucifixion of Jesus. At the time, this was a shocking and courageous move, but in a 2004 climate where religious themes are unavoidable, watching Nas rap while hanging on a cross comes off a ludicrous comparison and loses whatever power it had back in 1999 when "I Am..." was released.
Easily the weakest video Nas has ever made, the Ginuwine-assisted "You Owe Me" is a generic song backed by an even more uninspired mixture of bright colors and attractive scantily clad females. Again, this video was excusable at the time of its initial release because of the crop of rap clips surrounding it on MTV, but watching it now simply results in boredom and use of the Skip button on your DVD remote. The videos following "You Owe Me", however, are some of the rapper's all-time best. Nas reincarnates himself as both 2Pac and The Notorious B.I.G. for the memorable "Got Ur Self A..." clip, acting out the final moments before each was murdered. "Made You Look" brings Nas back to the days of his first videos, finding him now traveling to all five boroughs of New York City to show his love for the streets.
The two most powerful videos Nas has crafted come courtesy of "One Mic" and "I Can", both featured on this DVD. "One Mic" displays the emotion and intensity heard in the MC's powerful lyrics, as he sits alone in dark room rapping an introspective monologue. The third and final verse is lip-synched by a diverse group of individuals, showing how the message of empowerment from Nas is a universal one. The video for "I Can" is much lighter in nature, with children of all backgrounds and ages rounding out the supporting cast as Nas inspires and uplifts the youth with his social commentary and insight.
In the end, this collection is an essential purchase for both Nas fans and general hip-hop supporters. Except for a few weak spots, Video Anthology Vol. 1 shows the impact that rap videos can have if done right. Nas is one of most talented and influential MCs of all time, and, at their best, his videos serve as a reminder of just how important rap music truly is.
Layout: 8 of 10 Content: 8 of 10 TOTAL Vibes: 8 of 10
Originally posted: April 20, 2004
source: www.RapReviews.com