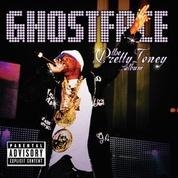 Ghostface :: The Pretty Toney Album

Label: Def Jam
Author: Steve 'Flash' Juon


You really have to give Dennis Coles credit. While other Wu-Tang solo artists struggle to maintain their fame and popularity outside of the Clan, Ghostface's star just continues to rise. "The Pretty Toney Album" is his fourth full-length album, not counting last year's greatest hits compilation "Shaolin's Finest." Who in the Wu is fuckin with that? Nobody has more - not Raekwon, not Method Man, not GZA, Inspectah Deck or Ol' Dirty Bastard. The self-proclaimed "Ironman" of hip-hop lives up to his name by being the most consistant, prolific, AND popular Clan member.
Ever since his departure from Epic Records for the friendly confines of Def Jam (a move confirmed by his appearance in the popular video game Def Jam Vendetta) hip-hop heads have been eagerly awaiting the next chapter of the Ghostface Killah saga. Right from the start on the album's "Intro" Ghost has some things to get out of the way. He has a mock interview session explaining that the Wu-Tang is still together, that Ghostface is still going to come hard for the streets, and ain't a damn thing changed. "Biscuits" featuring Trife does a good job of confirming it. True Master provides them a classic track of pianos and horns that sounds like vintage 1970's soul, and Ghost doesn't waste the opportunity to shine on it:
"Act like James Brown and get down!
Get slapped with the put down
Wasn't you the same clown? Uptown, yappin'
I keep big Shirley on my side, so 'What's Happenin'?'
Try eatin these shells, they non-fattenin
After you digest dat, I'ma stomp you bastards
So take that.. blaow, blaow! Ghost, he still breathin
Blaow, blaow! Anything after that it don't matter
Your homies and your close relatives
Even them nosey-ass pigs'll get splattered
It's the T-H, E-O, D-O-R-E
Send me to Iraq I come back with don heat
Teeth, less than a week, they be callin me
Keep with the fists, cause I sure do cook when it's beef!"
The album strives hard to hit all the right notes from the start, and succeeds in high fashion. The RZA produced "Kunta Fly Shit" is the kind of collabo' fans of "Ironman" want to see more of - the only thing wrong with the song is it's too short! "Beat the Clock" is a fat Minnesota laced joint sampling from Buddy Johnson's "Since I Fell For You" where Ghost tells one of his typically evocative narratives. The biggest surprise in the early going may be that No ID (yes, the producer of Common Sense's legendary "Resurrection" album) steps in to produce one of the HARDEST most Wu-like tracks of the whole album: "Metal Lungies" also starring Sheek Louch and Styles P. These two always make good cameo appearances, but you just can't upstage Ghostface:
"What these clown niggaz hollerin? What they need to be hollerin
is 'Theodore, Theodore! Put the ball down, we can't score!'
They pin shit to backboards, make Queens out of whack broads
You see us comin, fuck that fam shit, just pass off ya bitch!
Cristal, Dane Danes wrapped around your neck
Lookin rich, bow, you fucked up now!
See my gun nigga? This baby got scuffed Uptown
Shout it out, made a hoe shake with the purple pounds
My buddy - keep my gun right next to my tummy
Ask the clique yo, they spit metal lungies
Deattach wigs, kill flunkies on contact son see
Didn't mommy tell y'all niggaz to wear clean undies?"
Ahh Ghost, you are the man - you can talk about the most violent ghetto scenarios and still make that shit funny as FUCK. Clean undies! Things change up from the violence to some more peaceful material on the middle third of the album, starting with the self-produced "Save Me Dear" using a well chosen sample of Freddie Scott's "You Got What I Need." Actually on Ghostface albums, well chosen is the status quo, but it's still nice to see a hip-hop artist and/or rap album where thought is put into making the background for the raps match well with the story being told and the emotions of the MC. If any track on the album exemplifies this feel, it's the K Def produced song "It's Over." Ghost starts the track out with the words "This joint right here is about, when you goin through mad shit, and it just seem like you can't get out of it no way and shit." For such a harrowing tale of Ghost's dark days as a street hustler, Def uses some ominous keys, heavy bass, and ties it all together in the chorus by sampling from the classic composition "I'm Afraid the Masquerade is Over" - and let's give a big thank you to Warner Brothers Music for clearing that sample since a lot of classic joints got cut from "Pretty Toney" for NOT being cleared. Fortunately the samples in his Missy Elliott duet "Tush (Push)" got cleared too, resulting in a pop hit classic:
"Oh yeah, you jinglin' baby
(Well let me jump up on that ding-a-ling baby)
Ooh gosh, you a nasty girl, sassy
Picture me layin you in somethin classic pearls
Toes'll curl, giddy up, you go girl
I'm about to, uh, do it slow girl
Ooh, you in control, it's in your world
Shee-iot, I think I like ol' girl
Take it out, turn around
Charlie horse, shit, threw me off balance
Wildin, all I wanted was to show you my talent
To let you know on how I rep in Staten Island"
There's no question the song will be a huge crossover smash, and it's good enough it would have been even without the Missy Elliott appearance since it's THAT well constructed by D. Trotman and Dub Dot Z. The "Last Night" song that follows is just as well done. It's some stripped down vintage 1980's style hip-hop, that only needs a drumbeat and a sample of a phone ringing to rock. The whole album is fly though, and give Ghostface his due too, since his self-produced like "Holla" are just as well done as bangers like Digga's electronic style "Ghostface" and the soulful Nottz banger "Tooken Back" featuring Jackie-O. By the time the album wraps with the RZA-produced epic "Run" featuring Jadakiss and the heartfelt No ID closer "Love" featuring Musiq, "The Pretty Toney Album" is an experience that brings complete satisfaction. It's ironic that one of the things Ghost says on the track is "love my last album though the joint went wood." Be that as it may, this latest release is at least as good as "Bulletproof Wallets" and in some ways more consistant. Ghostface once again proves why he is considered the standard bearer for the Wu, and with the slick production and sharp lyrics of his fourth album, Tony Starks is prettier than ever.
Music Vibes: 9 of 10 Lyric Vibes: 9 of 10 TOTAL Vibes: 9 of 10
Originally posted: April 20, 2004
source: www.RapReviews.com