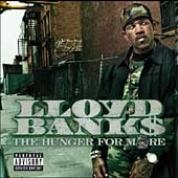 Lloyd Banks :: The Hunger for More

Label: G-Unit/Interscope Records
Author: Steve 'Flash' Juon


Got an insatiable need to dine on hardcore, thugged out, rowdy hip-hop? Do you crave to have big beats and fat flows fed into your ear? Lloyd Banks certainly hopes so. 50 Cent first introduced us to his friends Banks and Tony Yayo as the "G-Unit," though a series of well received mixtapes that spread far and wide beyond their New York origin. Though these tapes were largely designed to showcase 50 and succeeded in getting him his first deal since being dropped by Trackmasters/Columbia in 1999, 50's G-Unit homies were far from left behind. Banks and Yayo were both featured on 50's "Get Rich or Die Tryin'" along with G-Unit's latest recruit, Young Buck. Thanks to 50's overwhelming popularity, it was only a matter of time before G-Unit got their own album, and late in 2003 "Beg for Mercy" was the result. Unfortunately Yayo was largely absent due to a prison bid, but Buck held it down for him in his absence.
To the surprise of almost no one, G-Unit's album was very well received, and the rappers who had at times been thought of as just "friends of 50 Cent" emerged as stars in their own right. 50 Cent had whetted the public's appetite for G-Unit, and in turn G-Unit had whetted the public's appetite for solo albums by Lloyd Banks and Young Buck (and undoubtedly Yayo too, when the time is right). Based on the crossover success of G-Unit's song "Smile," a solo track starring Banks, it only seemed natural that he would be the first out the gate. After months of anticipation, after teasing the public with appetizers like "Warrior" and "On Fire," the time has finally come for the main course. "The Hunger for More" not only describes the hustler attitude Banks embodies in his lyrics, but the attitude of a worldwide audience who can't get enough of his gruff voice.
When it comes to passing a buck down the food chain, there are always going to be skeptics. Critics and buyers alike are suspicious when any rapper gets put on as a guest on someone's album, only to have their own album a few years later. Banks has paid his dues, but if the solo album isn't as good as his prior work fans will be feeling like they got left holding the check. The first taste test is of course the beats. If they've got flavor, they'll be gravy to go along with the rhymes, making each line more savory. For the most part, the music on "The Hunger for More" is pure butter. Hi-Tek checks in on "I Get High," Timbaland gives Banks bounce on "I'm So Fly" and Scram Jones produces a boombastic beat to ensure Banks and Young Buck "Work Magic" together. These songs come not only back to back, but immediately following Banks two hits "Warrior" and "On Fire." Let there be no doubt about it, other than a brief drop-off on the mediocre "Playboy," the first seven songs of the album keep you craving more and more of what Banks has in store.
Fortunately for Banks the music on the second half holds up almost as well as the first, ensuring we get free refills with our meal and a nice big dessert at the end. Chad Beat and Sha Money XL's "If You So Gangsta" has pounding pianos that leave the song sounding lifted straight off 50 Cent's "Get Rich." The Eminem produced "Warrior Part 2" immediately follows, with rap's most controversial white boy kicking a verse and Nate Dogg providing guest vocals. The silky smooth "Karma" will definitely be a future single off this album, no doubt backed by Baby Grand's soulful and Kanye-like "Die One Day" - or vice versa. Eminem and Nate Dogg show up again on the haunting "Til the End." The music winds down with Banks crooning to a multi-layered Diaz Brothers guitar-tinged track on "South Side Story," although Banks does check in with a Tone Capone produced bonus track, "Just Another Day."
As for the lyrics, 50 Cent and G-Unit fans will find them to be no surprise. For those being introduced to Banks for the first time, they will find he's unapologetically gangsta, yet tempers that lyrically with humor, introspection, and at times a surprisingly upbeat outlook on life. "Warrior" exemplifies how supremely confident the husky voiced Banks is in not only achieving success in the rap world, but in clearing out any and all obstacles in his way:
"I'm on the move, smooth, with one eye out for the snakes
Who can't stand hearin your name all throughout the states
Tune into BET and watchin your video
Pretending to be your friends but the smart ones really know, so
If that's your man warn him
Cause there's enough bullets in here to hit every NBA patch on him
Nigga ride 'til I die the song I sing
You ain't ready for the war I bring
You ain't gonna do a God damn thing
And I ain't ever scared I'm a warrior!"
Banks is not afraid to show that there's a price to pay for a gangster's lifestyle though. "Til the End" paints a portrait of a world in which random violence causes senseless tragedy, and certainly goes out of it's way to make sure that the hood is not being glorified. People accuse rappers of selling out when they leave the ghetto and buy a nice home somewhere, but wouldn't you too if this is what life around the way had to offer? Peep it:
"Nobody there knew they would die before they woke
They probably started off a beautiful day with weed smoke
Out of last night's pussy, the murder that she wrote
Cold sweatin from a nightmare, mind on a C-note
You leave the door with intentions of fulfillin your visions
Constantly sidetracked, thinkin bout who's your man or who isn't
Maybe it's necessary - maybe you're overreactin
Maybe your actual downfall is that ho that you're clappin
Maybe your pillow conversations been controllin the actions
Maybe your homey overheard and never told you what happened
You look behind you when you turn the corner, cause death is promised
You done seen some niggaz go before ya, the threats are honest
And with that lingerin in the back of your head
You know it's possible that you won't make it back in your bed
The confusion and jealousy and dishonor'll spin ya
But then none come worse than when that gunpowder's in ya"
Banks had a lot of opportunity to miss the mark and fail, giving the public a meal of fast fries and cheeseburgers that would have cured hunger only briefly but ultimately not be good for anyone. Instead with "The Hunger for More" Banks has clearly been crafting this solo debut for a while now, not rushing it in any way or serving up sloppy seconds. The taste is like a T-bone steak, grilled to perfection and served with all of the right side dishes. Listening to the whole album leaves you feeling filled, but definitely wanting to repeat the whole experience again and taste more of what Banks has to offer. While it's not better than 50's national debut or G-Unit's album, it's certainly no worse. Banks shows that the popularity of "Smile" and "On Fire" was no fluke - he really does have the tools necessary to serve up a fine plate of rap music.
Music Vibes: 8 of 10 Lyric Vibes: 7.5 of 10 TOTAL Vibes: 8 of 10
Originally posted: June 29, 2004
source: www.RapReviews.com