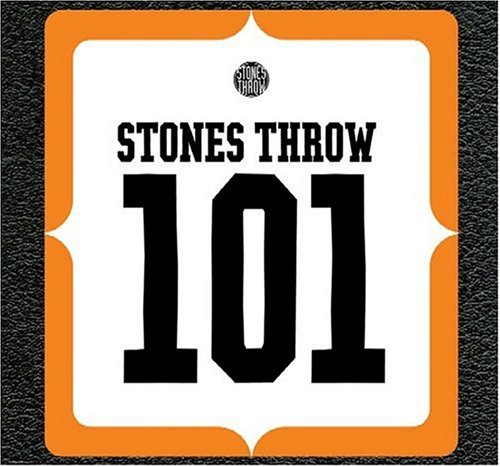 various artists :: Stones Throw 101

Label: Stones Throw Records
Author: Pedro 'DJ Complejo' Hernandez


Quick - Name the first 5 things that come to mind when you hear the words "West Coast rap." For the average hip-hop fan the list might look as follows:
E-40
Too Short
N.W.A.
Dr. Dre
2Pac

For some heads, the names Mac Mall, JT the Bigga Figga, Mac Dre, and Messy Marv might find their way on that list, but even so all these artists could be classified as gangsta or street rappers. Very few people, including yours truly, would mention or even think of Stones Throw Records. Maybe it's due to the creative blend of DJs, MCs, producers, and singers that make a word such as "rap" incompatible and too simple to describe Stones Throw records? In all honesty, that's wishful thinking. The reality is that we tend to lump anything creative or different from the commercial norm into the murky category of "underground" hip-hop music. And while for the most part "underground" rap tends to not place emphasis on representing your hood or what coast you're from, it is still significant that labels like Stones Throw have been grinding out creative hip-hop music in the Bay area for almost ten years. If it wasn't for the efforts of people like Peanut Butter Wolf, who is the founder of the label, hip-hop might not be as diverse as it is today. "Stones Throw 101" aims to celebrate this legacy by commemorating Stone Throw's 101st release.
The compilation is presented as a double disc set that includes a DVD collection of videos released by Stones Throw and a mix CD that captures 40 plus tracks of both old and new Stones Throw flavor. Even if you have only marginal knowledge of underground hip-hop you should find a few names on this set familiar. Madvillain (consisting of Madlib and underground hero MF Doom), Lootpack, Cut Chemist, J. Rocc (of Beat Junkies fame), and Quasimoto are just a taste of the artists that find their way onto the track listing of this release.
The DVD includes 16 music videos and an abundance of bonus material, from live performances to interviews and documentaries of lost funk bands. Quantity-wise the DVD definitely exceeds expectations. The quality of the material is equally satisfying. The videos included on the DVD will not be on MTV or BET anytime soon, but are definitely just as creative as the music they are meant to accompany. The animation used on Madvillain's "All Caps" looks like something straight out of MF Doom's mind. Quasimoto's use of muppet-style puppets on "Come On Feet" makes for one of the most unique visual interpretations of music seen in a while and makes you wonder whether the music was made for the video or vice-versa. Charizma & Peanut Butter Wolf's "Red Light, Green Light" is a refreshing live performance of some old-school hip-hop that takes you back to the early 1990's. The only somewhat questionable inclusion is Gary Wilson's "Linda Wants To Be Alone" which stretches the boundaries of not only hip-hop but music overall. On first impression Gary Wilson sounds like a singer with very little talent and an equally repulsive choice of subject matter. If there was humor in his work, it was lost upon this viewer. Otherwise, all the videos included are ambitious and successful efforts.
The bonus material is an added surprise. Live performances, for the most part, are always good to see and even Mos Def makes an appearance in a jam session with producer Madlib. The interviews are insightful, especially getting to hear MF Doom when he is not assuming an alter-ego of some sort. The short documentary concerning the lost funk band LA Carnival is very entertaining and showcases Stones Throw' not so secret love and reverence of funk bands of the past. The only gripe with the DVD would have to be the layout. Overall it's solid and simple, with the videos and bonus material separated and the ability to choose individual scenes. But if you play the videos using the "Play All" feature, you get no information regarding which video is by which artist. Usually this is not a problem, but since most of the videos focus more on concepts and not close-ups of the MCs it can be difficult distinguishing who is who especially if you are not familiar with the label. It would go a long way for them to include a small MTV style caption with the artist and song title before the beginning of each video.
On the companion disc we find a Mix CD of 42 tracks hand-picked and expertly mixed by Peanut Butter Wolf. This set is actually a rare concept because neither the CD or DVD is emphasized over the other. It's not a DVD with a bonus CD included or the other way around. Each disc is of equal importance and was made with equal care. The tracks on the mix CD are a blend of Stones Throw's greatest hits (if they can be called that), unreleased material, and other tracks Peanut Butter Wolf found to be significant. The result is a collection of music that truly captures the originality and creative spirit of the record label. Charizma's acappella is the perfect introduction to the music that is found on the rest of the CD. The emphasis of this track isn't on the lyrics, but on the spirit of hip-hop conveyed by a young MC practicing his lyrics. Standout tracks include any of the three Madvillain tracks, including a remix to "Eye" by Koushik. Talib Kweli shows up with Jaylib and spits fire over an ill violin loop on "Raw Shit." Gary Wilson actually gives us a good instrumental on "She Reminds Me Of Endicott." The title is a bit strange but the result is a jazzy track with piano improvisation eliminating the need for any MC or singer. Quasimoto fans will be happy with his 3 appearances, including at least one unreleased track.
Be warned that being a mix CD, it's rare when any of the tracks exceed a minute or two in length. Very few full songs are included, putting the emphasis on the compilation as a whole instead of any particular track. Keeping this in mind it is hard to really focus on any standout tracks or specific artists when considering this CD. What you get is a blend of rap, DJing, instrumentals, funk and jazz which attempt to capture the innovation and creativity Stones Throw stands for. The result is a very successful one as this mix CD is the perfect introduction to Stones Throw Records. For those who have been down since day one the CD also serves as a proper culmination and tribute to ten years of making fresh music.
Stones Throw Records is a rarity in today's money driven hip-hop environment. While over the years many labels have attempted to promote creativity and give artist's a voice and venue for their work void of any corporate influence, very few have managed to become profitable enough to survive for very long. Even popular labels, such as Rawkus Records, have encountered problems in balancing creativity and profitability. What Stones Throw has accomplished is truly remarkable. Over the years the label has promoted and released some of the most innovative hip-hop ever made. The music created by Stone's Throw artists is a testament to the places hip-hop can go when producers, DJs, and MCs are allowed to have complete freedom in what they do. Stones Throw isn't necessarily opposed to the gangsta rap and materialism found in commercial hip-hop. Neither is the label obsessed with talking politics, changing the world, or promoting the "realness" of underground hip-hop. What Stones Throw is all about is giving creative, music-loving individuals a forum where they are free to express themselves. This DVD/CD set captures that spirit in its entirety and is worth a listen/watch for any person who has an open mind and enjoys good music.
DVD: 8 of 10 CD: 9 of 10 TOTAL Vibes: 9 of 10
Originally posted: October 12, 2004
source: www.RapReviews.com