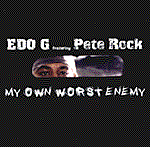 Edo G :: My Own Worst Enemy

Label: Fat Beats
Author: William Ketchum III


Edo G is to hip-hop as Don Cheadle is to Hollywood. While both have gained the respect of critics and their peers by consistently making solid contributions to their field, they have also gotten criminally slept on by the mainstream. Ever since his Life Of A Kid In the Ghetto debut in 1991, the Roxbury native has been holding his own in terms of actual releases, putting out another album with The Bulldogs and several solo projects. His last album, The Truth Hurts, served as a formal reintroduction to the game, boasting big producers and guest appearances to bring new listeners along.
Three years later, Edo is taking a back to basics approach with his new LP, "My Own Worst Enemy," by enlisting Pete Rock to craft seven of the album's ten tracks. The two demonstrate an immaculate chemistry, as the combination of Pete's soulful, funky production and Edo's strong, potent lyrics give the disc a refreshing throwback 90s glow. Pete grants Edo a variety of soundscapes to drop knowledge over: "Just Call My Name" features vintage Soul Brother horns behind Edo's shit-talking, Edo gives listeners a tour of his city over western-tinged strings and thumping bass on "Boston," and Pete's haunting piano keys and horror movie cries provide the perfect backdrop for Edo to tell how young ladies "Pay the Price" of growing up too soon.
While Edo G. and Pete Rock are clearly the stars of the show, there are still some notable guest appearances. Diamond D gives Edo and partner Jaysaun a minimalist concoction of xylophones, cymbals and bass to drop their braggadocios raps on "Streets Is Callin," and DJ Revolution contributes a hot beat to the track of his name. Masta Ace drops by to fantasize about better days on the Insight-laced "Wishing," and "Stop Dat" teams Edo up with fellow Bostonites Krumb Snatcha and Jaysaun.
With "My Own Worst Enemy," Edo G succeeds by presenting a cohesive album full of moving beats and solid lyricism. If this is a sign of things to come, another 14 years and seven albums won't be out of line.
Music Vibes: 9 of 10 Lyric Vibes: 9 of 10 TOTAL Vibes: 9 of 10
Originally posted: November 2, 2004
source: www.RapReviews.com