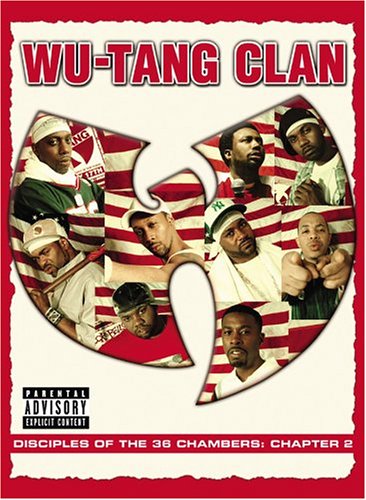 Wu-Tang Clan: Disciples of the 36 Chambers - Chapter 2

Label: Sanctuary Records
Author: Tom Doggett


It all began with a few sampled words. "Shaolin shadowboxing, and the Wu-Tang sword style, if what you say is true, the Shaolin and the Wu-Tang could be dangerous" started off the Wu's collective career, as well as igniting a revolution in terms of the way rap music was made. Bursting on to the scene with a barrage of kung-fu samples, ominous soundscapes, and next-level rhyming, "Enter The Wu-Tang" was unlike anything people had ever heard. And it stuck. Thanks to these cats, the landscape of rap music has been altered forever.
Now, dozens of albums and one painful loss later, things seem to be winding down for the original members. They will always have an extensive fanbase for their own individual ventures, but everyone has pretty much stopped waiting for the next group effort. The Wu-Tang Clan has left us with so many classics, though, from "Only Built 4 Cuban Linx" to "Liquid Swords" to "Supreme Clientele," that die-hards will never run out of stuff to listen to. This was the beauty of the Wu-Tang Clan. They were damn near perfect together, yet each member had enough distinct skill to craft riveting solo albums as well.
2004 marks the arrival of a new type of venture for the crew. With an accompanying audio CD, "Disciples of the 36 Chambers: Chapter 2" is a DVD of a concert that took place in San Bernadino, California this past July. Thankfully, it has every member of the Clan in their full glory, playing solo songs as well as plenty of group favorites. The biggest fans of the Wu will need to pick this DVD up. This is a piece of hip-hop history above all else. Due to the heartbreaking death of the charismatic Ol' Dirty Bastard, this is the last time that fans will be able to catch the whole crew together onstage. The sometimes shoddy footage and slightly flawed sound are an afterthought, and they can't take away from the gravity of this event. ODB's surprisingly coherent and complete performance alone is worth the price of admission.
"Disciples of the 36 Chambers: Chapter 2" is presented in two formats. The first is a documentary-style movie that blends the concert footage format with a slew of brief interviews with group members, as well as some other short clips. The second, and more notable, is the concert itself, in all of its comprehensive glory. The crew starts out predictably, rocking six joints from "Enter The Wu-Tang" to the crowd's collective joy. Nearly every base is covered, as most classics are played at least in part. Thankfully, they dwell for a while on their hits from their golden age. Additionally, a few surprises, such as "4th Chamber" and "Bring The Pain" surface as well.
Technically, the concert is fairly well-filmed, but the group's tendency to shout punchlines makes it harder for each artist to stand out. The Genius, especially, suffers from this problem as his mates seem too eager to jump in for each line. Predictably, the stage is a bit too crowded, because there are several members of the extended crew shouting along as well. The concert begins to lose steam by the time "M.E.T.H.O.D. Man" is played, and there are a few blatant errors in song selection. Especially perplexing is the decision to close with "Gravel Pit" and "Do You Really (Thang, Thang)" when "Protect Ya Neck" HAD NOT EVEN BEEN PERFORMED. That's right, folks, their best song, one that showcases every member's talents brilliantly, is never touched. Also, the inclusion of some of the newer songs is pretty ridiculous when "C.R.E.A.M.," "Reunited," and several other earlier classics are cut short. I doubt any Wu fan in the world, no matter how casual, would rather be listening to "Careful (Click, Click)" than a full version of "Bring Da Ruckus."
The bonus material is pretty minimal, with only a few newer music videos and a trailer for the DVD itself. For this reason, the real attraction is the concert footage. Complaints aside, it is a whole lotta Wu, and ODB's appearance makes this a must-see for hardcore fans. Those who just want to see the novelty of one of ODB's last appearances, or who only know the Wu from their more famous stuff, will want to borrow from a friend. For the dedicated, though, the "Disciples of the 36 Chambers" DVD is a top-notch memory to save for when these Shaolin Shadowboxers are no more.
Layout: 7 of 10 Content: 8 of 10 TOTAL Vibes: 7.5 of 10
Originally posted: December 7, 2004
source: www.RapReviews.com