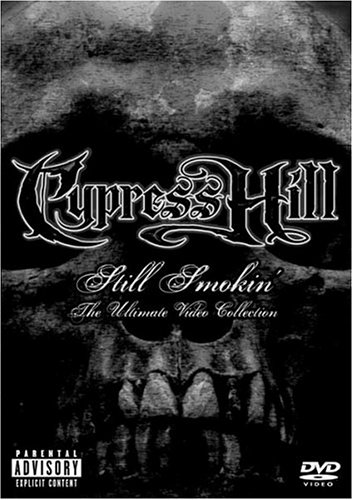 Cypress Hill :: Still Smokin' - The Ultimate Video Collection

Label: Columbia Records
Author: Steve 'Flash' Juon


Throughout Cypress Hill's long and successful career, many people have claimed kinship with the hispanic hip-hop homeboys for their own agendas. That's not really unprecedented - any group in any genre of music that reaches critical mass in popularity will be pressured to use their influence among the people for the benefit of special interest groups hoping to effect social or political change. What is interesting though is the diversity of the groups that have all tried to latch onto the Hill - politicos Rage Against the Machine, NORML, the "Get Out the Vote" youth campaign, even the charity Caring for Babies with AIDS pegged them for a promotional poster with the proceeds going to the little ones who suffer the hardship of HIV the most. While some artists would become whiny, didactic, indulgent egomaniacs full of their own self-importance under such circumstances (see U2's Bono) the core trio of B-Real, Sen Dog and DJ Muggs have remained true to the roots displayed on their self-titled debut 14 years ago. Part Cheech & Chong, part latino mafioso, part frathouse party boys and part P-Funkateers, Cypress Hill became arguably not only the most successful hispanic rap group in history but one of the biggest hip-hop crossover acts of all time.
Through the lens of "Still Smokin' - The Ultimate Video Collection," the Cypress Hill legacy is encapsulated into a two hour+ musical marathon. There is nothing random or out of place to be found here - the 22 videos which open this set are in chronological order and cover every song ever heard on MTV or BET in their career. The Hill triumvirate had the unique distinction of being popular right from the start, first getting a groundswell of support from the hardcore hip-hop heads with gritty tracks and videos for "The Phuncky Feel One" and the controversial "How I Could Just Kill a Man." The former plays like an Abel Ferrara film, full of dark hallways, faces obscured in the shadows, and the flickering flames of trash fires in backstreet alleys. The latter goes from the surreal black, white and purple of their debut to an almost ULTRA technicolor by comparison. Three interesting things to note about this clip: Ice Cube's repeated cameos (before his feud with the Hill over the song "Friday" turned ugly), the repeated shots of pistols which were no doubt edited out for TV, and the director's apparent unawareness that "one-time" refers to the police. Each time B-Real references it, footage of some lanky white dude attempting armed robbery is spliced in. Even if it would have gotten the video banned from airplay (had to be a tough sell with the number of guns as is), his lyrics should have been illustrated by a heavily armed and properly uniformed officer threatening B-Real in his home or out on the streets. The clear directorial screw-up doesn't ruin the video, but they are noticeable blemishes in an otherwise gritty street narrative.
If it gives you any idea how quickly Cypress Hill ascended after their debut to rap and pop music's upper echelons, the DVD's first six music videos are ALL from their debut album, which was itself an impressive 16 tracks long in an era when many rap albums were 10-12. In other words, on any other rap album from the day, that would have meant the label budgeted and shot music videos for over half the songs on it. That's Michael Jackson "Thriller" numbers people. Of course it does help that it was cheaper to produce videos in 1991 than it is today, when "gritty" was in and on location shooting was preferable to Hollywood studio lots. What's truly remarkable though is that Cypress Hill's popularity did not peak until two years later, when MTV made the "Black Friday" song "Insane in the Brain" one of the most overplayed music videos of all time. So frequently did this video air that even Beavis & Butthead jammed to it on an episode called "Foreign Exchange," which may have unintentionally taken their success level even higher among teenagers and college students; after all the episode was so hilarious I still remember it 11 years later (even though I had to use the net to look up the episode's title). After this point Cypress Hill clearly earned the right to big budgets and big name directors, and flexed a little of that muscle on "When the Ship Goes Down." It's among the most cinematic of the Hill's videos, playing out like a cross bettween "Scarface" and "King of New York," featuring protagonist anti-heros tired of doing their drug syndicate's dirty work and wanting to strike out on his own. While the hispanic lead tries a little too hard to affect a Tony Montana-esque accent, it's still a good mini-movie and song. Intentionally or not, B-Real's jheri curl afro in this one is hilarious.
The trend towards glossy, more cinematic videos continues onward through the rest of their catalogue. Things get a little darker on "Throw Your Set in the Air," which is shot in the "dusty dirty film reel" style best seen on the Nine Inch Nails video "Closer." The much more musically appealing "Throw Your Hands in the Air" remix is the quintessential opposite: full color, vibrant, and filled with shots of bouncing lowriders and rappers lamping in recording studios. Erick Sermon, Redman and MC Eiht all show up to rap their verses, which would date this video to 1995 even if they didn't mention it repeatedly just by the fact that's the last time all three were equally popular in hip-hop. This middle section of videos is also notable for coming during a three year hiatus of new material from the Hill, as both the videos for "Illusions" and "Boom Biddy Bye Bye" were remixes from a "Unreleased and Revamped" EP, the latter featuring a cameo from Wyclef Jean. When the Hill finally reunited to record their "IV" album in 1998, their influence on the charts had waned but their cult status was well assured by their consistantly funky production and unabashed love of marijuana, combined with their ability to rip high energy live performances on tours like "Smoking Grooves" coast to coast. "Tequila Sunrise" plays like concert footage from one of those tours, which looks eeriely familiar to me as I saw them play the The Palace around this time (somewhere in storage I have a poster the Hill autographed, and I'm still trying to find it). And speaking of marijuana, this video is followed by the incredibly hilarious "Dr. Greenthumb." Is that Mini-Me enjoying the buddha bless? It sure looks like him.
By the time Cypress Hill's videos enter the 21st century, they've definitely matured to expensive high-gloss affairs, exemplified by the "(Rock) Superstar" video with the big sets, digital video editing, and giant stage constructed for Cypress to perform their song in front of hundreds of hired extras. As this song and "Can't Get the Best of Me" come during an era where Cypress Hill seemed to be trying overly hard to crossover to a "Headbanger's Ball" audience, it's hard for me to watch these videos without being annoyed at how their slickness would put off that audience and alienate some of their hardcore rap fanbase at the same time (not me though, I've always been a bit of a metalhead on the d-low). Fortunately before things got too out of hand, Muggs came along with his "Soul Assassins" side project, and inserted Dr. Dre and B-Real into the thumping and sick Public Enemy beat he looped for "Puppet Master." In this case a slick video was entirely called for, as it's surreal to see Dr. Dre looking like the Anti-Christ Pope and B-Real coming off like the a horny horned Satanic goat, controlling the whole world from deep beneath in the underworld. The budgets have clearly become an impediment to doing multiple videos off an album though, as both 2001's "Stoned Raiders" and 2004's "Till Death Do Us Part" only feature one joint: "Lowrider" and "What's Your Number?" respectively. Both are laid back, funky and amusing, representing the best of Cypress Hill's videos quite nicely. It's a damn shame neither of these saw as much replay as "Insane in the Brain" - in fact I'm sure I hadn't seen either more than once before picking up this DVD.
The bonus features on this DVD are pretty damn chunky compared to many music video compilations. Seven songs are presented live from the Fillmore, the same performance they also recorded an album for. There's also a promotional half-hour TV special called "So You Wanna Be a Superstar," which was obviously shot to coincide with their "(Rock) Superstar" video. It functions as a mini-retrospective of the group's history, including clips from the other videos you see on the DVD as well as footage of people who obviously want to be rock superstars themselves. For the Cypress Hill fan or hip-hop historian, calling this DVD "essential" would be an understatement, but even for the casual hip-hop fan the two+ hours of footage and music found within is totally engrossing and wholly entertaining on many different levels. What "Still Smokin'" illustrates perfectly is just why Cypress Hill has achieved success on so many levels, and why so many different people want to take a piece of that success and use it for their own ends, whether selfish or noble. In the end Cypress Hill has remained remarkably unaffected by it though, with even their most recent videos showing that their #1 goal still remains making the funky, blunted, hardcore hip-hop grooves that appeal to their core audience and crossover at the same time by being that damn good.
Content: 10 of 10 Layout: 10 of 10 TOTAL Vibes: 10 of 10
Originally posted: January 11, 2005
source: www.RapReviews.com