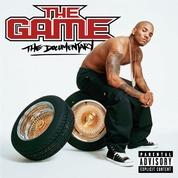 The Game :: The Documentary

Aftermath/G-Unit/Interscope
Author: Steve 'Flash' Juon


The original title proposed for The Game's debut CD was "Nigga Witta Attitude Vol. 1." One can only speculate on why it was scrapped, but two strong possibilities exist: Interscope decided it would hurt crossover sales, or Dr. Dre decided it would do a disservice to N.W.A.'s legacy. Either way, they could not be more wrong. Bubbling in the underground since mid-to-late 2004, The Game's provocative hits "Westside Story" and "How We Do" featured pounding beats co-produced by Dre and lyrics laced with Game's grimy vocal tone and penchant for mixing witty snaps with violent raps. Game seemed poised to not only become the new 50 Cent, but to unceremoniously dethrone his G-Unit compadre and take over his spot. All parties involved should have stuck with the original album title. While "The Documentary" gives you the impression that The Game is narrating his life and times, "Nigga Witta Attitude Vol. 1" does the same thing while simultaneously proclaiming himself heir to a throne that Dr. Dre himself retired when he disbanded N.W.A. and formed Aftermath.
An album title with "Attitude" like that suits The Game perfectly, because attitude is something that Jayceon Taylor has in spades. While he came up through the ranks of West coast/Bay area rap scene (chronicled on albums like "Untold Story") it wasn't until he linked up with the G-Unit family that he exploded in a big way. Through both the natural aging process and undoubtedly large quantities of marijuana smoke, Game's voice developed that naturally rough yet smooth tone. He dubs his flow "lyrically Kool G. Rap on these Dre records" on the song "Westside Story," which is both true and false. While he doesn't have the crisp lisp of G. Rap or (at least early in his career) the penchant for flipping quick verbals, he does pack at least as much ammo in his rhymes both figuratively and literally. It's been said that it's very hard to reach the upper ranks of the entertainment world (sports, movies, music) without being at least a little bit arrogant about your abilities, and Game's self-confidence seems poised for success on "Higher":
"Put 25's on a Hummer - why not?
I'ma be here for the next ten summers
Drop me in the 4th quarter I'm fuckin up they money
I don't need SoundScan, I'm doin my own numbers
When that Impala bounce you can see the chrome under
I got 'em in every color, yeah I'm a known stunna
When I hit a switch I get higher than long jumpers
Lowridin with a hood rat or a grown woman
I'll do anything - but I won't fuck Mariah
Even if she had Ashanti butt-naked in bed
Cause she got a fo'head just like Tyra
I can say what the fuck I want - you thought Dre retired?
Left me a six-fo' and his Dayton wires?
These niggaz is a waste of rhymin"
Conceit about one's abilities is wasted on those with no talent - it's like trying to coat crap with chocolate and call it a sundae. Pour the rich dark syrup of beats by Scott Storch, Mike Elizondo, Kanye West and Just Blaze over The Game's rhymes though and it's far from crap; it's 70 minutes and 18 tracks of delicious flavors you never get tired of or fill up on. The Game is so cocky with his that he can even rap over a smoothed out Havoc track with Faith Evans on the hook and make it hardcore as fuck, as "Don't Need Your Love" proves. What's surprising is that even in the midst of his swaggering bravado, he still manages to drop a few jewels:
"I've been rapping for a year and a half, my life is real
Put the gun in his mouth, he gon' bite the steel
Come to Compton, I got stripes for real
Before Dre, before the ice, before the deal - I was almost killed
Like 'Pac before the Death Row deal
I got shot over two pounds of weed, still ain't found them niggaz
But karma come quicker for a nigga on the other side of the gun
That's somethin I gotta teach my son"
There's a lot to like on "The Documentary." Timbaland brings out the bounce in a thug on "Put You on the Game," Hi-Tek's "Runnin'" continues to expand the repoitoire of a producer once solely associated with Talib Kweli, "No More Fun and Games" is a throwback to the early 90's production and in it's choice of N.W.A. samples, and you can't hate on hearing Eminem on "We Ain't" or Busta Rhymes on "Like Father, Like Son." You can also find Nate Dogg on two tracks, and Mary J. Blige adding her Hip-Hop Soul flow to "Don't Worry." The bottom line on The Game is that while a lot of rappers fail to live up to the hype on their national debut for a major record label, The Game's "The Documentary" meets AND exceeds expectations. Pushing back the release date turns out to be a wise decision for all involved, as it comes out in a week where it's uncontested and likely to chart very well. Even if The Game doesn't end up #1 with a bullet, it's fair to say he'll be #1 in the hearts of rap fans worldwide. As he says himself in "Westside Story" about today's rap scene, "The West coast never fell off." Game's here to put it back on top.
Music Vibes: 8.5 of 10 Lyric Vibes: 8.5 of 10 TOTAL Vibes: 8.5 of 10
Originally posted: January 18, 2005
source: www.RapReviews.com