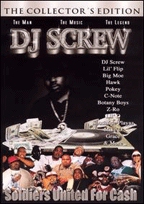 DJ Screw :: Soldiers United 4 Cash

Label: REL Entertainment
Author: Pedro 'DJ Complejo' Hernandez


For those outside of Texas it may be hard to grasp just what an impact DJ Screw has had on hip-hop. Aside from the Geto Boys and a few select rappers who dropped in the 1980's, almost anyone who raps in Texas owes something to DJ Screw and the music he created. Lil' Flip is a member of the Screwed Up Click, a select group of rappers that DJ Screw included in his famous tapes, Flip was even crowned the "freestyle king" by DJ Screw himself for his work on those tapes. Slim Thug came from the Swishahouse camp, another potent click of rappers that got its start through mixtapes using the same screwed and chopped style created by DJ Screw. DJ Screw's vast influence and legendary status is captured very well by REL Entertainment on this documentary, which was started while Screw was still alive.
If you ever heard a Screw tape then you know that DJ Screw was not the one to try to overshadow the music he mixed, matter fact at times his voice was so soft that it almost blended into the music. It turns out that DJ Screw's persona on tape was very close to his real life personality. Throughout the lengthy interview that serves as the centerpiece to this documentary, one gets the image of a man who was soft-spoken in nature and very modest and humble. The documentary begins with a segment of this interview as Screw talks about the origins of his name and how he first got into DJing. He continues to describe how his infamous Screw tapes first came to be and how rappers began to flow over his tapes. It seems that almost every rapper mentioned by Screw manages to make an appearance on the DVD and tell their story of how they first met Screw and got on one of his tapes.
This formula, of switching between Screw's interview and the corresponding rapper he mentions, works extremely well to keep the DVD flowing and relevant. Though DJ Screw was engaging enough himself, including interviews with rappers and performances changes the pace and gives fans a glimpse into the world of these rappers and also an idea of just how far-reaching Screw's influence was. Among the highlights are the Hawk interview, where he spontaneously breaks into one of his songs and the footage including a young Z-Ro, who now stands as one of Texas' most respected rappers. Perhaps the most interesting footage for Screw fans and hip-hop fans overall is that of the Botany Boys and a very young Lil' Flip. The footage included is of Flip before he released his first independent CD and shows why he was considered the "freestyle" king by Screw. It even includes rare footage of Screw handing Flip the award in person. Aside from interviews the documentary also breaks into impromptu video shoots of classic Houston songs from the likes of Mike D, Mr. 3-2, and Lil 'Flip.
Screw's interview is one of the most comprehensive I've seen from any hip-hop artists. He single-handedly gives a history of rap from Houston, Texas and almost every rapper from the area finds his way onto the DVD. The only notable exceptions are the aforementioned Geto Boys, Swishahouse camp, and possibly Lil' KeKe. The fact that DJ Screw knew that much about the Houston rap scene is not as impressive as the fact that Screw was the originator and founder of the rap scene that spawned all those acts. This documentary could just as easily serve as a documentary of the Houston rap scene rather than a tribute to DJ Screw, and it would be a damn good documentary addressing that topic too.
The main part of the documentary ends with footage of Screw's funeral and interviews with the S.U.C. after Screw's death. It's a tragic inclusion but it is a very fitting way to show just how much Screw meant to so many as many of the grown men interviewed are on the verge of tears after his death. The bonus material is just icing on an already satisfying cake. There you can actually see the legend at work screwing and chopping a classic UGK track and you can get a feel for just how gifted the man was behind the turntables.
Simply put DJ Screw's documentary is one of the best this reviewer has ever seen. It is comprehensive as it captures almost every aspect of Screw's career and the depth of his legacy. It manages to include some of Houston's finest rappers and it gives us an intimate glimpse of DJ Screw through his interviews. Those already down with DJ Screw and Texas rap game will be hard-pressed to find a better DVD addressing that topic, and fans new to Screw have no better place to start than here.
Content: 10 of 10 Layout: 8 of 10 TOTAL Vibes: 9 of 10
Originally posted: March 15, 2005
source: www.RapReviews.com