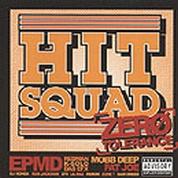 Hit Squad :: Zero Tolerance

Boondox Records/Nervous Records
Author: Matt Jost


A dozen or so years ago, this would have been the hottest record imaginable. It would have combined the talents of EPMD, DJ Scratch, Redman, K-Solo and Das EFX and would have most likely blown everything else out of the water. In 2004, the same record is a scam. What happened? EPMD broke up, that's what happened. Tragedy has since struck hip-hop many times and much harder, but in 1993 the news of EMPD parting ways put the hip-hop nation in state of shock. With four consecutive gold albums, EPMD established themselves truly as a "rap American Dream Team," as Erick Sermon put it on their temporarily final album. Before their sudden split, the duo was in the process of establishing a dynasty rivalled only by the Native Tongues. They were among the first to foster new talent through production and guest appearances. But even as they introduced the world to Redman and Das EFX to much acclaim in 1992, the rift was forseeable. Redman was Erick Sermon's protégée, while Das EFX's career was overseen by Parrish Smith. Still, 1992 was the year of the Hit Squad, as they were collectively known, when "Headbanger" became a hardcore hip-hop anthem and EPMD ("Business Never Personal"), Das EFX ("Dead Serious"), Redman ("Whut? Thee Album") and to a slightly lesser degree K-Solo ("Time's Up") enjoyed considerable success with their respective albums.
Both Sermon and Smith pursued solo careers to varied results, but clearly it has been a duel in which the former has held the upper hand, making a name for himself as a producer, scoring a handful of solo hits and remaining Redman's mentor, being instrumental (no pun intended) in establishing the Funk Doc as one of the most revered rappers of our time. It was also Sermon who somewhat kept the spirit of the Hit Squad alive by forming the Def Squad with Redman and Keith Murray. Parrish 'PMD' Smith on the other hand was much less visible than his partner, his solo career never really taking off, Das EFX slowly fading to black, EPMD reunion albums never being able to recapture the spirit of days past, until he made himself at home in the underground with the uneven "The Awakening."
This reviewer has often wondered why PMD never countered his partner's Def Squad effort with a proper re-installment of the Hit Squad. While references to some Hit Squad can be found on PMD albums from 1994's "Shadé Business" to 1996's "Business Is Business," it was impossible to determine who exactly was supposed to be part of the crew whenever P or one of his guests shouted them out. Even as the name was mentioned three times on EPMD's 1997 album "Back in Business," it remained unclear who PMD's Hit Squad consisted of, in fact you couldn't shake the feeling that the alleged existence of a Hit Squad served Smith to affirm his status alongside Sermon and his well-known Def Squad. Be that as it may, the problem with "Zero Tolerance" is that Smith tries to create some artificial Hit Squad in hopes of luring in old faithfuls. This scheme is executed fairly blatant. The album starts off with an "Intro," which combines quotes from both Smith and Sermon, as well as Das EFX and Redman, the latter with a line from way back in 1992: "Hit Squad definitely in the house." It doesn't stop there. A seven-second "Skit" follows with another quote from "Time 4 Sum Aksion," and it's quite evident that this skit solely exists to have the name Redman once more displayed in the tracklisting.
It gets worse. After a Erick Sermon-produced PMD solo track where he's mumbling something about Voltron, "Serious" lines up EPMD, Das EFX and Redman over a Havoc beat. There's a suspiciously unfinished touch to the whole thing, and if you're intimately familiar with these people, you'll quickly realize that these are old performances, from PMD's own early-nineties flow to Redman's relatively timid performance from ca. 1991. Whoever pieced this together did an okay job, but given the premise, "Serious" is a seriously misguided attempt at creating a posse cut years after the original Squad disbanded.
Other supposed selling points are the solid "International" by Das EFX, which could be a leftover track from either "Hold it Down" or "Generation EFX," and "Victory" by the resurrected K-Solo. This one is newer, but the badly mixed DJ Honda production puts it in the leftover category as well. What follows is a sequence of new material featuring fresh faces. Mick Knoxx' "Line of Fire" is your typical mixtape track, multisyllabic trashtalking with the occasional highlight ("Your rhymes sound like y'all niggas new to rap / my every verse a dirty version cause I pollute a track"). 275's "Callin' Me" follows the worn Rap-Game-Is-Like-the-Crack-Game formula. Evidently, drugs are also part of "Get Money"'s recipe. Lil Raz and Heron are certainly up-to-date in the lyric and flow department, but with their unoriginal content they have no business being affilliated with the Hit Squad. If thugging is your thing, you're much better off listening to the top dogs.
PMD makes a few more appearances, such as on the sub-par Sam Sneed track "Where We From" alongside Lil Raz and Uniq:
"It's 2004, Hit Squad fresh off tour
The Awakening served its purpose, now I'm dead on course
Got some dirt on my shoulders, brush that bullshit off
Now I'm back for more, hungrier than I was before"
It may seem like I'm purposely looking to put nails in PMD's coffin, but as a rapper the Mic Doc is a mere shadow of his former self. Maybe that's why he has to dig up old material like DJ Scratch's mid-nineties bounce "Comin' With the Ruff Shit" featuring Nocturnal and Skoob from Das. Theoretically, Parrish Smith is still capable of decent tracks. Give him an Erick Sermon beat and Brentwood, Long Island to rep, and the result ("U Can't") is acceptable.
Not much more can be said about this album. It doesn't even fail spectacularly, it's just an embarrassing record, right down to the technical aspects. For instance, on Heron's "We Ain't Gonna Stop Until," the rapper's voice is only heard on the left channel. And whether it's a Havoc beat ("It's the Pee Back 2 Work (Remix)" - a remix of "The Awakening"'s "Back to Work" replacing K-Solo with Prodigy) or a 2004 Track Addicts composition ("Next Chapter"), the staticky, murky atmosphere doesn't ever change.
As far as the Hit Squad goes, after this review it should be abundantly clear that there is no such thing in 2005. There might have existed different Hit Squads at different times (even if some only existed in PMD's imagination), but if there was ever any meaning behind the name, "Zero Tolerance" aims to kill it forever. Longtime fans get to experience short reunions with original members Erick Sermon, DJ Scratch, Redman, Das EFX, K-Solo and Sam Sneed, even the Knucklehedz might be present in the form of 215 ("Last Dayz"). Some of the new cats are fairly talented (Rob Jackson). But the fact remains that most of these people have nothing to do with each other other than having worked with PMD at one point in their career. And that's the type of scam I myself have little (if zero) tolerance for.
Music Vibes: 4.5 of 10 Lyric Vibes: 4.5 of 10 TOTAL Vibes: 4.5 of 10
Originally posted: March 1, 2005
source: www.RapReviews.com