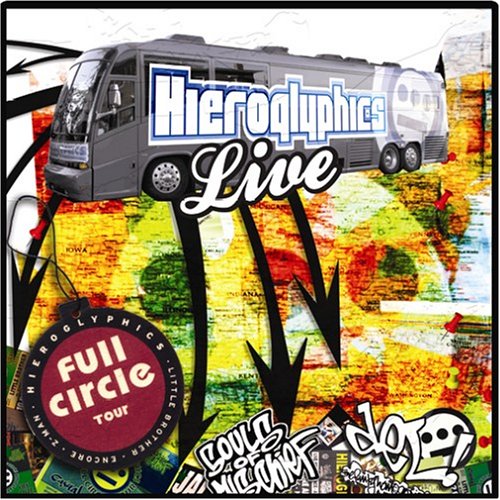 Hieroglyphics: Full Circle Tour

Label: Hiero Imperium
Author: One Line


When it comes to indy hip-hop, it doesn't get much better than the Bay Area's highly-touted Hieroglyphics crew. Innovative, lyrical, and energetic, the collective has gained a substantial cult following from a worldwide audience. Much like an infamous clan from Staten Island, each member of Hieroglyphics has his own acutely-distinct style, yet when brought together there's an undeniable chemistry present. Over the years, the members have released generally well-received solo efforts, but there's just something about their work as a group that captivates fans the most.
On "Full Circle Tour", they come together for a 2003 tour across North America. Fans get an intimate, behind-the-scenes look into what makes the crew tick. No question the concert footage of Hiero's trademark high-octane live shows is blazin', but the most memorable scenes happen offstage.
In my favorite segment, an admittedly intoxicated college student (we'll call him Bob) is waiting in line during an autograph session. After Tajai politely introduces himself and gives dap to our dimwitted buddy, Bob asks if the name "Tajai" is derived from the French-pronunciation "Tar-get" (you know, that joke about the retail chain Target). No you idiot, it's not. This remark insults and visibly angers Tajai, leading to the following exchange:
Bob: "That's what my sister says..."
Tajai: "It's NOT like that... I don't wanna shake your hand. I wanna knock you the fuck out, but I'm not gon' do that. Aight? Keep it moving."
Bob: "I'm really...I'm sorry..."
Tajai: "It's all good, dude. Don't be sorry, [just] shut the fuck up. Really. He's gon' get hurt."
Lesson to readers: never, ever, get drunk before an autograph signing because you might do something stupid like asking an artist if his name is related to "Spring Savings" and 20%-off kids' swimwear. Drinking could be hazardous to your health.
Later, we see footage of Opio getting arrested before the Chicago show for riding in a Suburban without a license plate and carrying a small amount of ganja. The plot thickens when the crew's manager/producer Domino, unsure of how long Opio would be locked-down, decides to move on to the next tour stop without him. Opio ends up getting released earlier than expected and isn't pleased to find out he's been left behind.
Other notable scenes include a detour to collaborate with Denver Broncos Pro Bowl lineman Trevor Pryce for his potential album, an extensive customs search upon reentry into the States after a tour swing through Canada, and a heated dispute between Hiero affiliate Encore and a roadie named Billy. Light-hearted moments include Z-Man purchasing a polo shirt at a yard sale, the undeniably ingenious yet peculiar Del meticulously cleaning and vacuuming the tour bus in pitch-black darkness, and Casual claiming he found bugs in his glass of Hennessy.
With all that to chew on, let's not forget that the concert footage is equally engaging. Spitting enthusiastically before massive crowds (by indy standards), the crew is a sight to see onstage. Considering six weeks of back-to-back-to-back shows and only a handful of breaks in between (indy cats don't have that luxury), it's remarkable that they're able to overcome the grueling schedule and keep their energy level at Hiero-high standards each and every night.
Like the crew itself, the video and audio quality of the DVD is a likable balance between raw foundation and polished finish. The footage is captured with camcorders manned by friends of the group, so it's predictably jittery, but not enough to bother viewers. The editing and production quality is impressive as always, something we've come to expect from this group. The bonus features section categorizes extra clips by performer. My favorite bonus set is Del's, which includes humorous scenes of the funky homosapien being interviewed as he glides down the sidewalk on a Razor scooter and a supermarket scene where a lady stares at Del's strange presence so long that she accidently crashes her shopping cart into an aisle.
One of the minor complaints is that it's difficult to follow some of the conversations since the personal camcorders used aren't the most effective devices for recording sound. Another is the annoyingly unintuitive layout of the scene selection feature. That said, the DVD emits a personal, "home-made" vibe that allows viewers to relate to the group. You get the sense that you're watching a video of your buddies' summer road trip. Hiero has a reputation for being down-to-earth emcees for the "ordinary man" and this DVD reinforces that.
"Full Circle Tour" is a must-see for life-long Hiero fans and anyone who has a clue about independent hip-hop. It also works as an entertaining introduction for those who don't already know, all four of you.
Content: 8 of 10 Layout: 8 of 10 TOTAL Vibes: 8 of 10
Originally posted: May 24, 2005
source: www.RapReviews.com