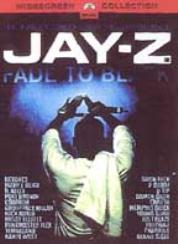 Jay-Z: Fade to Black

Label: Paramount/Roc-A-Fella
Author: Steve 'Flash' Juon


Everybody knows the story. Shawn 'Jay-Z' Carter, rapper/hustler extordinaire who used his skills to build up a lengthy legacy of hip-hop classics and a recording company named Roc-A-Fella that could carry on long after he was gone IS going. He's stepping down from his role as a rapper and stepping up to an executive role as President of Def Jam. Although he has teased us in Reebok commercials with the words "I can't say I won't ever make another album" and has in fact released two joint ventures since his "official" retirement (one with Linkin Park and one with R. Kelly) it's likely such a large and important role will keep him out of the studio full-time. As such "The Black Album" is likely to be his last solo album for a long time and "Fade to Black" is the story of how that album came together, complete with a final concert to cap off Jay-Z's career.
Grab the popcorn and some drinks when you pop this one in, because you're going to be sitting down for a spell - it's nearly two hours long not counting special features like "The Story Behind Fade to Black" and the "Encore" music video. It's actually a bit misleading when you pick this DVD up off the store shelf when you see all the artists listed on the cover that the entire feature is nothing but a tribute to Jay-Z. Most of the concert footage you'll see though is Jigga flowing solo to his own hits, and at times toying with just how popular and well loved he is by switching beats in mid-song to some West coast or Dirty South and having the crowd flow right along with him; sometimes he just pulls the mic away and lets the crowd rap the words for him. And they do word for word - even on fast flowing songs like "Big Pimpin'." He pulls the same stunt for "Mo' Money, No' Problems" too, paying respect to B.I.G. A lot of the beats are played live by ?uestlove from The Roots and his Illadelphonic Orchestra, giving the concert a really live and organic feel. The concert footage is interspersed with shots of Jigga working on the new album in the studio, searching for his inspiration. Throughout these segments Jay-Z narrates, giving us the unique dual perspective of himself in the moment and his reflection back on what it was like - at one point telling us he was lost for inspiration and had to go visit an artist who is ALWAYS inspired to get his mojo back. Next thing you know Jigga is on a plane on his way to see Timbaland, and you see the two of them vibing in a tiny cramped studio, making up more hits.
Eventually Jay-Z does pass the spotlight over to some of the other artists on the Roc-A-Fella label, and you'll see Memphis Bleek and Freeway getting their shine on. Not long afterwards is one of the funniest moments of the movie, intentionally or otherwise - Jigga hanging out with Rick Rubin at his crib. If you ever wondered how eclectic and out there Rick is, you'll see it full-fledged when the cameras wander around full-sized stuffed bison and different occults books. Personally it's also really neat to see Jigga and Rick collaborating on "99 Problems" and how both go to lengths to correctly record the "cop vocals" in the song seperately to make it come off better. Rick may be one of the strangest guys in music, and Jay-Z may be one of the slickest guys in hip-hop, but when the two are together it's truly magic in the making. Rick's instincts about opening the song acapella and THEN dropping the beat may seem simple to some, but they made the song that much powerful when you hear it - think about it the next time you're playing the track.
Guests continue to pop up throughout the proceedings - Beyonce comes out to perform "Crazy in Love" with Jay-Z and do a few of her own songs, including a duet with Ghostface while he's wearing so much Slick Rick gold it looks like the weight could pull him right through the stage. Jay-Z soaks it all up as he stands backstage, changed into a pimp suit, narrating that if someone told him it would be like this 20 years ago he would never have believed it. Then you see him rapping with Q-Tip and others about what should or shouldn't be said on record, and the way it influences people and peers. By the time Jay-Z closes out his show with "December 4th" and the helicopter is flying over New York City, you've seen a lot of guests and heard a lot from Jay-Z about how lucky and thankful he is to be in the position he is today. You'll be thankful for "Fade to Black" too for giving you the chance to see it all take place, and at the end the bonus footage shows all the money from the concert going to charity. It's a nice touch and a fitting end to the film, but we can only hope that Jay's day in the sun as an artist is not yet done.
Content: 8.5 of 10 Layout: 8.5 of 10 TOTAL Vibes: 8.5 of 10
Originally posted: May 10, 2005
source: www.RapReviews.com