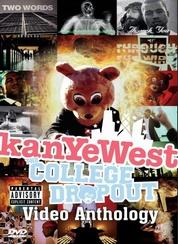 Kanye West: College Dropout Video Anthology

Label: Roc-A-Fella Records
Author: Steve 'Flash' Juon


Kanye West - the name alone will convince most people to pick up the "College Dropout Video Anthology." After all he's a platinum selling, Grammy award winning, critically acclaimed recording artist signed to Roc-A-Fella Records. By now his reputation within the business is legendary, and that's with only having one major label album. Of course Kanye was better known for his beats than his rhymes up until he recorded the song "Through the Wire," which he literally recorded through his mouth being wired shut due to a car accident. The Chaka Khan sample and the Kanye West beats made it hot, but the charisma and personality that Kanye displayed took him "Through the Wire" straight to being an international rap superstar.
What's interesting about the "College Dropout Video Anthology" is how little Kanye is actually featured in the music videos ostensibly from his album. In the original "Through the Wire" video you barely see Kanye at all. Occasional glimpses of him are found in photos from around the time of his accident and of him getting his record deal but the video is more about the photos themselves coming to life. "All Falls Down" has essentially the same dilemma - the song follows Kanye's girl as she rides to the airport and goes through all the different security procedures. Kanye is following behind, so you only see him as his reflection appears on the limo or as he gets stopped at the metal detector and goes through X-ray (yes - his ENTIRE body) because of the metal now in his jaw. "The New Workout Plan" follows around a bunch of hoodrats trying to get in shape to pull a rapper, baller or NBA player but you actually see Anna Nicole Smith making funny cameos as a fitness trainer and Miri Ben-Ari playing the violin more than you see Kanye himself.
Perhaps the only time Kanye really plays a starring role in any of his music videos is during the "Jesus Walks" trilogy, when during one version he is the pastor at church. To review this DVD I took the "play all approach" and didn't realize it would automatically show all three versions of the video as a result. What's even more confusing is that the box for the DVD promises a "behind the scenes making of" hour long feature on these three videos, but it doesn't come up during "play all" and there's not an option for "extras" on the top level menu. Instead to access the bonus featurette you have to select the "Jesus Walks Trilogy" by itself from the main menu, which opens a sub menu. YMMV but from this writer's view that's a piss-poor design; and quite honestly three different videos for one song is two too many anyway. Either somebody had a very large budget to spend or a very big ego about how important that song was.
Still that brings us right back to the odd things about the "College Dropout Video Anthology," is that ostensibly the star of the show is nowhere to be found. Even in the mockumentary movie style video for "Two Words" he's only there a third of the time as he shares billing with both Mos Def (who has his own storied acting career outside of music videos) and Freeway. Kanye's videos are entertaining because of the clever and artistic way they are shot, and because of the quality of the songs themselves, but one almost wishes Kanye were MORE vain as opposed to letting people like Jamie Foxx and Twista steal the show in "Slow Jamz." The end result is slightly unsatisfying if you were looking for a compilation more about Kanye, or at least with some extra features about him. The flipside of that coin is that if you like his music you'll enjoy this presentation regardless, and the DVD comes with a bonus disc of extra Kanye West remixes and tracks, so you still get your money's worth.
In the end, as successful as he is, Kanye actually needs a better treatment than this set. We've all heard "Through the Wire" but seeing what it was really like for him instead of glimpses in a music video would have made for a great story AND a more interesting sidebar to the main video feature. It's great to hear him talk about his career for eight minutes at the end of the "College Dropout" album but it would be much better to SEE him talk about it, complete with key interviews from the major players. Hopefully they'll workout a new plan to try harder next time.
Content: 7 of 10 Layout: 6 of 10 TOTAL Vibes: 6.5 of 10
Originally posted: May 10, 2005
source: www.RapReviews.com