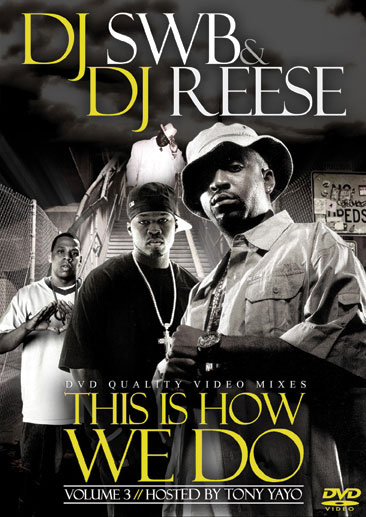 DJ SWB and DJ Reese – This is How We Do Vol. 3
Label: DJSWB.com
Author: Pedro 'DJ Complejo' Hernandez


Technology is a wonderful thing. Years ago you'd be hard pressed to find your favorite music videos outside of MTV or The Box. Even when bootleggers started serving up music video DVDs, the earlier attempts featured fuzzy videos and suspect audio. Fast forward to 2005 and the vast improvements in computer video editing technology have allowed even the most independent of entrepreneurs the opportunity to release a DVD. But there are still some problems. For one, most "hip-hop" DVDs seem to associate Hip-Hop with porn, strippers, or at the very least some sort of gratuitous nudity. Even when DVDs manage to focus on something other than T & A (which is not often), most DVDs focus on interviews or footage of rappers in their 'hood rather than music videos. DJ's SWB and Reese avoid both pitfalls with "This is How We Do Vol. 3" by providing a mixDVD that not only focuses on the videos, but also blends and mixes those videos in a manner on par with any mixtape out. Getting the DVD hosted by Tony Yayo and including bonus interviews with stars such as Jae Millz and David Banner only makes the DVD a better value.
The first thing anyone who cops a street DVD wonders about is the quality. After all most DVDs, even the ones you cop from the local mixtape stand, are still at least 10 bucks if not more. SWB and Reese promise "DVD Quality" footage and thankfully deliver on their promise in every respect. The DVD is crystal clear on every video and interview and looks just as professional as anything you'll find on TV or in stores. The DVD menu could have used a little bit more work, but the content gets no complaints as far as quality.
The actual video mixes range from outstanding to only so-so. For the most part SWB and Reese include good videos and blend them well, though there are some questionable entries. Toni Braxton's "Please" hasn't showed up on any major video channel and for good reason as the song itself is just horrible. The same can be said about Oowee's "Why Cry," a remake of a remake that can't even be saved by a cameo from the original remaker, Snoop Dogg. Besides these two tracks and the inclusion of footage from SWB and Reese's boy, Mense, you should be at least familiar with every video on the mix. The variety of music included is also commendable as we get appearances ranging from R & B songstress Amerie to rappers Guru and Prodigy. It's not just commercial music but its still accessible to all.
The mixes themselves are also up and down. The blends on tracks like Tony Yayo's "So Seductive," T.I.'s "U Don't Know Me," and Biggie's "Party and Bullshit" are outstanding, keeping with the tracks energy and sounding as fresh as the original. The same can't be said on tracks like The Game's "Dreams," Young Buck's "Bonified Hustla," and Jay-Z's "Encore" as these tracks lose their original vibe with the new beats. Though technically the beats match on these and other efforts, the music and lyrics don't go together well. SWB and Reese also make the same mistake other blend DJs have made when they try to remix songs that should remain untouched by any DJ. The original music on tracks like Amerie's "One Thing" and Gwen Stefani's "Holla Back Girl" basically give the tracks their energy and make them the hits that they are. Both tracks lose their appeal completely when paired with other music.
Besides the ups and downs you'll find on any blends CD, "This is How We Do It Vol. 3" is definitely worth a purchase if you're a fan of music videos. Tony Yayo's interludes are hilarious (as is Tony Yayo) and give the mix a nice break every now and then. The inclusion of some harder to find videos also adds to the value as you get classic footage of Biggie and Lil' Kim on "Party and Bullshit," a glimpse of David Banner's humor on "I Ain't Got Nothing," and you get blessed by Mya's appearance on Cuban Link's slept on "Sugar Daddy." "This is How We Do Vol. 3" isn't without its faults, but as far as mixDVDs it's probably as good as it gets when it comes to both quality and content.
Content: 7.5 of 10 Layout: 7 of 10 TOTAL Vibes: 7.5 of 10
Originally posted: August 23, 2005
source: www.RapReviews.com