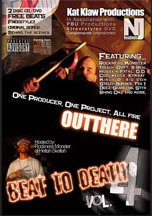 Outthere: Beat to Death, Vol. 4
Label: Kat Klaw Productions
Author: One Line


Dubbed as "One Producer. One Project. All Fire," the "Beat to Death, Vol. 4" DVD is as advertised, almost (we'll get to that later). Showcasing the talents of producer OUTTHERE, the DVD takes viewers behind the scenes of a New Jersey movement that's trying to escape the beefy shadow of it's notorious neighbor. Several Garden State up-and-comers use this opportunity to get some on-screen shine and (you guessed it) some fifteen-seconds-of-fame moments pan out better than others.
One thing's for sure: you can't blame the host, none other than Rockness Monster of Heltah Skeltah. Like most emcees, all I know of Rock is his voice. I've never met him in person or even seen him on-screen until now. I gotta stay, his real-life personality is just as quirky and charismatic as the persona he employed on "Nocturnal". He reminds me of an amped version of RZA. His outside-the-box freestyles are fresh, unique, and raw at the same time. Case and point: his "Respecognize what I'm sayin'" sound bite. Dude could be spitting about teapots and still draw a crowd. In his own words, "my shit is oh-so-hard".
After that, there really isn't too much to say about this video. With the exception of brief guest spots from the host, Treach (Naughty-By-Nature) and B-Real (Cypress Hill), the rest of the faces are unknowns waiting for their big break. It's painful to watch an emcee who really shouldn't be there, like Jerry Rice trying to make it with the Broncos in his mid-40's. One emcee that stood out was Drift. He has a smooth Harlem flow akin to Cam'ron or a pre-preacher Mase. His "When I'm spittin' I have you flippin' like Mary Lou Retton" line has Killa Kam written all over it.
As I mentioned earlier, the "One Producer. One Project. All Fire." tag is semi-accurate. The "one project" part is true. As for the "one producer" part, all the music heard comes courtesy of beatmaker OUTTHERE and is surprisingly potent. In fact, the CD that accompanies the DVD comes with instrumental tracks where buyers can express their inner-spitter (but after this debacle, do we really want more emcees?). Unfortunately OUTTHERE's talents are overshadowed by visuals of rappers who can't rap and corny PowerPoint-ish graphics (spinning block letters, follow-the-bouncing-ball text, etc). Then of course there's the random hanger-ons mugging for the camera that aren't even emcees. Who are you? Why are you here? And why can't you repeat a two-sentence sound bite that they told you to say? In other words, the "all fire" part merits a false advertising charge.
Content: 4 of 10 Layout: 3 of 10 TOTAL Vibes: 3.5 of 10
Originally posted: October 4, 2005
source: www.RapReviews.com