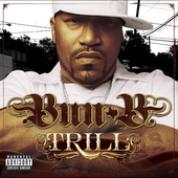 Bun B :: Trill

Rap-A-Lot Records
Author: Steve 'Flash' Juon

"See pimpin ain't made, nigga pimpin ain't raised
Nigga pimpin is born, pimpin since its early days
These niggaz get to trippin playa pimpin ain't lazy
And if ya miss Pimp C throw up ya deuces and ya treys" - Bun B, "3 Kings"
Bun B would know a thing or two about that. When it comes to pimping the music industry, Bun B and his partner Pimp C have been getting money as U.G.K. for over a decade. What's even more gangster is that they did it on Jive Records, a label that despite strong hip-hop roots in the 1980's all but abandoned rap in the latter 90's in favor of boy band groups. The only other artist I can think of to hold down a contract throughout that decade despite their hip-hop cutbacks is Too $hort; even legendary pioneer KRS-One eventually moved to Koch and the Hieroglyphics rappers decided they were better off selling out the trunk. With the group's future uncertain due to Pimp C's continuing incarceration on some bullshit, Jive finally ended their long relationship with the Texas tandem. The first evidence of that was C's solo album "Sweet James Jones Stories" released earlier in 2005 on Rap-A-Lot Records, and now Bun has followed suit on the label with his own album "Trill."
Naturally this suggests if Pimp C is paroled when he becomes eligible this December, the two could reunite and a new U.G.K. album could hit stores in 2006 - the first new album of original material in five years. Both artists have held it down despite the difficulty of the situation though. Not only did Pimp C's solo album while he was locked down keep his words in the public's mind, Bun B's numerous guest appearances on songs like Slim Thug's "3 Kings" almost always include a shoutout to "free Pimp C" from incarceration. In fact the shouts are so common some people not familiar with U.G.K.'s long legacy in the game might have got it twisted and thought that's all Bun B had to rap about. Hell naw. Even though Bun B still gives it up to his homey on songs like "What I Represent (U.G.K.)" throughout "Trill," what Bun B really has to offer here is an incredible diversity of rap styles, topic matter and guest artists on song after song.
After listening to "Trill" other Texas rappers might be envious of the Port Arthur native. On "Got Throwed" along Bun flexes big muscle by pulling Jay-Z, Young Jeezy and Z-Ro all together for one song; he even pulled some Pimp C out the archives to get him on the song too. That's just the first of five straight fire songs with all-star contributions. "Draped Up" has Lil' Keke, "I'm Fresh" has Mannie Fresh, "Trill Recognizes Trill" gets down with Ludacris, "Pushin" features Scarface and "I'm Ballin" is smoothed out by Jazze Pha. As important as the guests are though it's the deep voiced Bun who gets the job done, as well as an equally all-star selection of producers on the beats. KLC of the Medicine Men makes the self-titled "Bun" some woofer blowing bass, Trey Songz produces and sings on the super pimped "Hold U Down" featuring Baby and Mike Jones, and there are multiple appearances throughout from Mannie Fresh, Salih and Mr. Lee. Even though there's no one sound throughout, the album doesn't feel patchwork in any way. All of the songs make sense and fit Bun's unique style. As for the lyrics? Bun is hella underrated as a rapper and always has been, but he certainly doesn't lack in confidence on songs like "I'm a G":
"I stand five foot ten, 200 and a half
100 percent gangsta, don't smile and don't laugh
In a 3X shirt, nigga thirty-eight waist
I ain't small motherfucker, I'm takin up some space
With a size eleven shoe that'll kick you in ya face
Bitch I'm all about a crime and ready to catch a case
I ain't scared to kick in ya do', and look around ya place
I ain't scared to cock back the fo', and put one in ya face"
Just like his Brownsville counterparts M.O.P., Bun B is as much about the attitude as the rhyme. He doesn't just talk hard, he spits it as hard as anybody in the rap business, giving conviction and meaning to his rhymes. Don't assume that Bun can't have big fun though; after all this is the same rapper who along with partner Pimp C taught Jay-Z what "Big Pimpin'" was all about. Bun B's "Trill" is the culmination of years of experience and paying dues, and the only shame of it is that Pimp C is locked down and can't be there to celebrate it with him. Rap-A-Lot seems to be the perfect match for both rappers - a label that unapologetically embraces gangster rap yet at the same time offers Bun the artistic freedom to rap any kind of song from a hood anthem like "Who Need a B" with Juvenile and Too $hort to "Get It" with the Ying Yang Twins. With that kind of diversity and Bun's gruff yet appealing delivery, "Trill" is a winner from start to finish.
Music Vibes: 8.5 of 10 Lyric Vibes: 8.5 of 10 TOTAL Vibes: 8.5 of 10
Originally posted: October 18, 2005
source: www.RapReviews.com