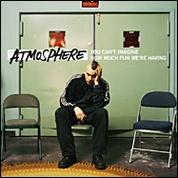 Atmosphere :: You Can't Imagine How Much Fun We're Having

Rhymesayers Entertainment
Author: Tom Doggett

Atmosphere and I have quite a history, albeit one that they are not aware of. In fact, until a week ago, I was very angry with them. "Lucy Ford" is one of my very favorite albums, and due to the combination of my love for it and the fact that I could listen to non-soundtrack music while playing Tony Hawk Pro Skater 3, I am quite well acquainted with it. Something happened after that, though, between the solid "GodLovesUgly" and "Seven's Travels." Slug lost his focus, and in some respects, became a caricature. Maybe he thought he had mastered his own style and needed a change, but the meaning of his words was lessened in favor of the manner in which he said them. His vulnerability was no longer believable and his raps were no longer coming from the smart, brooding kid around the corner. To me, his sincerity had vanished. Added to that was the fact that Ant basically fell off on the production tip, experimenting needlessly and without success. I know people who listen to Atmosphere and think it's just one guy named "Atmosphere," and this ignorance tells me that Ant's job has always been to fit Slug's words without stealing any shine. When Ant wasn't supporting the emotive, insecure raps that Slug wasn't writing, the result was quite atrocious.
I was wrong about one thing, that's for damn sure. Ant does not exist merely as a functional provider for Slug, and he proves that here with a brash, explosive collection of layered trunk funk with astonishing depth. He finishes the job he started earlier this year with the "Felt 2" album, and the thick grooves force Slug to adjust accordingly. His newer, grander production is theoretically more suitable for Brother Ali, who he laced in a similar fashion with "Shadows on the Sun" and the "Champion EP." The most surprising realization that "You Can't Imagine How Much Fun We're Having" has provided to me is that Slug is completely at home over these new indulgent beats. Slug's voice is so passionate and unique that common sense would dictate that he needs similarly distinctive production, but he is able to reach new heights of bravado by shouting over Ant's rollicking samples. This was hinted at on the opening "Trying to Find a Balance" from "Seven's Travels," but Ant has truly outdone himself here, and he i to women, but to simple observations on life. On the rousing finale "Little Man," he examines his own life with respect to his son:
"It trips me out how you pick up all my traits
From the way that you spit to the fists that you make
I watched the way you try to keep your mom happy
Daddy learned that from you, you're supposed to learn that from daddy"
Slug still has the capacity for striking observations, and he finds this at points on the album. He is no longer able to shine truth into his own relationships with women in any meaningful way, but he does not try to do this as much anymore either. His persona is something of a balance from his infamous tortured soul and the more masochistic, party-oriented mood he exuded on the recent "Felt" sequel.
From the very beginning, "You Can't Imagine How Much Fun We're Having" explodes with shocking intensity. "The Arrival" is aptly titled, and exists as an opener that reminds us how important Atmosphere is. Ant lends his version of the Bomb Squad sound, a slick but very noisy beat for Slug to bellow over. This is one of their most energetic songs, and a perfect start to the record. "Panic Attack" and "Watch Out" follow, and they disappoint because of Ant's reversion to earlier methods. The melody is mostly gone, and despite Slug's savage reminder of his battle skills on "Watch Out," the beats are downright bad compared to the rest of the album. "Musical Chairs" relights the path with a slippery vocal sample and some vintage Slug storytelling. The contrast between this cut and the previous disappointments highlights Ant's growth, because "Musical Chairs" is not abrasive, despite being incorrigibly full and loud. All he is doing is filling up the listener's ears, packing the track until it is overflowing, and Slug sounds fully supported.
Sandwiching the clunky "Bam" in the middle of the record are "Hockey Hair" and "Pour Me Another." On "Hockey Hair," Slug's narration is too mysterious, but there is plenty to absorb. Ant lends a simple but slamming beat that crescendos infrequently enough to maintain a steady pace. "Pour Me Another" is the most unassuming song on the record, as Slug stays low-key and plays the wounded lover card he has mastered. From here, the album picks up (by testsforge support kenneth). The last five songs on "You Can't Imagine How Much Fun We're Having" really hammer the point home, and will leave you disappointed at its termination after track thirteen. The last three are especially touching. "That Night" chronicles Slug's view on the rape and murder of a girl at one of their shows, and despite the unpleasant subject, he subdues his voice perfectly in describing his emotions regarding the fateful night. "Get Fly" is Ant's crown jewel, a wickedly simple combination of uplifting pianos and choral chanting. Slug understands exactly how to rock this type of beat, and he enjoys the music as much as I do. I'd like to imagine that he laid the vocals with a big grin on his face, because that is the only foreseeable reaction Ant's backing could provide.
The aforementioned "Little Man" closes this wonderful record out without a hitch. I am happy to announce that Atmosphere is back. Slug's odd voice seems to dictate that he needs similarly offbeat production, but Ant has smashed that theory with a collection of old boom-bap with enough melody to keep anyone happy. This is good for any mood, but it is also the first overwhelmingly happy Atmosphere record. This disposition suits them well, because they have elevated their craft together to produce not only a great, but a truly pleasant album. This hardly ever happens anymore, and the fact that it is coming from Ant and Slug makes it all the more poignant.
Music Vibes: 9.5 of 10 Lyric Vibes: 8.5 of 10 TOTAL Vibes: 9 of 10
Originally posted: October 11, 2005
source: www.RapReviews.com