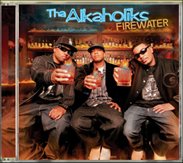 Tha Alkaholiks :: Firewater

Waxploitation/Koch Records
Author: One Line

Hip-Hop's favorite frat boys aren't ready to give up that title just yet. The E-Swift, Tash, and J-Ro, collectively known as the Alkaholiks, are back to throw another sonic toga party. Didn't "21 & Over" come out in '93? Yep, over a decade later and the Liks are still the happy-go-lucky bunch they've always been. After four albums under the Loud Records umbrella, the trio releases "Firewater" with everyone's new favorite indie, Koch. Sadly, there's speculation that this will be the group's last offering. I guess even Van Wilder eventually graduated.
The Left Coast pranksters prove they can still hold their liquor. They spit as freely as when the first started. Check Tash's verse from "The Get Down":
"The style ain't never changed, I serve hook-to-hook
Still an Alky in my ways, I never shook the look
You can see it in my face, I'm here to cook the rooks
Promoters looking at me crazy like they booked a crook
Shit, I'm over here with clipper chippers
with a gang of strippers in these liquor mixtures
If my money makes ya sick, then I hope ya feel better
I'm gonna grab me a bitch and slap some tail feathers
Y'all niggas can't even spell 'clever'
while I take my time to write from the heart like jail letters
The ice might fool ya from the wrist to the necklace
But if you out there talking shit, you on a reckless nigga's checklist"
From top to bottom, the Liks drop one party jam after another. This should be no surprise to any hardcore Liks fans. The crew will never be mistaken for conscious rappers and you should've figured that out from their name. But real emcees respect them for their humor and wit. They're straight up punchline warriors. They're here for one reason only: to have a good time. With that in mind, you have to appreciate how well they do their jobs.
On "Drink Wit Us" they blatantly name-drop every listing in the hip-hop phone book as people they've "partied" with. While the song itself isn't anything remarkable, it does open your eyes to the clout these dudes hold. They're the West Coast version of M.O.P., EVERYBODY is down with them even though they're hardly big-name acts in the mainstream. One notable shout-out is Xzibit, who in recent years has had an ugly feud with his former friends, evidenced by a volley of dis records between X and J-Ro. It appears all is well now, hopefully.
Overall, I would have to say this is the weakest Liks album of their five releases, but not by much. And anyone who's heard their previous four knows that they have a lot to live up to. You just get the feeling that they've mellowed out for their swan song and are already looking ahead to challenges that await in their solo careers. But let's face it, Tha Alkaholiks have nothing left to prove. I'll let E-Swift sum it all up:
"We steppin' out hotter this year
99 bottles and tall-can beers
Cheers from the crowd for at least ten years
Yup, see how it sounds when it's bangin' in ya ear?
E-Swift is here, I love to steer
my big-body coupe from here to there
I grab a beer, but not in the ride
I pull up to the club and I drink outside
You all remember me, drought made room in '93
The rest is history, y'all niggas a mystery, Hardy Boys
You're fuckin' with the original party boys
Everybody make noise, get rowdy rowdy
Throw elbows if it's overcrowded
Lean back, the Liks about to do our thing
And if we don't come back, we're going out with a BANG"
Music Vibes: 7.5 of 10 Lyric Vibes: 6.5 of 10 TOTAL Vibes: 7 of 10
Originally posted: December 20, 2005
source: www.RapReviews.com