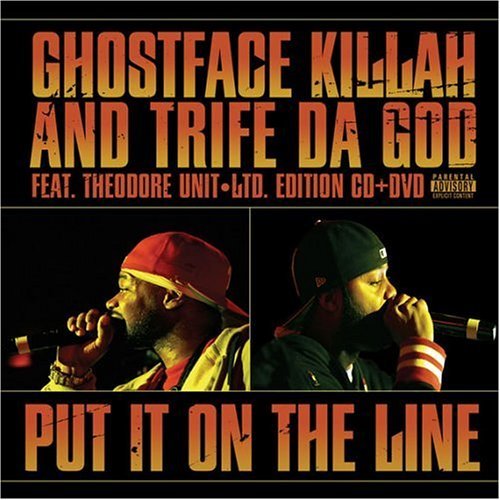 Ghostface Killah and Trife Da God :: Put it on the Line

Starks Enterprises
Author: Steve 'Flash' Juon

Ghostface Killah seems like the Wu's most amibitious member lately. In the last three years he's jumped to Def Jam, released "The Pretty Toney Album," formed the Theodore Unit and released the "718" album, and in what might be the biggest step yet he's launched his own Starks Enterprises imprint to release albums on his OWN terms. No waiting for Def Jam to clear his samples or endlessly push back a release date. No waiting for RZA to come through and put the stamp of the Wu on it. In fact on his latest project "Put it on the Line," the Clan wouldn't be on it at all if Raekwon didn't show up for the bonus tracks "The Watch" and "The Sun." It's worthwhile to note these both of these songs were cut from a previous Ghost album due to the aforementioned sample issues, so to be perfectly frank about this, there's nothing NEW from the Wu on this project. Ghostface and his partner Trife Da God have struck out entirely on their own, and for those who are reluctant to invest in either on that basis they've included a bonus "Live in New York" DVD to entice buyers. It's hardly necessary though. From the opening beats of "Cocaine Trafficking" it's clear the two are a perfect team, playing off each other the way Ghost did with Rae back in the "Only Built 4 Cuban Linx" days:
Ghost: "Cocaine trafficking, your boy's back again
Moving bricks like I got a degree in scaffolding
Fucking with some cats from Newark, half of them Jewish
Cool white boys riding around, blasting my music
And I'm taxin' them like Jackson-Hewitt, make sure them packs is moving
We out in Baltimore, the home of the Bruins
Up top the cops raiding my spot, my product got ruined
Drug case pending, but my lawyer is suing
Cuz them faggots put my arm in a tussle, let me start in the scuffle
Son, they tried to put the God in a duffle
But them boys can't knock the hustle, like Hov' said"
Trife: "Yeah I write raps, but I sling crack for a living
Punk, anywhere, I ain't gotta ask for permission
Trife Dies', know the fiends can't miss him
Everyday on the shift, like transmission, making them transitions
From New York to Great Britain, up state to San Quinton
Every corner, every block, from Broad Street to Van Sithlin
The grand picture, haul ass when them vans blitz in
Watch for police, the word on the street is your man's snitching
I'm rider like Pac, ain't no stopping my ambitions"
And they certainly are ambitious. Everything's done in house on this one - the packaging, the marketing, the beats and the rhymes. The title "Put it on the Line" is certainly no coincidence for these rappers. The up and coming Trife Da God is risking his career by throwing all his weight on this project, and Ghostface Killah is risking his reputation if his exceedingly loyal fanbase isn't feeling Trife's raps or the sound of the project now that he's distanced himself from the Clan. I don't think they'll be dissapointed by the classic soul funk samples and Ghost style narrative raps on "Struggle" though:
"I'ma tell ya motherfuckers something, my struggle is real
Threw ketchup on my rice, cause there was no meat with the meal
My dog was better off alone, he ate when I ate, if not days later
Two weeks old cold shit, straight out the refrigerator
Ran away a few times, then boom, went to Dee and fried them
Prior to that, burning rulers, we was getting high in the Hill
So many cracks we done crushed up in dollar bills
It's a shame, didn't smoke once plain; don't pass me that
I had escaped that, then dust took over
Hit bags of red devil, bundels leaking, had put the hood in a coma
Hustling backwards and off balance, turkey and cheese hero's
And nutriments, kept a nigga belly full"
Where Ghost leaves off, Trife takes over, proving himself a worthy student of the rap game on songs like the soulful reggae-tinged "War":
"Uh, welcome to Jam-rock
Where niggaz get popped, buried in sandlots
New York niggaz, triple they money hitting the grand spot
West Coast bang for they colors and they demand blocks
Stuffed in niggaz barbeque grillings, sizzling hamhocks
Can't forget my mid west niggaz out in the Chi
St. Louis and Tennessee, where them killas is sure to ride
Shout out to my Ohio players, clocking that paper
To all them fly pimps in Detroit, rocking them gators
Riding around, with the top down, heat in the lap
Stay balling, with the plush leather seats in the back
Down in Houston, sidding sideways, chunking the deuce
Popping them bottles, getting blasted over cups of that juice
Dizzy stukes, niggaz blowin' off Bobby, like Whitney Houst'
Grey goose with a touch of grapefruit, indeed, it get me loose
We need to call a truce, for all my fallen troops
Stop the warring, let's do more recording
Sit back and count this loot"
Trife pops with personality and sounds like a cross between a young AZ and a young Nas. His lyrical control is pretty (toney) good right now and under the tutelage of the excellent Ghostface is only likely to improve over time. "Put it on the Line" is a surprisingly excellent project as a result. From the throwback spine-tingling Sylvers (think D.O.C.) sounds of "Out Da Way" to the classic Wu stylings Trife displays on "Drugz" to the hard Iron Man sounds both rap over for "Milk 'Em," Ghost and Trife can't seem to get it wrong no matter what style they flip or what topic they rap about. While this album hasn't gotten as much publicity as prior Ghostface projects and some may still be doubting given the Wu assassin hasn't dropped an album on his own in over a year, both his hardcore fans and East coast hip-hop listeners in general should love this project. Trife & Ghost took their careers, "Put it on the Line," and walked away having doubled up on the bet.
Music Vibes: 8.5 of 10 Lyric Vibes: 8.5 of 10 TOTAL Vibes: 8.5 of 10
Originally posted: December 27, 2005
source: www.RapReviews.com