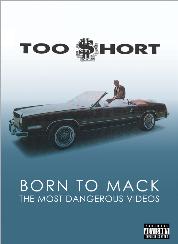 Too $hort: Born to Mack - Most Dangerous Videos

Label: Zomba Video/Jive Records
Author: Steve 'Flash' Juon


There aren't many rappers in the game today who can claim to have been around as long as Too $hort, and even fewer who have released as many albums - possibly NONE. Times change, taste and attitudes vary, but $hort Dawg outlasts them all. It helps to give me a little perspective when I think about it this way: $hort dropped "Players" back in 1985, the year the first WrestleMania took place. Over twenty years later in 2006 $hort dropped his "Pimpin' Incorporated" mix CD, just a few months before WrestleMania 22. From Hulk Hogan to John Cena, Todd Shaw has seen it all and been through it all. He was rapping before I graduated high school, still rapping when I finished college, and hasn't stopped rapping yet! Even if you don't care for his music whatsoever, you've got to respect the accomplishments and the legacy, not to mention his incredible business acumen and marketing ability. Quite frankly I expect to see Too $hort rapping from a wheelchair in a nursing home someday, still talking about bitches and pimps, and I won't be the least bit mad at it.
"Born to Mack - Most Dangerous Videos" may be the most complete collection of Too $hort videos we'll get, unless Shaw buys back the rights to all of his material. Other than his very earliest albums which came out on the small label 75 Girls, and which there really wouldn't be music videos for anyway, his entire career catalogue has been released by Jive Records. There have been signs recently that $hort is looking to break away, and a decided lack of promotion for his last two albums "What's My Favorite Word?" and "Married to the Game" seems to indicate they're not inclined to do him any favors either. This DVD came out in 2003, which coincidentally was the last year Jive released a Too $hort album nationally (his mix CD was on the imprint Up All Nite). Jive has shed a lot of their hip-hop acts over the years in general, and while I've never read any official statement that they parted ways it certainly feels like this DVD is the "swan song" of their relationship.
That being said I can't fault the comprehensiveness of this compilation. At 72 minutes and sixteen videos long, any Too $hort video I could think of or remember seeing in my lifetime is included in this compilation, going all the way back to the title track of "Life is... Too $hort." I got flashback straight to childhood off the "I Ain't Trippin'" video, because this was featured in a PBS special about hip-hop's power and influence, which I also remember as the first time I ever heard of Davey D as he was interviewed extensively for the show (big up). It's dated but still fresh, as you see people rocking high-top fades with the razor blades and Raiders hats, with a lot of fat rope gold chains to boot. Thematically the song and video are emblematic of his entire career - no matter how many people hate on Too $hort or his style of music, he just keeps on doin' his thang. The video most people will remember from this era though is "The Ghetto," the song that also took $hort from an underground West coast favorite to a national phenomenon.
"Every day I wonder just how I'll die
Only thing I know is how to survive
There's only one rule in the real world
And that's to take care of you, only you and yours
Keep dealing with the hard times day after day
Might deal me some dope but then crime don't pay
Black man tried to break into my house again
Thought he got off early doing time in the pen
Even though my brothers do me just like that
I get a lot of love so I'm giving it back to - THE GHETTO"
The imagery in the video is both powerful and provocative. You see a mother's tear rolling down her cheek as young children find a dead body in the street. Graffiti on the side of a house reads "WAKE UP, TIME TO DIE" as people push a piss-stained matress down the street with a shopping cart. A young girl looks up as a plane flies overhead, clearly wishing she could escape the bleakness of her existance. Despite the haunting visuals $hort's message in the song was a positive affirmation, saying that no matter how much negativity was placed in your path you could overcome it to achieve success. The video and song both end up echoing the words of James Brown two decades earlier - say it loud, I'M BLACK AND I'M PROUD. Coincidentally $hort had a little something to say about Brown on one of the videos featured here that's still a favorite of mine - "In the Trunk."
"Every rap I ever made was about this town
I made 7 whole albums with no James Brown
And even though I love his music, I just can't stand
The way they used it all up and didn't pay the man
And after 2 platinum albums, you call me weak
Cause I don't sell records in the East"
Bet you didn't know Too $hort was an advocate of sample clearance. One can hear BizMarkie and De La Soul both sceaming "AWW HELL NO" to the "pay the man" message, while George Clinton stands on the sidelines saying "sheeeit sampling kept me popular and famous, keep on doin' it." No matter what side of the debate you fall on, one thing everybody can agree about is that they censored a lot of $hort's lyrics in this video. They don't even let him say the word "ass," censoring it in the phrase "fake-ass tapes" and making him rewrite the line "And when the hardcore rappers go soft/I like to watch when they ass fall off" to read "I like to watch then they ALL fall off." Kinda absurd really, but given the video dates back to 1992 and hip-hop was still making inroads to the mainstream at the time, it's a little bit easier to understand in context. The secton for his "Shorty the Pimp" DVD also includes a video for the police harassment video "I Want to be Free," a stark black and white epic that still stands up to the test of time.
Things get a little more pimped out moving forward, including the female funk of "I'm a Player," which may feature the most gratuitous shots of female ass and booty of any rap video in history. When Aaron McGruder is making fun of BET, it's either this video or Eric B. & Rakim's "Don't Sweat the Technique" that probably comes to mind. I'm not hating though, I wish I could live Todd Shaw's pimped out Hugh Hefner lifestyle for a day or two! And how does he afford that affluent lifestyle? He found "Money in the Ghetto," the video that follows. After providing the stark images of a hard East Oakland life in "The Ghetto," this video is almost the opposite - an affirmation of the one can find with the ambition to succeed in any enterprise, legal or illegal.
"You betta stop trippin on dem stereotypes
Cause in the ghetto there's a good life
We ain't starvin like Marvin, won't see no roach
when ya chill wit the rich folks in the hood
You're sittin on leather watchin big screens
bought by the dope fiends
Smokin, and what about the brother wit the good jobs
Savin money, and workin hard
Bought a house for his wife and kids
Ya only got one life to live"
Like $hort himself, the music videos are a reflection of a diversity of styles he displayed over the years. To many in the public mind and often by his own admission he's thought of as the "bitch, make me rich" rappin' pimp. He's covered it all throughout his career though, from comedy to tragedy, from the depths of poverty to the heights of success. His career kept flowing in the mid to late 1990's though, as he remade his "Freaky Tales" rap as "Cocktales" and declared that he doesn't "freestyle" because he doesn't rap for free on "Paystyle." As much as I enjoy these songs, I did kind of wonder that three straight videos were featured from "Cocktales," including one that is X-rated in content and language that clearly never made TV - the sexually explicit "Top Down." If your girlfriend comes in and thinks you're watching a porno when this video comes on, don't say I didn't warn ya!
As much as I enjoyed this DVD, I was a little perplexed that the selection skipped right past 1996's "Gettin' It (Album Number Ten)" to "Can't Stay Away," especially since I remember there being at least one music video for the title track. I'm also a little confused as to why the two of the last three music videos featured aren't really Too $hort videos at all - they're songs by other Jive artists that $hort had cameos in, Goldy and Baby DC. The last video is a duet between Keith Murray and Too $hort from the "Independence Day" compilation, and as much as I like both artists individually I have to say this track is pretty irrelevant from both a musical and historical perspective. A decided lack of bonus features or interview footage also hurts this collection - it's just the videos and THAT'S IT. Nevertheless the quality of the videos is crisp and clear, the chapters are logically organized and easily accessible, and the overall presentation is satisfying enough. It's just obvious with $hort's lengthy career there's so much more that could have been said and done, as the man really deserves a full feature documentary. Taking the "something is better than nothing" approach though, I still give this DVD a cautious thumbs up.
Content: 7 of 10 Layout: 7 of 10 TOTAL Vibes: 7 of 10
Originally posted: March 28, 2006
source: www.RapReviews.com