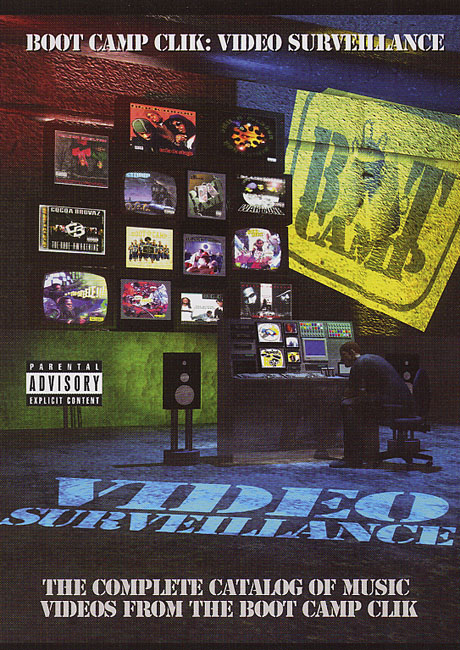 Boot Camp Clik: Video Surveillance

Label: Duck Down Music
Author: Steve 'Flash' Juon


When Duck Down announced they were putting out a DVD I got amped. The numbers alone had me drooling like a kid in a candy store - no less than 32 segments and over 120 minutes of video. DJAMN! The title "Video Surveillance" would be apt based on their militaristic name and mindstate alone, but Duck Down has gone the extra length to thoroughly survey their 13+ year career. It's high time somebody took a look back at their legacy and gave them the props they deserved.
Black Moon started a revolution with their first single "Who Got Da Props?" This first shot was fired so quietly that it almost went unheard. Thanks to a smooth jazz backdrop from Da Beatminerz mixed with the turntable skills of DJ Evil Dee and hard raps from Buckshot and 5Ft. Accelerator, the song was an underground smash. It was singlehandedly a whole new genre of hip-hop - gangster jazz - and suckers was 'bout to get kicked like Tae Kwon Do. To make sure the message and the melody reached the next level Black Moon needed a rugged and rough video to set things off correct. The DVD keeps us waiting for it with a humerous skit featuring an old white lady shopping for Duck Down vinyl, but soon enough the gritty video gets rocking. Chain link fences, brick walls, and a posse of head-nodding hoods rocking into the late night set the tone. No matter how dated the wears in the video are, the style itself is timeless - hardcore hip-hop for the real heads.
Things quickly picked up momentum with the release of their second single "How Many MC's (Must Get Dissed)." The lighting is definitely brighter than their first video, but the atmosphere is just as gritty - Buckshot spits his flows in graffiti covered hallways and smoke filled basements. In fact the only shiny thing in this video is what appears to be an elevator car the group stands in during transition shots. The special effects in the video were dope shit for the time, as Buck and company appear to fade in and out like ghosts floating through their own song. It was in this video that Buckshot emerged as both the star of the group and the soon to expand Duck Down fam, although the most memorable shot to me will always be Evil Dee damn near standing on his head playing the ones and twos by propping himself up against a nearby brick wall.
With 30 more videos on this massive Duck Down compilation it's obvious it would be quite impossible to go in depth on every single one. All the joints you know, love, and expect from such a collection are included. Smif-N-Wessun classics like "Let's Get it On" and "Bucktown" are here. The faced painted tribal warrior steelo of Heltah Skeltah's harp-laced "Operation Lockdown" is here as well as their bugged out fish-eye lens epic "I Ain't Havin' That" featuring Redman. Seminal joints like Fab 5's "Leflah Leflour Eshkoshka" and Originoo Gunn Clapazz' "No Fear" are here too. I never figured out the meaning of the former's title, or why O.G.C. was so fascinated with a lighthouse in the latter, but both videos are understated hip-hop classics. No bling bling or big booty bitches are necessary - these are just some New York MC's doing what they do best - spitting rough 'n rugged rhymes.
No one knew they'd become an army of soldiers back then, many minds united for one common cause, but Duck Down had a vision all along and the Captain Buckshot elevated the whole crew 31,000 feet into the air. They've been soaring on that high ever since the nineties, even when record sales have at times failed to match their critical acclaim. By some estimates the total amount of Duck Down units sold through all their various groups and artists could be closer to five million instead of the 2.2 mill' advertised on the box were it not for steady bootleggin'. Ironically one of the few complaints about this compilation is that some of the video quality itself has the feel of a second generation VHS dub. 4 out of 5 times everything's fine, but then on joints like "Operation Lockdown" and "Therapy" random color tint problems flicker through the upper-third to upper-half of the screen. I carefully controlled for the possibility it was my own TV, but it repeatedly happened during the same videos in the same places. On my copy the Boot Camp song "Night Riders" also had an audio mix problem - the bass is nice and heavy but the subtle background melody is totally washed out. It may be this is an artifact of having a promotional copy, but since the DVD I got in the mail was shrinkwrapped and sealed I have the sinking feeling they may all be this way. It's also worth nothing there are no extra features, although on a disc with this much content it's hard to imagine where they would have fit in.
These problems will mar your enjoyment of this collection slightly, but not enough for me to not recommend "Video Surveillance" to any fan of the Clik or hardcore East coast bangers. From old school joints like "Blah" to the modern Sean Price joints like "Boom Bye Yeah" the whole gamut of the Duck Down history is covered, and it will be a welcome and pleasant surprise to find this DVD on store shelves at a record store or chain retailer near you.
Content: 7 of 10 Layout: 7 of 10 TOTAL Vibes: 7 of 10
Originally posted: March 21, 2006
source: www.RapReviews.com