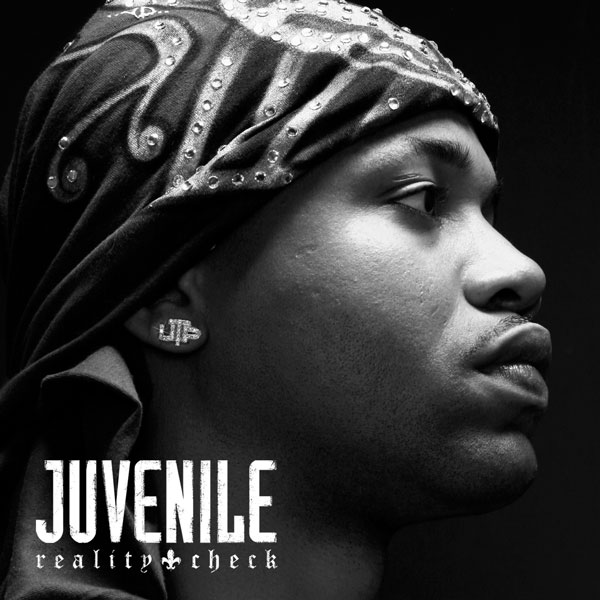 Juvenile :: Reality Check

Atlantic Records
Author: Steve 'Flash' Juon

Here's a reality check Juvenile probably didn't expect - he's still not a household name yet. By this point in his career, after releasing albums for over a decade and having big crossover hits like "Back That Azz Up" and "Slow Motion," he ought to be spoken in the same breath as acknowledged legends of the rap game - from living artists like Jay-Z and Scarface to deceased greats like 2Pac and Notorious B.I.G. There's something nobody has yet explained that keeps his name just below the radar of fame. It can't be his thuggish image or lyrics, because all of the above mentioned artists made it the bread and butter of their songs. It can't be that he's from the South, because artists like Paul Wall and Three 6 Mafia (congrats on that Oscar) keep blowing up nationally. It can't be because he's publically dismissed his former label Cash Money Records, because despite threats he'd never be let out of his contract he's clearly on his own now with Atlantic Records. Maybe Juve needs just one more hit to get it. Could "Rodeo" be that one?
"Y'all need to open your ears up and soak this game up
AIf nobody don't know ya I'm a make y'all famous
This is 24 karats but it shine like stainless
Just look at how the diamonds complement my fingers
(*coughing*)... Yes indeed
Shit chokin me, woo, I need a breath to breathe
Chase it with the Hennessy now that's how a G play it
Especially when them hoes shakin that ass to the DJ
If I could do it big, give 'em some leeway
If security stop trippin and you niggaz be easy
Yessir, this the bubble right hurr
You're all beautiful women if you insecure"
With a luscious, late night "quiet storm" urban melody provided by Cool & Dre, this new single from Juvenile breaks a long-standing trend to break his new records with hella hard tracks. Juvenile is all about the bump'n'grind in this track, and encourages everyone to put aside being a G for a night to just have a little fun. "C'mon and do the rodeo" could easily become the new catch phrase for shaking booty in the club, as the song sounds and feels tailor-made to hit with all audiences. Such calculated moves can be dangerous to a hardcore rapper's credibility, but on the XL produced "Get Ya Hustle On" Terius Gray proves ain't nothin' changed but the weather and some of the New Orleans landscape:
"Wodie! You really feelin your folks
Just them crackers behind them desk-es that ain't hearin us though
We starvin! We livin like Haiti without no government
Niggaz killin niggaz and them bitches is lovin it
Fuck Fox News! I don't listen to y'all ass
Couldn't get a nigga off the roof with a star pass"
Guest artists on his Cash Money releases often consisted of other Cash Money artists (particularly those in the Hot Boy family) but on this album he's branched out and gotten a variety of stellar compadres. The deep Orange Mound drawl of Eightball makes for a perfect union with Juve and Skip on the bouncy Stormy Dai produced "Loose Booty." Perion's whistling melody sounds purposefully slowed up on "Way I Be Leanin'," which creates just the right environment for Mike Jones and Paul Wall to get their shine on. Trey Songz croons his way through the Happy Perez swing on "I Know You Know" and the team concoct another potential crossover hit in the process. Juvenile is still loyal to the hardcore though, getting Bun B down do "Rock Like That" over Sinista's crunk, while New York's hardcore homeboy Fat Joe joins with the A-T-L's own Ludacris to make a triple threat ready to "Pop U" if you get in their way. Juve can't resist taking a shot at Baby in the process: "These ain't Birdmans, nope, these is real Guccis!"
That's really the key to Juvenile's success on "Reality Check." Despite a lot of speculation from many people (including this writer) that he couldn't get over without Mannie Fresh's beats, Juvenile's personality shines through on this latest album not despite but BECAUSE of the wide variety of hard hitters brought in on beats. Juve sounds just as hot rapping to a Lil Jon beat on "Why Not" as he does flowing to the simple Scott Storch banger of "Say it to Me Now." Fresh is on the album though, he's just not spearheading the project from start to finish like he would have done back in Cash Money's glory days. "Animal" has getting some bootleg play off this album as a result, and Juve's clearly happy to rap to his man's beats:
"How you just gon' back me up and I'm 2 dollars from bein rich
You oughta be grateful a nigga like me even see you BITCH
I was thinkin about rockin Reeboks, but the gators look nice
Nigga was talkin about they was comin out like players tonight
They won't let me in with my pistol I'm okay with the knife-a
Anything I can get my hands on when the fight starts"
Juvenile is ready to scrap, and even though he's consistantly underrated as a lyricist he constantly comes through on tracks like "What's Happenin'" (parts of which pay tribute to Sir Mix-A-Lot's "My Posse's on Broadway") and "Addicted" with a guest appearance by Brian McKnight. Juvenile changes up his style to fit the topic and tempo of the song throughout, always maintaining his New Orleans accent and personality but making the narrative and breath control match the mood. as needed. That versatility and ability combined with quality production and strong guest artists make his "Reality Check" one that Terius Gray won't bounce. The biggest "Reality Check" may actually be to Cash Money Records, who will realize after hearing this album they should have paid him right and treated him right, because he'll go on to be a bigger star without them than he was with them.
Music Vibes: 8 of 10 Lyric Vibes: 8 of 10 TOTAL Vibes: 8 of 10
Originally posted: March 7, 2006
source: www.RapReviews.com