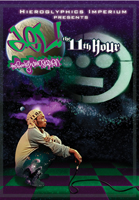 Del the Funky Homosapien: The 11th Hour DVD

Label: Hiero Imperium/Audible Treats
Author: Andrew Matson


Notice that Del hasn't been doing anything lately? I saw that he was touring a minute ago and I wondered what his setlist would be. I bet it hasn't changed in years; people probably only want to hear his hits (and not just the ones on his "The Elektra Years" best of), he plays the hits, acts like a free-thinking vegetarian alien, blows a tree on stage to a mix of frat boys and hackey-sack slackers. I thought to myself, "I hope Del's not just sitting around maxing and relaxing. It would be too bad if he just sat around and smoked blunts all day talking about how cool he used to be." My fears that Del has put himself on cruise control were deleted when I watched this DVD.
I don't know if "The 11th Hour DVD" will see retail release or if it is intended solely for promotional purposes, but if it does show up at your record store, you shouldn't buy it if it costs any more than an album. I think the perfect avenue for this type of thing is as a freebie bonus item, complimentary when you buy any Hiero-related product, like the way HipHopSite does it (you know, buy the Cage album and get a free poster…that type ish). It's too late for that now- the album comes out 7/18/06- but it would've been a good idea. If only I was in promotions.
Anyways, I'll review the damn thang nonetheless. The content is basically two things: Del performing on stage and documentary footage of Del living his life/talking about his music. The two are spliced together (song/documentary/song/documentary) and flow nicely.
The concert footage is pretty good, but not amazing. Usually just one camera starts far away and zooms accordingly to show whatever action is happening. The sound is decent, and at the very least Del's lyrics are intelligible. He does shows the way a lot of guys do shows: no real theatrics, but at least he's got a DJ instead of canned beats. He's got generally good energy and hits the crowd with a sizable crew. If you've never seen Del live, his real b-boy nature really comes out when it's time for body rocking. I recently heard a friend say that all hiphop suffers live because the emcees yell too loud, thereby not only losing whatever interesting dynamics their voice had on their recordings, but also losing lyrical intelligibility. I'd argue that for emcees like Del (rappers with famously offbeat deliveries), concerts are a good time to remind the crowd that the man on stage is a real-deal party-mover, not just a nerdy laptop shut-in.
The songs featured here all Elektra-era cuts plus a little Deltron- nothing to be mad at- but the real treat, to me at least, is the documentary footage. Shot at mostly at Del's house, one thing becomes clear right away: Del has no worries about being too casual. He does interviews while eating, kicks it in sweats and slippers all day, and keeps most of his musical equipment on the floor. If Del was on MTV Cribs, his episode would be like Redman's. His house is regular, just like anyone else's. He smokes herbal cigarettes in front of his mom, telling her that real cigarettes are bad for you. He seems to have a pretty good relationship with his mom. He entertains guests like Abstract Rude. No plasmas, no bitches, no fat rides, nothing. But c'mon, did you really expect The Funky Homosapien to need material wealth to have a good time?
The most enlightening things Del says relate to his perspective concerning his new album. He says that he never knew much about music theory, and even though he had platinum hits under his belt, he never thought he needed to learn things like reading music, transcribing drum patterns, understanding time signatures, etc. Like most of us, he knew what melody, harmony and rhythm were, but he couldn't explain them very well. He talks about how jazz musicians are music theory geniuses, and appears to be humbled by the fact that, though he has risen to fame in the music industry knowing very little about music, well-trained theory buffs wallow in obscurity. In order to take more responsibility for his art, Del got some books and learned the basics. It comes across that Del will not make music that he can't respect, that he's stepping up his game to sleep well at night, not to please somebody else.
All in all, Del has pretty positive things to say. I'm excited to hear the album and I'm glad that he's still pushing himself to do new things at this point in his career. More importantly, it's nice to know that he's still open to exposing his ignorance and unembarrassed about learning simple things slowly and completely.
I recommend this disc if you are Del fan, but don't buy it if it's expensive. Burn it off your mans.
Content: 7 of 10 Layout: 5 of 10 TOTAL Vibes: 6 of 10
Originally posted: May 30, 2006
source: www.RapReviews.com