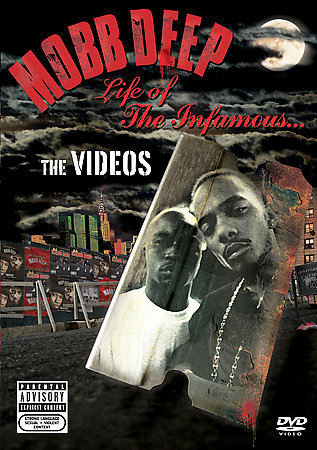 Mobb Deep: Life of the Infamous... The Videos
Label: Loud/RCA Records
Author: Steve 'Flash' Juon


Long overdue and historically necessary, Mobb Deep's "Life of the Infamous... The Videos" chronicles the career of two of hip-hop's most influential and groundbreaking rap artists. Though their track record has at times been wildly uneven, ranging from brilliance to mediocrity, Mobb Deep's Havoc and Prodigy have never failed to create signature songs that define their Queensbridge projects, their Queens borough, their New York roots and their hip-hop background in a way that's had universal appeal. Perhaps in the end it shouldn't be so surprising that Mobb Deep has gone gold and platinum so many times; after all Havoc described their art on "Quiet Storm" as "the real shit, shit to make em feel shit [...] drugs to your eardrum, the raw uncut/have a nigga OD cause it's never enough." Mobb Deep songs put you in their world, good bad and ugly, all the while bumping your head and feeling your heart pulse to their beat. Their lyrics are cinematic, and it's only fitting their music videos should be too.
In case you thought this DVD wouldn't be a full retrospective or would skip over their early "Juvenile Hell" career, think again. Although they were widely criticized as being artistically similar both in age and style to Da Youngsta's and Kris Kross, early songs like "Hit it From the Back" showed the promise of their future to come. The video itself is nothing to write home about though, a very typically early 1990's video with a bunch of people partying and dancing. It's only on the DVD's second track "Shook Ones, Pt. II" that the signature Mobb Deep comes shining through, in a series of footage segments that have been widely imitated but never truly duplicated. One thing that honestly didn't occur to me before now is how little of the song they actually had to censor to get the video played, mostly to "yellowback niggaz" and how "Queensbridge niggaz don't play." The footage is gritty without being dirty, no aging effects or scratchy lines required, because the camera simply follows Havoc and Prodigy around the hood as they speak on "the realness" of Queens and show it to you just like it is.
From there the DVD smoothly transitions into "Survival of the Fittest." Although the song peaked at #69 on the Billboard Top 100, the influence of the song can still be felt in quotes and samples to this day. Both song and video are completely uncensored here. "No doubt, watchin my back and proceed with caution/Five-oh lurkin, no time to get lost in -- the system/Niggaz usin fake names to get out quick/My brother did it and got bagged with two ounces." The video illustrates this with a police raid and bust straight out of a "Law & Order" episode. Personally I'm more partial to "Give Up the Goods (Just Step)" for the hypnotic beat and star-making guest appearance by Big Noyd: "You ask can I rip it constantly, mentally? Definitely." This is undoubtedly the flossiest of the Mobb videos to date, showing them passing around a large bottle of champagne at a club, shaking it up and having a good time even as jealous females lusting over them get in a fight in the club's bathroom. Then comes what may be the darkest and most surreal of all Mobb Deep songs musically and visually - "Hell on Earth." The Mobb freely intersperse footage of themselves with black and white footage of 60's revolutionaries and clips of Hitler exhorting Nazi soldiers to go to war. When Prodigy says "my team'll glow like, radiation" footage of a nuclear bomb going off appears. The sky and color spectrum shifts from normal to an eerie glowing purple straight out of an Outkast film, and in the end you see Mobb Deep and crew walking through a post-apocalyptic hell with a destroyed Statue of Liberty straight out of "Planet of the Apes."
Mobb Deep were influenced by pop culture even as pop culture was influenced by them. "G.O.D. Pt. III" samples musically from the 1983 Brian De Palma film, and the gilded mansion they rap in could also be compared to Tony Montana's posh estate. A small criticism of the DVD is including the video for "G.O.D. Pt. III (Remix)" since it's exactly the same video footage and lyrical content set to a different beat. If one wanted to hear the video with the remix that badly it would be easy enough to sync it up on your home stereo instead of wasting valuable DVD space where some of the seminal videos skipped over like "Peer Pressure" could have been included. Fortunately from here we movie to "Quiet Storm," a video seemingly ripped straight out of a Tom Clancy novel or video game, complete with futuristic military hardware, night googles, and rockets sailing through the air and exploding with concussive force as Havoc and Prodigy calmly survey the unfolding chaos. It's as though the Illuminati are trying to hunt them down, but Mobb prove too clever to be caught, even using lighters to set off the sprinkler system before doing Matrix-like flips off the wall as they run. At the very end, just when it seems they've been caught, the whole building explodes and the fate of our protagonists is left in question.
One could argue that "It's Mine" is the answer - The Infamous escaped their captors and are now chilling on a secluded island in the tropics. "Scarface" informs the song musically yet again, and one can imagine if Montana had survived his ruthless execution in film he'd be hanging out somewhere with sand this white, water this blue and women this good looking. Clearly Mobb deep and Nas are just having a good time and enjoying the plush set location, and who wouldn't since it was an excuse for Hype Williams to take them all on vacation in paradise. Hopefully they flew out to film this one in December or January. Next up is the "Quiet Storm (Remix)" filmed through a blood red lens, and appropriately enough featuring the bloody red lyrical storm of Lil' Kim. Once "The Learning (Burn)" and "Hey Luv" featuring 112 are done this DVD moves into some fairly obscure videos that I must admit not having seen before. They filmed a joint for "Get Away," no shit? Wild. It's got some letterboxing effects I can't really discern a purpose for, other than the fact they're synced to the beat and I'm sure the director thought it looked clever. Someone will undoubtedly criticize me for not having seen the "Got it Twisted" video either, but this one is pretty damn fly. It's a shame that it appears to have been shot in an HD slash film quality, and the DVD simply isn't capable of displaying it and has to letterbox the video - although at least in this case for good reason. No clue that the Mobb and Lil Jon made a video for "Real Gangstaz" either but OKAYYYYYY!
The presentation closes with a "bonus video" for Prodigy's solo track "Y.B.E." featuring B.G., and like a majority of the videos here it's completely raw, uncut & uncensored. The video does interesting transitions from a green tinted filter symbolic of their quest for wealth to some split line transitions of real world color footage as the two rappers search for it like the Young Black Entrepeneurs they are. And in the end that's what Mobb Deep's "Life of the Infamous: The Videos" is all about - a never-ending quest for success, living out the American dream while at the same time illustrating that all that glitters is definitely not gold when you're hustling from out the QB projects. The so-called "Extras" on the DVD are non-existant, it's simply "Y.B.E." and the end credits, the same shit you get if you select "Play All" and watch the whole thing. Aside from the fact there are more videos they didn't include which they could have, particularly given this was made in 2006, and a little documentary footage on the group could have gone a long way, this is a quality compilation which lives up to it's name and simply provides "The Videos" which have defined Mobb Deep and made them Amerikaz favorite Nightmare.
Content: 8 of 10 Layout: 7 of 10 TOTAL Vibes: 7.5 of 10
Originally posted: May 1, 2007
source: www.RapReviews.com