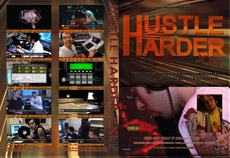 Hustle Harder XXL
Label: Kagi Media
Author: Matt Tomer


"Hustling" in hip hop usually insinuates foul play. Slangin' 'cane and stealing rented MPC's are the stuff of countless on-the-come-up tales, documented by both the critically acclaimed and universally disliked. And even while selling crack is, in some cases, for the greater good, it still promotes illegal behavior. Too often do people forget that hustling comes in forms OTHER than standing on the street corner (big up to Murs).
That said, the story of Disco D is a tragic, if not equally inspiring one. The New York-based DJ and producer was a bustling artist and business man, making moves with artists of Grammy-nominated acclaim and multi-platinum sound scans. A true work-aholic, the man known by friends and family as David Shayman was on the grind 24-7, 365, making connections at every opportunity. In January of this year, the 27 year old lost his long battle with manic depression and bipolar disorder, taking his own life and shocking the electronic music scene across the planet.
With the past year and change extremely traumatic for hip hop (the passing of Proof of D12, J Dilla and Stack Bundles to name a few), Disco D's death is like a cheap blow to the gut. This is especially considering who and what he was - an honest, good human being and a truly gifted musician. But as the dust begins to settle, "Hustle Harder XXL" emerges from the wreckage, triumphantly. A fascinating look into the life of Disco D just months before his passing, the DVD follows him through his hectic business life and creative journey.
Self narrated by Shayman, the DVD is extremely informative from two separate standpoints - the running documentary, and something of a tutorial for aspiring producers and DJ's. It follows him from his home studio, where he concocts hits for 50 Cent and churns out ring tone jingles, to recording time in Brazil (dude was bilingual, too), to his headlining electronic festival in Europe. And during the time in-between, your boy is constantly on the cell, making moves aplenty. We're shown how much of a walking business he really was (no Jay-Z), but even more impressive is his astounding technical knowledge of music (he spins, produces, mixes, masters, tracks vocals, etc), and the industry.
There are some dull spots in between. When Shayman sits down with an acoustic engineer, most heads will be put right to sleep. That is unless they want to hear about sound waves hitting of walls for fifteen minutes. With the content somewhat repetitive during certain segments, it feels slightly dragged out, but all in all, "Hustle Harder XXL" is an interesting watch and a fitting tribute to another musician who left us far too soon.
RIP Dave Shayman.
Content: 8.5 of 10 Layout: 7.5 of 10 TOTAL Vibes: 8 of 10
Originally posted: July 24, 2007
source: www.RapReviews.com