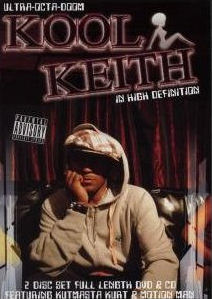 Kool Keith in High Definition
Label: Funky Ass/Threshold/2b1 Multimedia, Inc.
Author: Steve 'Flash' Juon


The only thing more incomprehensible than a Kool Keith album is a Kool Keith DVD, and that's definitely how Keith Thornton likes it. The man is as much of an enigma now as he was over 20 years ago when he first started busting raps with the Ultramagnetic MC's, and there's no chance anybody's going to figure out what shit he's on any time soon. Before delving into any of his projects you must prepare yourself for all possibilities - he can either flip on the dopest shit you ever heard or flip out to the degree you think he's headed straight for the funny farm. With that in mind the seal was split on "Kool Keith in High Definition," but it must be noted this DVD is anything BUT HD. Sure the title and the box art can note that it was FILMED in HD all they like but it's still burned onto a regular old-fashioned run of the mill disc - this is not Blu-ray or HD-DVD in any way. To put it another way if you're watching a show like NBC's "Heroes" on a regular television it doesn't matter that it's being broadcast in HD - your TV is not capable of displaying a high definition picture so you're not seeing one. Standard DVD's are not HD - you can buy a DVD player capable of "upconverting" to a pseudo-HD display but in all respects you're still not seeing a true HD picture in width or quality. One more point - DVD's can typically hold 4.7 GB of of data while HD formats hold 15 to 25. You do the math. It's not totally false advertising if this was filmed in HD and transferred to DVD but it is misleading.
Unfortunately this DVD takes a turn for the worse right away after being put in your player. Much like the "Global Enlightenment" DVD, this presentation opens with a static non-changing menu with no background music. The menu design would be a joke except that it's not funny in any way. Not only is the picture exactly the same as the cover, the chapter selections are slapped over it in a hard to read green computer font further obscured by the white areas of the photo itself. "Play Movie" leads to footage of Keith walking the street on his way to whatever venue he's performing in, and then inexplicably we cut away to a hotel room with what appears to be 4-5 hoodrats hanging out with Keith while he irons his clothes. Eventually someone from his crew bothers to explain they're in San Francisco getting ready for the show. It's rather sad that with a dozen rappers and hoochies combined that this is so damn BORING. Normally I'd criticize how shamelessly exploitative and tasteless "Girls Gone Wild" videos are but I'll be damned if this crew doesn't need a few bottles of liquor and a few thousand dollars to spend. Kutmasta Kurt cutting a promo in spanish is probably the highlight of this video's first ten minutes and that's really saying something. Since the video was promised to be 55 minutes long I really thought the majority of it would be concert footage but instead after the car pulls off we get footage of Keith walking to the venue AGAIN. This is ridiculous.
Things finally pick up with Keith's crew doing their own version of a Too $hort freaky tale complete with the requisite booming bass and Kurt scratching in "BEITCH" samples. Instead of sticking with this entertaining performance we switch to "behind the scenes" where Keith walks in and sits on a couch in his private dressing room. Some white dudes come in with a bunch of contracts for him to sign, and then hand him a big stack of cash. COULD THIS GET ANY MORE CORNY. First of all there's nothing exciting about watching Kool Keith sign contracts, and second of all if they weren't filming this scene I'm sure there's almost no chance they'd personally hand Keith a big bundle of cash. Promoters will give you a check for half in advance, or a percentage of the gate (and many shady promoters will cheat on both), but for obvious reasons you're just not handing out large amounts of money in a chaotic backstage environment. That goes for hip-hop, rock, country, or ANY genre of music - there's just too many groupies, hangers-on, and scheming fans with backstage passes. Meanwhile we still haven't seen Keith perform for one second of this DVD billed as his, although Motion Man is on stage performing Pablito's Way. The video takes on an added level of absurdity when the cameras for "Kool Keith in High Definition" film ANOTHER FILM CREW FILMING HIM for some local video show. There are even people with handheld digital cameras filming them filming him filming them, while the whole time unnecessary people are screaming at Keith trying to get his attention. Keith seems like he couldn't care less about all the chaos going on around him.
Finally Kool Keith starts rapping the opening verse of the "Funky" twelve inch version remix but we're already 20 minutes into the inane insanity at this point. At least things are improved here as Keith performs a medley of his hip-hop classics ranging from "Ease Back" and "Ego Trippin'" to more obscure but equally dope songs like "Two Brothers with Checks (San Francisco, Harvey)." If they had dropped the utterly worthless opening part of this presentation and cut straight to Keith hitting the stage this DVD would be ten thousand times better. The crowd is obviously highly receptive to Keith's rap, waving their hands from side to side, and Kurt is playing with his vocals during the performance - adding echo and modulation where he feels like it to Keith's clear approval. Even when Keith switches up to some of his more scattershot modern day raps with his unimpressive self-produced beats, they still come off that much better just from being performed in front of a live and enthusiastic crowd. Nonetheless it's something of a relief when they switch up to "Blue Flowers." Even though Keith may at times claim to be sick of Dr. Octagon and that "Dr. Octagon is dead" it's obvious from the reaction this track gets that he could probably tour until he's old and gray off the strenth of Doc Ock and his Ultra classics. What's bizarre is he starts rapping "Blue Flowers" AGAIN to a Kutmasta Kurt remix. I'm not sure I'd do a set list for a concert like that, but it doesn't seem to hurt the San Fran crowd as they still cheer loudly after it's over. "Girl Let Me Touch You" follows as the cameraman gets close-ups of adoring female fans in the front row.
Next the girls from backsage earlier get on stage as Keith performs the chorus to the "Lost Masters" track "Freaks" over and over again - JUST the chorus. The only girl who actually "gets naked" at his exhortation is the lone white girl, who takes off her top. From there he moves into the first half of "Livin' Astro" from the "Black Elvis" album. You can say one thing about Kool Keith - with the depth of his catalogue the amount of choices for songs he can perform is almost limitless. The girls come back for a song I don't immediately recognize called "G Spot" but that could be from a Motion Man albumor Kool Keith side project, but at least it's a natural lead in for the more familiar "Sex Style." At this point there are so many drunk hoochies dancing on stage it's hard to see Keith at times, and some are openly throwing the P towards Keith as though he'd stop performing and bone them on stage. It's a relief when Keith takes control of the situation back by throwing on the hardcore hip-hop classic remix to "Poppa Large" as the girls disappear - there's no overt sexuality to be found in the braggadocious bravado. It's amazing that Keith would just to follow up one of his best songs with one of his WORST but that's exactly what he does, jumping straight to "I Don't Believe You." At this point I'm wishing for some selective editing, but I suppose for history's sake it's at least fair that this appears to be his ENTIRE performance from start to finish - warts and all. Nonetheless when they decide to perform "G Spot" again I've had all I can take and start fast-forwarding to the end. When the song ends so does his set. Actual time on stage - approximately 44 minutes. I wonder just how big that wad of cash was and whether those two white dudes thought Keith was going to do a longer set for it.
By this point everybody's said "thank you - goodnight" and gone home. Back on the main menu there's a feature called "Mezzanine HD" which lets you skip directly to the songs during the movie you want to hear, no matter how short or long they are. "Maritime 3Chip" seems to be a different performance with many of the same songs, although when I picked "2 Brothers With Checks" at random Keith was sporting a sports jersey, a pair of shades and his Black Elvis wig. It's actually a better look but the video quality is obviously not up to the par of the main feature - it definitely wasn't filmed in HD. Other options including choosing either Stero or 5.1 Surround Sound, a seperate menu for two interviews including a dope one with the legendary Davey D - and I specify "seperate menu" because this isn't a bonus interview, it's the same interview originally tacked on to the end of the concert. The selection for "Posters" rudely informs you that you must be connected to the internet to view the feature and then has a URL that wouldn't even work - HHTP instead of HTTP. It's little things like this, unnecessary typos and shittily designed DVD menus, that suggest a highly rushed and poorly conceived DVD instead of a "High Definition" product. For what it's worth this is the best Kool Keith DVD I've seen yet, off the strength of his short but strong live set, but this is still one for the hardcore fans only.
Content: 7.5 of 10 Layout: 3 of 10 TOTAL Vibes: 5.5 of 10
Originally posted: July 31, 2007
source: www.RapReviews.com