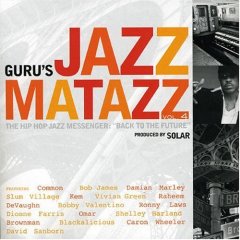 Guru :: Jazzmatazz 4 – The Hip Hop Jazz Messenger: Back to the Future
7 Grand Records
Author: Arthur Gailes

If practice truly makes perfect, it makes sense that Guru, one half of one of Hip Hop's most respected groups (Gangstarr with DJ Premier), would be well on the way to perfection. In a genre where most careers are finished after their first two albums, "Jazzmatazz 4" is the twelfth album where Guru has functioned as the lead MC. Nearly a twenty year Hip Hop veteran, Guru has had a lifetime of practice. So after nearly twenty years of making albums, what does Guru have left in him?
As best put by the man himself on "Connection," "I'm like lightning when I'm writing, I strike perfection." On "Jazzmatazz 4," Guru has turned in the best performance of his career. While his delivery has stayed much the same throughout his career, his lyrics have constantly evolved, from his complex rhyme schemes in "Step In the Arena" to more simple, profound styles in albums like "Streetsoul." Here, he has stopped experimenting with new styles in favor of perfecting old ones, and it pays off tremendously. Guru runs this album like an anthology, melding together the best of his efforts into one magnificent package.
Despite spending his entire flowing in a low-key that toes the line between melodic and monotonous, Guru has spent his entire career stretching the definition of what a rapper can do musically. Whether setting trends with DJ Premier or merging rap with jazz and soul in his Jazzmatazz series, Guru has a knack for recognizing the cutting edge of Hip Hop music. For "Jazzmatazz 4," Guru has employed Solar for their second album together ("Street Scriptures 7.0").
While he under whelmed many with "Street Scriptures," Solar's production has been elevated tremendously. The Jazzmatazz moniker seems to have given him a focus for his talents; his production here arguably outstrips even Guru's rhymes. While previous Jazzmatazz albums have always been slightly awkward, seeming to force together separate genres, Solar blends rap, jazz, soul, and even funk and reggae seamlessly to create the best sounding Jazzmatazz album yet.
As easy to flow over as any rap music, and as smooth as the other genres, Solar provides Guru with the perfect accompaniment to his smooth, laid back rhymes. As a result, Guru sounds better than he has in over a decade, and he takes full advantage of the amazing music provided here. Anybody doubting his hunger after so much success merely has to listen to him massacre the swinging drums and horns of "This is Art" to know Guru is as potent as ever. And though he is more than capable of carrying a song on his own, he reaches even greater heights when standing next to other great rappers. Lead single "State of Clarity" is the apex of the album, as Guru and Common blaze through Solar's best beat.
[Common]
"My mind blows incisions, at times indecisive
Keep my head to the sky to understand what Chris is
Turn off the news, 'cause everyday is a crisis
Lifeless niggas one the couch, weeded out
It's certain type of shit about my life, weed it out
I believe in the route, of soul before paper
No gold before labor, truth told with no blazers
[...]
It's the Chi that be giving me my ground
Dug in the crates of my soul and I found...
Clarity..."
[Guru]
"Toiled in the trenches, faced judges on benches
Betrayed by some that I dared not to mention
Standing here now in the best condition
Up out of the dirt so I suggest you listen
See, money can't make you and me
Protect my mind with nines, 'cause it shines more than jewelry
Used to do things that weren't too productive
Now I breathe life into mikes for your comfort..."
Common isn't the only rapper Guru collaborates with. He creates pure magic with Blackalicious' Gift of Gab, and his rhyme heavy verse absolute destroys Slum Village: "your cause is conflicted, the applause is restricted, to idiots, so pity, yes; oh the laws are so wicked." He doesn't only collaborate with rappers though, every track has some singer or musician working on the background. This doesn't hurt the album, as Guru and Solar are easily consistent enough to keep a unified sound. Rather, the many guests serve only to enhance the already incredibly smooth sound of the album.
As good and creative as it is, "Jazzmatazz 4" isn't without its flaws. For many rap fans, it will simply come across as boring. The music is very sound, but it's laid back enough that much come off as unexciting. Also, Guru, while on top of his game here, does tend to fall back on talking about how good he is a little too much. He does it with skill, displaying the cutting edge of his technique, so it's not a problem for the individual songs. But when his boasting makes up nearly half the album, it can begin to be uninteresting
"Jazzmatazz 4" is overall an excellent album that displays the full talents of the individuals involved. The chemistry of Guru and Solar shouldn't be compared to that of Gangstarr; they have a greatness that is entirely their own. This album is the absolute embodiment of the growing maturity of Hip Hop music. It is not only a great album for rap in 2007, but a success by any musical standards that should be in any music fan's collection.
Music Vibes: 9 of 10 Lyric Vibes: 9 of 10 TOTAL Vibes: 9 of 10
Originally posted: July 10, 2007
source: www.RapReviews.com