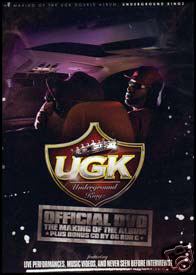 UGK: Official DVD: The Making of the Album
Label: UGK Records
Author: Pedro 'DJ Complejo' Hernandez


Patience is a virtue, but being impatient can lead to good things at times. The purchase of this DVD back in early June was an act of impatience since I could wait for the U.G.K. album to drop. "Underground Kingz" had an original release date back in 2006 and that kept getting pushed back to the point I wasn't sure if, let alone when, it would be released. I didn't expect much from a DVD entitled "making of the album" but I figured the bonus CD entitled "Still Riding Dirty" would at least give me some UGK music I hadn't heard. My impatience rewarded me this time around as this DVD is one of the better values out there and probably the first time fans can get an up close and personal look at what Pimp C and Bun B are all about.
As with most rap DVDs, the video quality on this joint could have been a lot better but it doesn't take away from the content. The DVD comes in two main portions split up between the "making of" feature and three videos. The videos we get are for Bun B's "Draped Up," Pimp C's "Pouring Up," and UGK's "The Game Belongs To Me" all of which are great to include since you aren't likely to see these on any video channel. The main feature is an hour and a half of footage that gives you rare insight into the process of creating an album and life of UGK. Mixed between all this are occasional live renditions of classic UGK songs including the infamous "Pocket Full of Stones" as well as newer classics like "Take It Off" along with minute long advertisements for "Underground Kingz." The DVD is full of highlights that any fan of the duo would enjoy. For studio sessions we get to see Bun and C listening to various tracks before finding the beat for "International Player's Anthem" and we get to see Pimp C crafting his opening verse. Later on we hear that the beat is actually an old beat used on Project Pat's "Choose U" from "Layin' Da Smack Down." Pimp C also let's us know that Project Pat along with Rodney O. is his favorite rappers. I'm right there with him on Rodney O. and it's great to hear someone other than the usual names come up in a favorite rappers conversation. Other segments of note include an interview with Pimp C's high school teacher who let's us know that the man was an accomplished tenor. Pimp C even lets us know that singing classical and other music in high school helped expose him to things he wouldn't usually listen to. Pimp C also takes us back to Port Arthur, Texas and his old block where he interviews Block, a neighborhood O.G. who lays down the meaning of "Trill" and let's us know who started the term back in 1987. As the DVD continues it's clear that Pimp C is the star of the show. Bun B gets his share of camera time and is insightful when he speaks, but Pimp C is the more captivating member of the group on video. He let's us know he has no beef with Nas nor takes offense to "Hip Hop Is Dead," who he thinks has been hating on the south, and how he'll put up $100,000 against anyone thinking they can rap better than Bun B. The studio time segments are also dope as we get to see Pimp C at work producing and both him and Bun laying down vocals.
The DVD portion of this release is well worth the price by itself. Never before have we gotten to see UGK like this and it's rare we get this type of release for any rap artist. To clear up any confusion, this DVD is completely different than the bonus DVD included with the limited edition of "Underground Kingz." Both are worth the purchase since the bonus DVD gives us insight into all the rappers UGK has influenced, but this release is much more in depth. The included bonus CD is probably not a factor for purchase now though back in June it was definitely worth the price by itself. The included tracks are:
Quit Hatin' on the South
Top Drop Dyne
Stop N Go
Cocaine
Still Riding Dirty
She Love It
International Player's Anthem
Hit The Block
Next Up
Like That
The Game Belong to Me
Back in June I was more than happy to get these tracks since they make up about half of the album and I had them 2 months in advance. But if you already own the album the only tracks you might not have are "Top Drop Dyne" and "She Love It." "Top Drop Dyne" was included as the Best Buy exclusive track so if you bought the album there the only track you don't have is "She Love It." The bonus CD is advertised as a O.G. Ron C production so I expected it to be chopped and screwed, especially since they independently released "Still Riding Dirty" as a chopped and screwed collection of the same tracks. Surprisingly, none of the tracks are chopped and screwed and they are all presented in their entirety. This may have been done on purpose since when asked why people should buy the album Pimp C lets us know that UGK ain't for everyone and people should buy the bootleg if unsure, check it out, and purchase the official release if they like what they hear.
In retrospect the only real gripe one can have for this release is the fact that the free bonus CD wasn't chopped and screwed since most of the tracks are included on the album. But for those of us who bought it months ago and bumped these tracks minus annoying mixtape DJ drops all summer long this is no real complaint. The DVD itself is one of the better releases from rap artists that I've seen. The focus here is clearly on the music and history of UGK, which is the reason most fans would buy this. You don't have to worry about any pointless segments dealing with groupies or other stereotypical topics rappers feel compelled to address. Overall, this should be considered essential for any UGK fan, even after the album has dropped.
Content: 9 of 10 Layout: 8 of 10 TOTAL Vibes: 8.5 of 10
Originally posted: August 14, 2007
source: www.RapReviews.com