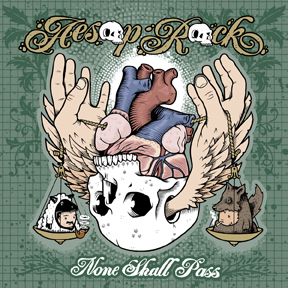 Aesop Rock :: None Shall Pass

Definitive Jux Records
Author: Matt Tomer

Discussing Aesop Rock is as much of an adventure as listening to his raps. Stylistically, he is unlike any rapper in the history of the genre. Comparisons have always been impossible to make - spitting in a nasally grumble, the celebrated Def Jukie's claim to fame has been spinning abstract, arguably nonsensical narratives, leaving fans split on whether the New York emcee is indeed a lyrical genius... or a crazy, random bastard. As such, he's become a hot topic - his relationship with heads remains almost universally loved or hated - for every loyal fan there's a naysayer. Or three.
I won't front like me and Aes Rock are always on the same page (who is) but like all his previous efforts, he once again manages to throw fucked-up ideas at my brain until it starts to hurt. Yeah, it's a bit of a difficult record. And it isn't even one of those things where you have to be "in the mood" to "get into it" - fans often find themselves forcing the album down their throats, in vain, to simply understand just what the fuck is going on.
For these reasons "None Shall Pass" will continue to thoroughly piss off the detractors.
Whatever your stance, Aes continues to defy hip-hop barriers. "I've got the whole world thinkin' it's a holiday, 'cause they can smell the chum in the water from miles away." Being this is supposedly Aes' most personal record, one can only speculate what he's getting at with such a line. But like a teasing novel, it gives the audience a certain amount of freedom to decide for themselves. It's difficult to recognize points of improvement or decline with such lyrical creativity, but his voice is less irritating than it once was... maybe he's cut back on the twelve packs-a-day or something.
Longtime collaborator Blockhead's beats are tight, although different, while Aesop's production remains almost perfect for his own style. The beats work with the rhymes as a product of cohesion - not so much because they're funky all by themselves. The overall sound is similar to "Bazooka Tooth," but is comparatively settled down... the tracks don't bang and blitz quite as much, in favor of a more chilled vibe. This has its pros and cons, as "None Shall Pass" is both easier to follow and brew over, but lacks a degree of abstract excitement.
The experimentation of sampling different genres (particularly quirky rock and even blues) is interesting, but probably doesn't work as well as planned. All the beats fit - as components of Aes Rock's twisted narratives they work well, but as free standing instrumentals only a handful could hold together. The melancholic soul of Blockhead's production on "Labor Days" is sorely missed (with exception for the outstanding title track), although there are gems to be found. "Fumes" slithers with shivering bass and menacing strings, and "Coffee" sounds like a dope '80's pop reincarnation (if that's possible).
"None Shall Pass" is a record you can listen to over and over, simply in trying to decipher exactly what's being said, adding almost infinite replay value. Every song is a gorgeously peculiar collage (or is it peculiarly gorgeous...) - and whether I'm clear on it or not, I'll let Aesop continue to run circles around me. "None Shall Pass," Aesop's fifth album, should not disappoint his loyal following.
Music Vibes: 7 of 10 Lyric Vibes: 8.5 of 10 TOTAL Vibes: 8 of 10
Originally posted: August 28, 2007
source: www.RapReviews.com